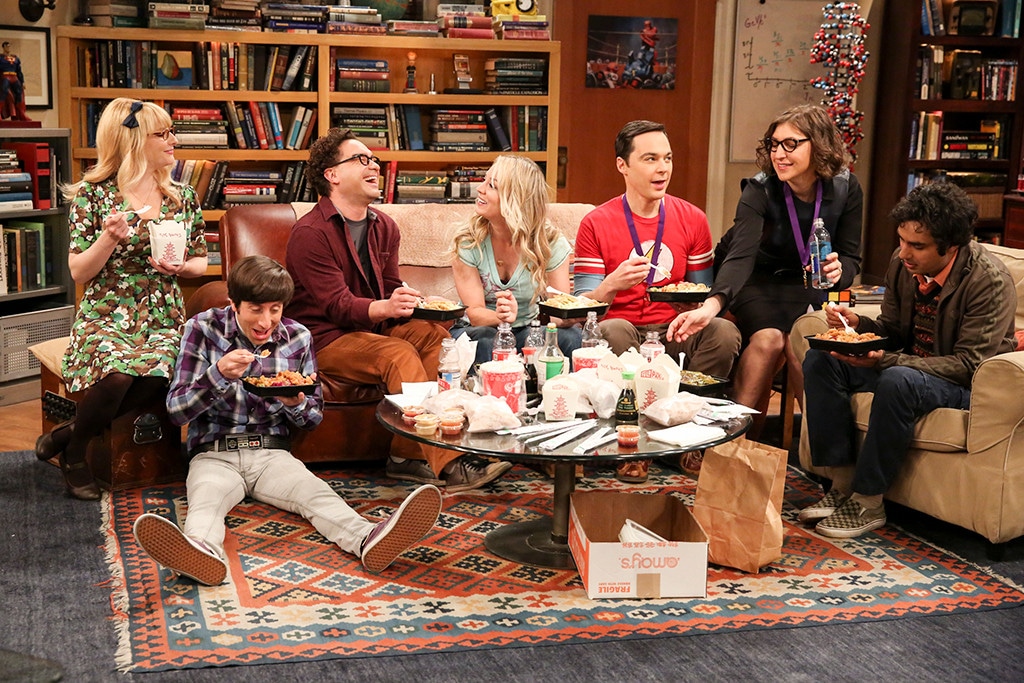 Michael Yarish/CBS via Getty Images
The Big Bang Theory ended with a sweet scene over, what else, Chinese food. The last scene of the series featured Bernadette (Melissa Rauch), Howard (Simon Helberg), Leonard (Johnny Galecki), Penny (Kaley Cuoco), Sheldon (Jim Parsons), Amy (Mayim Bialik) and Raj (Kunal Nayyar) all assembled over takeout, talking and laughing, like they always did.
As they shared laughs and food, an acoustic version of the theme song, "History of Everything," played. See it below.
Series co-creator Chuck Lorre had the song on his mind for 12 years.
"Twelve years ago, [Barenaked Ladies lead singer] Ed Robertson sent a demo of that theme song — just him and an acoustic guitar. I thought it was great and I said, 'That's our theme song.' He said, 'No, we're a band, we do everything as a band. We have to re-record this as a Barenaked Ladies song with the whole band," Lorre told The Hollywood Reporter.
The song was re-recorded for the theme, but Lorre wanted to bring it back to help the show close out.
"I just thought maybe it would be appropriate to go back to that acoustic version, slow it down, imbue it with a melancholy mood and take us out and that be our last piece of the finale," Lorre said.
Executive producer and co-creator Bill Prady said the scene was shot early in production of the series finale, and they shot it a few times to get the camera movement they wanted.
"The cast was ad-libbing dialogue to each other, and because there were so many technical things happening, I think it kept it from getting overly emotional, even though they knew it was going to be the last scene," Prady told Glamour.
And eagle-eyed fans may recognize something else in the scene, a specific piece of wardrobe.
"Penny is wearing the top she wears when she first appears on-screen in the pilot, which was really cool," Prady said. "And then it's nice to see Amy and Sheldon wearing their Nobel medals."
The Big Bang Theory spinoff Young Sheldon will return this fall on Thursdays at 8 p.m. on CBS.