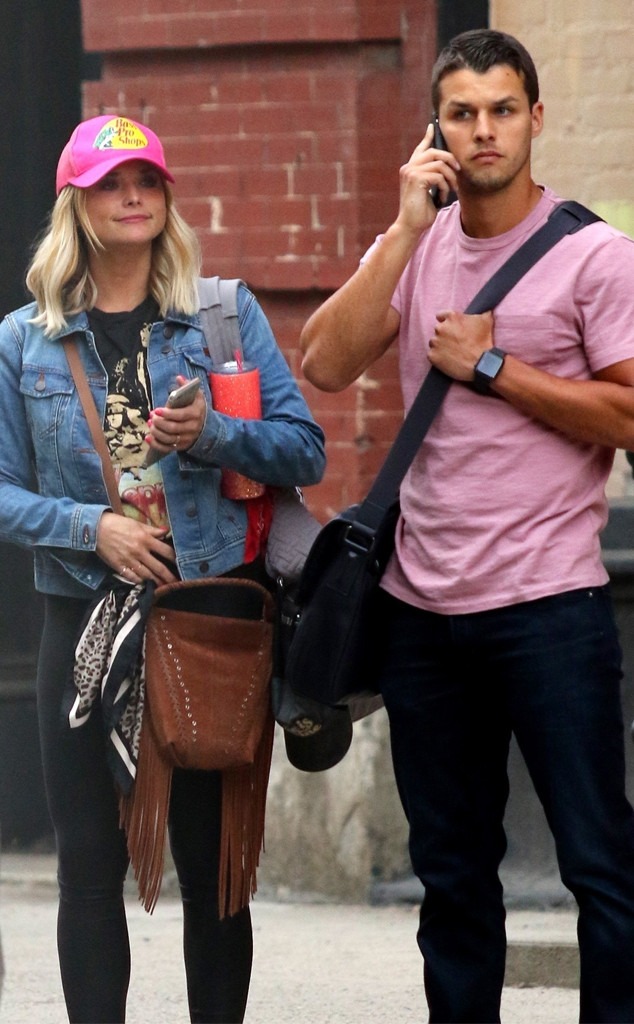 BrosNYC / BACKGRID
Even their closets are a match.
Miranda Lambert and husband Brendan McLoughlin were seen outside their NYC apartment yesterday sporting similar shades of pink. 
While the country superstar dressed down in black leggings, a denim jacket and fuchsia a trucker hat, the NYPD officer—who was making a phone call—chose a salmon t-shirt and jeans. The newlyweds were seen toting luggage as they waited for a car to arrive.
The outing is one of the few times the couple has been seen together. In late April, they walked arm-in-arm through NYC's Soho neighborhood. Earlier that month, they made their grand red carpet debut in Las Vegas at the 2019 ACM Awards, where the "Tin Man" singer took the stage to perform a medley of her top hits. And, back in February, the 35-year-old flashed her engagement ring—estimated to cost up to $20,000—while on a stroll through NYC with the former model.
Lambert shocked fans—and really everyone—on Feb. 16 when she announced on Instagram that she and McLoughlin had secretly wed. 
"In honor of Valentine's day I wanted to share some news," she captioned a shot from their private, Nashville vows. "I met the love of my life. And we got hitched! My heart is full. Thank you Brendan McLoughlin for loving me for…me."
At the time, no one even knew she had a boyfriend, let alone a husband. In fact, in August, she revealed she was "happily single" following her breakup with Evan Felker. The duo had dated for a few months after her split from Anderson East. Before that, Grammy winner was married to Blake Shelton until finalizing their divorce in 2015. 
Still, through all the messiness and mistakes, she has remained true to herself, shutting down anyone who tells her to try and be a better role model.
"I didn't sign up for that. That's a lot of pressure. I am who I am. I am honest about being flawed," she once mused. "That's all I can be, you know? I cuss. I drink. I get divorced and get my heart broken. I break hearts. I can't do or be that anymore, or it'll drive me crazy. I won't be any good anymore."