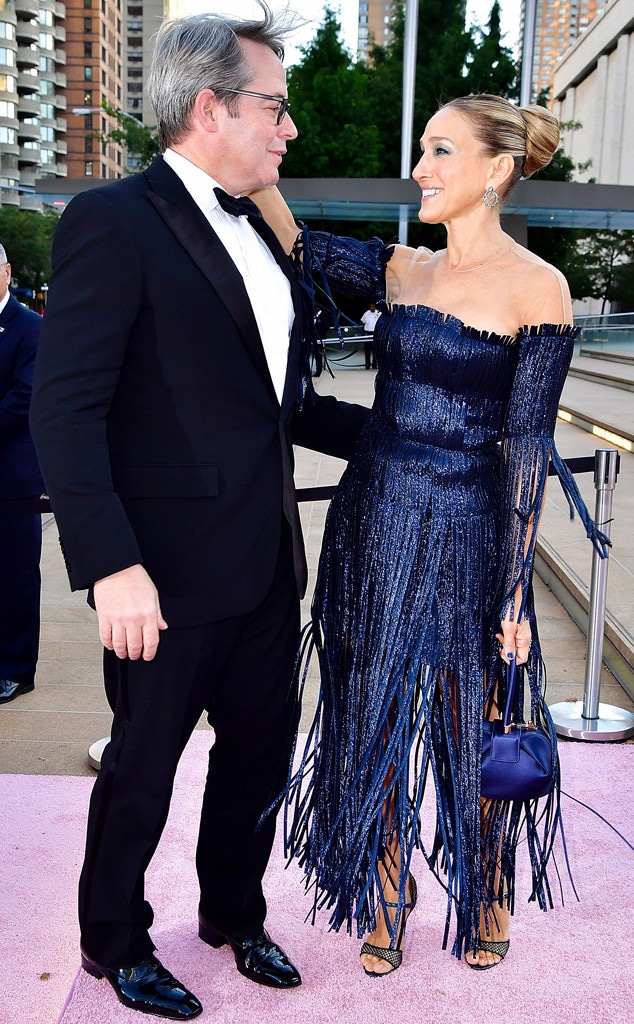 James Devaney/GC Images
Sarah Jessica Parker couldn't help but wonder, why do tabloids spin tales?
The Sex and the City alum called out The National Enquirer last night after the publication claimed she and husband Matthew Broderick "were caught on camera in a public screaming match." The outlet requested a comment on the alleged story—which also suggests they argue over his new London theater gig—and Parker followed through with a big one on Instagram. 
"Over a decade of the same untrue, disgraceful nonsense," the mom of three captioned a shot of the Enquirer's email. "As usual, days ahead of our anniversary on May 19th, The National Enquirer is making its annual best effort to fabricate and undermine, this time a blissful 4 days with my husband in London. There was no 'screaming match' as alleged in a restaurant or on the street, nor was there a confrontation as alleged about his time in London. My children and I are enormously proud of the work he is doing."
"After much thought I have decided to share a typical letter of 'inquiry' from these people," the actress continued. "As if the truth, a response or any comments from me or my publicist had any bearing on what they threaten to 'report.' Hey National Enquirer and your sister publications, why not celebrate a marriage of 22 years and relationship of 27 years? Because, despite your endless harassment and wasted ink, we are nearing 3 decades of love, commitment, respect, family and home. There's your 'scoop' From a 'reliable source.' #tabloidharassment"
Parker's friends—including Andy Cohen, Gwyneth Paltrow, Jesse Tyler Ferguson, Megan Mullaly and Jessica Alba—were quick to applaud her candor.  "YOU GO SJ!!!!!!!!" wrote good pal Cohen. "AND HAPPY ANNIVERSARY TO A BEAUTIFUL LOVING COUPLE!!" Chimed in Alba, "Amen."
The duo first began dating in early 1992 and exchanged vows five years later, on May 19, 1997, in front of 100 surprised guests, none of which knew they would be attending a wedding that day.
"I love Matthew Broderick," Parker gushed to Harper's Bazaar in 2013. "Call me crazy, but I love him. We can only be in the marriage we are. We're very devoted to our family and our lives. I love our life. I love that he's the father of my children, and it's because of him that there's this whole other world that I love."
Happy (early) anniversary and to many more!