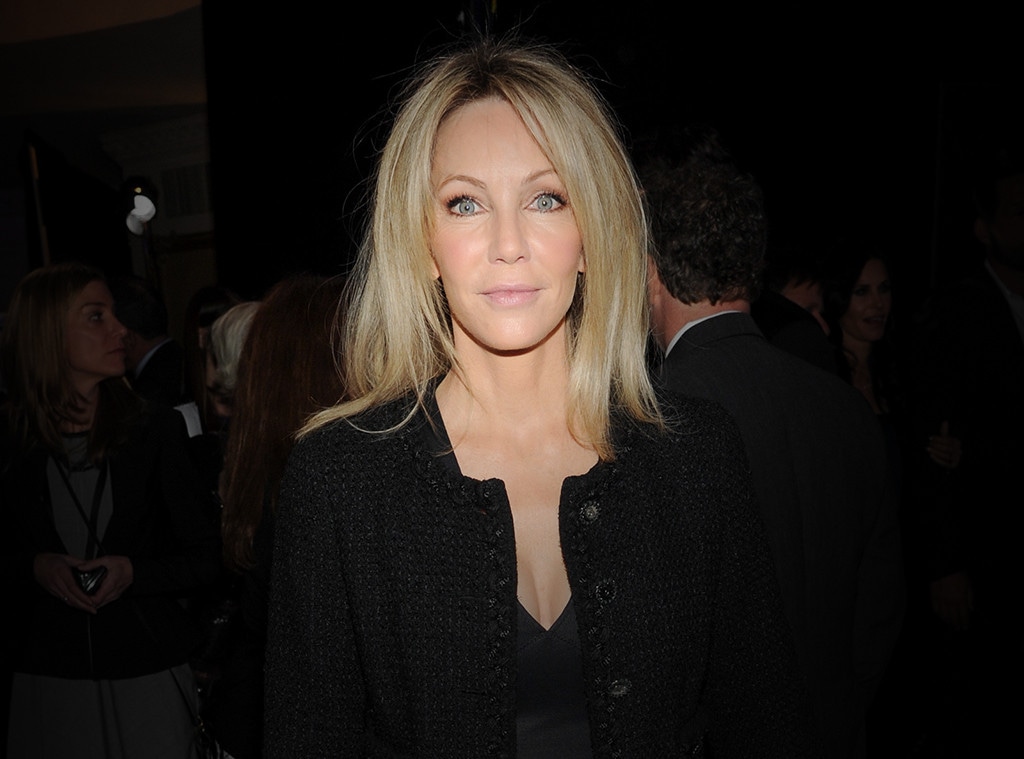 Evan Agostini/Invision/AP
Heather Locklear has returned to rehab six months after being placed on a psychiatric hold, multiple outlets report.
According to People, Locklear has been in an undisclosed in-patient facility for about two weeks now. The publication reports it's the same rehab facility as the one she checked into at an earlier time, but she "had left for three days right before Christmas and never gone back."
A source told People that Locklear's "issue is alcohol, pills, and her mental health." 
They said, "She doesn't want anybody to hold her accountable. She has no job, nothing to keep her accountable." Apparently, Locklear's loved ones are "hopeful that this time will be different."
The Melrose Place star was placed on a psychiatric hold in November after her therapist and lawyer reportedly believe she was having a breakdown.
She was hospitalized for a psych evaluation back in June as well reportedly after a family member claimed she threatened to commit suicide.
The source explained to People that the former Hollywood sweetheart doesn't seem to be open to accepting any aid. "She won't take any help from anybody close to her who wants to help her," they said. "Somebody has to take a lead on this, and nobody has any rights here except her parents and they're very old."
A source told E! News in November that Locklear's loved ones were "very concerned" about her well-being. They said, "While in rehab, she made several promises that she would never let this happen to her again but eventually slipped and this being the worst relapse than any of her others."
Locklear's family and friends were "rooting for her" and hoping this time would be different. In September, the 57-year-old had seemed to turn a corner when she returned to social media and posted an uplifting message about recovery.
Since then, most of her Instagram posts have been about her dog or other family members. Her last upload was April 29.
"Addiction is a ferocious and will try to take you down," she penned. "Recovery is the best revenge." 
Amanda Edwards/Discovery via Getty Images
However, she left rehab at one point and she "wasn't seeking help after leaving." She attended her now ex-boyfriend Chris Heisser's daughter's wedding in October and was getting lots of support from her own daughter Ava Sambora.
"Her daughter Ava is hopeful and supportive," the source said in November.
According to People, Locklear's ex-husband and Ava's father Richie Sambora "isn't really involved anymore, though he has always been a great supporter."
Locklear and Heisser broke up in January after just under two years together. Their relationship, however, has been turbulent as well.
In February, Locklear was arrested for domestic violence and assaulting a police officer. At the time, police responded to her home and they "conducted an investigation into the original call of the domestic disturbance and determined she had battered her boyfriend." The assaulting a police officer charge occurred because she allegedly "was uncooperative with deputies and battered our deputies."
More details about that evening came to light a few weeks after her arrest. The Ventura County Police said in a warrant obtained by E! News in March, "it appeared that Chris was restraining Heather on the bed. Neither of them was striking each other or appeared to be struggling."
Additionally, the actress apparently "continued to scream that Chris tried to kill her."
She told responding officers, "You f--king deserve your kids to die! You f--king deserve it! And when you find yourself in that position, think of me!"
Locklear checked in a facility after the February incident. She returned to one in June following another incident that involved battery on a police officer and emergency personnel. She reportedly "kicked an EMT" at one point when she was being treated. Police were called to her home because she was reportedly "extremely intoxicated."
Radar Online was the first the break the news about Locklear's most recent rehab treatment.