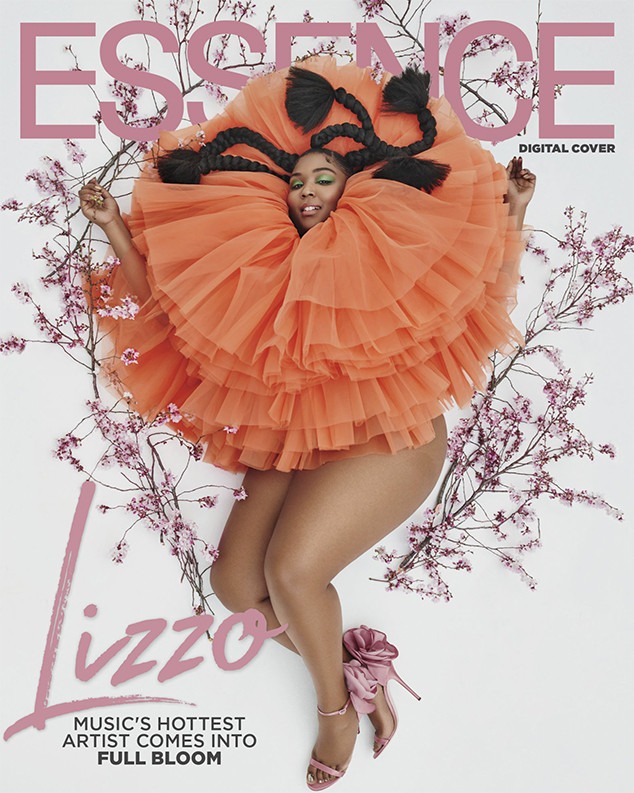 Essence
Lizzo doesn't strip down for attention; she does it for herself, and wants to normalize her body type.
The 31-year-old plus-size hip-hop star often posts NSFW photos of herself on Instagram. Last week, she shared a topless mirror selfie, writing, "Can't tell if I look better w/ or w/out clothes." Earlier this year, she posed for Playboy. Lizzo graces the recent digital cover of Essence, posing pantless.
"I'm doing this for myself," she told the magazine. "I love creating shapes with my body, and I love normalizing the dimples in my butt or the lumps in my thighs or my back fat or my stretch marks. I love normalizing my black-ass elbows. I think it's beautiful."
"I made a decision to be myself because I knew I had no choice," she said. "Sometimes the label 'unapologetic' bothers me because it can be loaded, because it means we have to apologize for something in the first place. I'm not ignorant to the fact that we had to have a demeanor of lowering ourselves culturally just to exist. But I'm trying to shake up the narrative about how we're supposed to act."
Throughout her life, Lizzo has drawn inspiration from Missy Elliott, who is featured on her single "Tempo," which contains the lyrics, "Slow songs, they for skinny hoes / Can't move all of this here to one of those / I'm a thick bitch, I need tempo (tempo) / F--k it up to the tempo."
"Seeing Missy exist in her truth was like, Oh, I can exist in my truth," she told Essence. "She didn't try to hide anything, lie or cover anything up. She was as weird and freaky as she wanted to be. And I thought that was special. I want girls who look like me to feel that way."