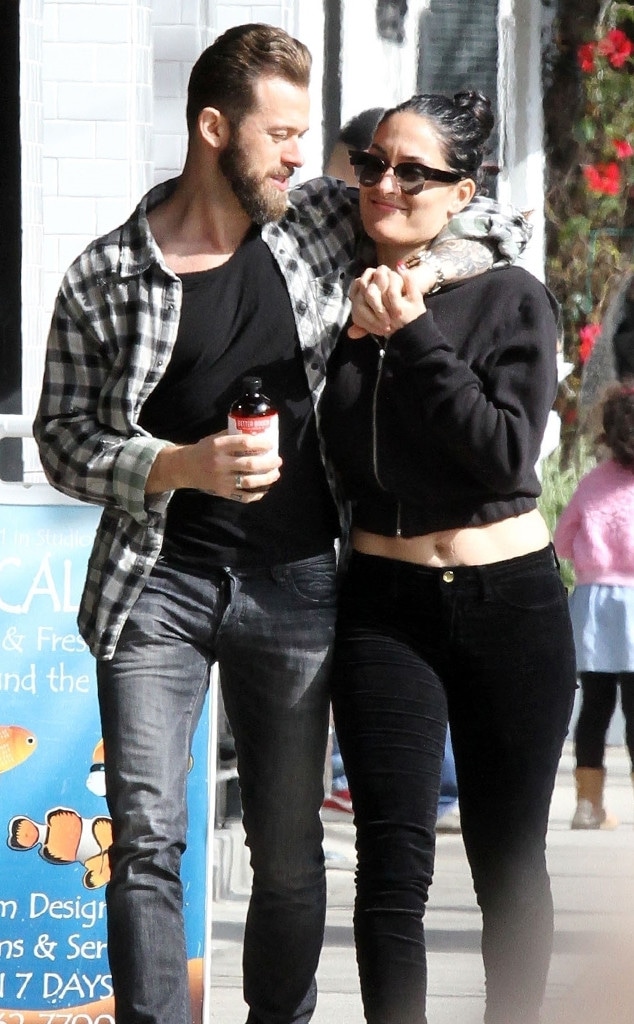 Phamous / BACKGRID
Social media doesn't tell the entire story—just ask Nikki Bella and Artem Chigvintsev.  
The E! star and her former Dancing With the Stars partner have been romantically linked for months and if you looked at their Instagram accounts, you'd assume they're boyfriend and girlfriend. However, that's not entirely the case. As the two explained on the newest episode of "The Bellas Podcast," they don't use official titles—a fact that confuses Nikki's sister, Brie Bella. 
As Nikki acknowledged during the interview, because she is a public figure, her social media activity tends to speak for her whether she wants it to or not. 
"If I want to just post someone and we're not official, I think it's okay and if the world wants to say it, that's fine," she said, noting she doesn't tell people they're not official yet unless she's asked. 
However, as the Total Bellas star explained on the podcast, she doesn't want to move fast. In July 2018, Nikki announced she and her fiancé John Cena had officially called it quits after six years together. 
"The one thing that I absolutely adore about Artem is I am not in a place to move fast or have something official and he's such an amazing man that he's willing to take things slow with me and we still have these amazing dates, but we don't have to have labels or titles and that's what attracts me so much to him."
While it's a bit of a tricky situation given current social media norms, Artem shared what his answer would be if someone asked him if Nikki is his girlfriend. 
"I would say we [are] having a great time spending together. We're figuring [it] out and we're just trying to take step by step very slow and see where it goes," he said. "I just don't want to be judged by people what I do."
Still, despite the lack of titles, Chigvintsev would not be happy if Nikki got intimate with someone else. 
"Yeah, of course it would bother me," he admitted. "The fact is we're not saying what we are titling ourselves to something–it doesn't change the way I feel about it."
When Brie asked if Nikki could sleep with someone else, he doubled down. "No, absolutely not...that would hurt me very much."
Ultimately, in the words of Nikki, they're #takingitslow and leaving the labels alone for now.