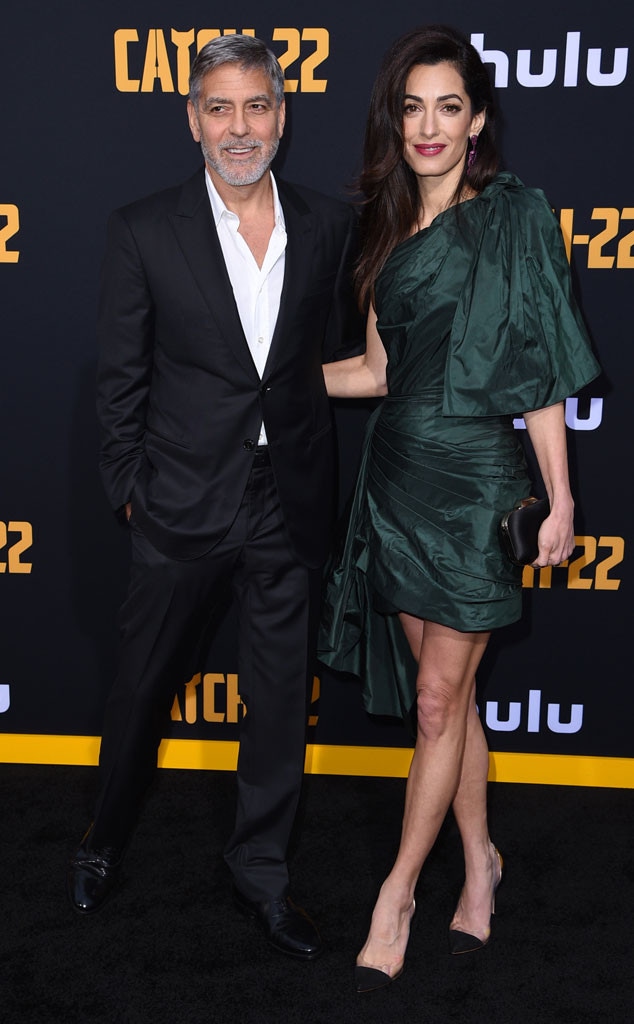 Stewart Cook/Shutterstock
"I don't want press," George Clooney said with a hearty laugh. "What are you, crazy?"
Such was his reaction to the reminder that Lady Gaga peeling back three layers of couture and ending up in her undies on the Met Gala red carpet (which he brought up, for the record) was a handy way to get press, if he was so inclined.
But whether he seeks it out or not, Clooney is his own category when it comes to press—one day he's criticizing the relentless scrutiny of Meghan Markle; the next he's calling for a boycott of hotels owned by the Sultan of Brunei; and the next week he's warning his fellow Americans against the dangers of "rampant dumbf--kery" in a bit for Jimmy Kimmel Live. And at any given time, the father of toddler twins can be making a reportable poop joke.
Right now, however, the press is for the movie star's big (make that Major Major) return to TV after 20 years with Catch-22, a six-part adaptation of Joseph Heller's classic novel satirizing the absurdities of war, which starts streaming on Hulu this Friday. Clooney is also an executive producer and directed two episodes.
"You learn a lot of things [on a set]," he told E! News' Melanie Bromley at the series' red carpet premiere last week. "Mostly you learn it really helps having wonderful actors out there that can support you and help you when you make mistakes as a director."
So despite the fact that he's now a two-time Oscar winner and countless other superlatives, there's something that hasn't changed since ER made Clooney a household name.
"It's intimidating," he told E! News on the set of the overnight-smash medical drama in November 1994, back when you had to take a magnifying glass to his temples to see any hint of the silver fox to come.
"I've come out of a lot of bad television," continued Clooney, who played alcoholic pediatrician and resident heartthrob Dr. Doug Ross on the NBC show, "and to walk in with this big a group of extremely talented people...I've felt very out of my element. Felt like I was playing catch-up, and they've all been really… It's just a really supportive group."
Asked what he felt was the biggest reason for the show taking off the way it did, Clooney said—well, first he deadpanned, "Me. I think we've talked about this before." But then he added, "We've got like guys like John Wells and Steven Spielberg and Michael Crichton heading it, and all television—probably all entertainment, but all television particularly, begins and ends with writing, always, and these are the best writers in the business. It makes it that actors such as myself, who kind of get by, barely," Clooney smiled, "come off very good because it's well-written."
And he knew how lucky he was to be a part of the phenomenon.
"Look, I'll stay on this show as long as they'll have me," he told us. "…A lot of shows, as an actor, you work and you're glad to get the job, but you use them as kind of stepping stones to the next job. There is no next job on this. What are you, you know, to not be on the most successful hour show in 15 years?" He scoffed at the thought. "I mean, there is no other step to take. We're here."
Five years later, Dr. Ross turned in his scrubs because it turned out that what seemed like the destination had only been the runway.
But even Clooney, setting off on a course that hasn't always been kind to stars of hit TV shows who leave the comfy confines of their No. 1 Nielsen ratings to focus on movies, couldn't have envisioned where he'd end up—as an Oscar-winning, Cecil B. DeMille Award-receiving, humanitarian liquor mogul and two-time Sexiest Man Alive who, despite being known as a lovable rogue also became Hollywood's sage voice of wisdom and—especially in the past couple years—moral authority.
And now he can basically do as he pleases. According to Forbes, he made $239 million before taxes between June 2017 and June 2018, most of it in part due to the sale of his and Rande Gerber's Casamigos tequila brand to Diageo for a reported $700 million plus a $300 million sales performance bonus incentive.
"I'm a big believer that luck is a huge portion of success and I think we all agree on that," the ever-pragmatic Clooney told MindFood in March. "When ER came out, that was a phenomenon. It changed all of our careers overnight, and you have to remember, I had been around for a long time. That's luck, right? I'd done seven other television series, including the first season of Roseanne, which was a number one show at the time and nothing happened for me. So, I think luck has a big part in it. I think you create some luck—I don't think it just happens."
And, even if all that success had been part of some master plan, he still wouldn't have bet on the marriage and fatherhood part of the story that's really changed everything for him over the past five years.
George and wife Amal Clooney—who were in L.A. and then Rome together earlier this week while he made the global press rounds for Catch-22—will celebrate their fifth wedding anniversary this September, twins Ella and Alexander have their 2nd birthdays coming up in June, and Clooney himself just turned 58.
Not that anyone noticed, since Meghan and Prince Harry's first child was born on his birthday, May 6.
"They're really a charming and lovely couple, although the kid did steal my thunder, taking my birthday," Clooney quipped to E! News at the Catch-22 premiere in Hollywood. "I don't like it, it really hurts me. Cuts me to the quick."
No one likes to have a well-deserved chuckle in Hollywood more than George Clooney, who has mastered the art of not taking anything (well, anything Hollywood, that is) too seriously, thanks, in large part, to having had the door shut in his face (or slammed behind him as he stormed out) so many times before landing ER.
"I was 34...And I'd failed a lot," he explained to Omega's Lifetime magazine in 2012, per IndieWire. "And having failed a lot I understood how lucky success was. Because it's not just about your brilliance. Luck has a huge hand it in. I think the reason why a lot of young people are such screw ups, is oftentimes they didn't have the luxury I had of forming important relationships and opinions and life experiences before having success."
Clooney has returned again and again over the years to the theme that none of the mega-success happens without a little nudge from lady luck, whether it's been his career or meeting Amal. 
"It's a humbling thing when you find someone to love—even better when you've been waiting your whole life," he memorably said at the 2015 Golden Globes when accepting his Cecil B. DeMille Award for lifetime achievement. "And when your whole life is 53 years…Amal, whatever alchemy it is that brought us together, I couldn't be more proud to be your husband."
Though he had expressed doubt numerous times in interviews that he'd ever remarry (he was married to Talia Balsam from 1989 to 1993), let alone have children, Clooney—a serial monogamist in his bachelor days—acted fast when Amal walked into his life (literally, through the door of his house in Lake Como, after his agent suggested they meet).
Seven months later he bought a ring and, in April 2014, George cooked Amal pasta and proposed over their after-dinner champagne.
"It was 20 minutes of me on my knee, waiting for her to say yes, because she was so shocked," Clooney recalled to The Hollywood Reporter in 2017.
While Clooney never had any illusions about the amount of attention he received, begrudgingly accepting that it was part of the deal, he's drawn a firm line when it comes to their children. He and Amal knew the paparazzi would spot them toting twin baby carriers here ant here eventually, but when a photographer apparently scaled a fence to snap pics of the new parents with their babies on their Lake Como property in July 2017... Clooney's magnanimity didn't extend to trespassers.  
"Make no mistake—the photographers, the agency and the magazine will be prosecuted to the full extent of the law," he said in a statement to E! News at the time. "The safety of our children demands it."
"Every single day there's some crazy sort of infringement," he also told THR. "And you go, 'OK, we'll eat it. That's what we have to do.' But when someone breaks the law, that's beyond what we bargained for, beyond the pact I made: that when you're famous, you're going to be followed. I don't know anyone who wouldn't be furious."
Kevin Mazur/Hand in Hand/Getty Images
Brazen crossings of the line aside, Clooney's relationship with fame historically hasn't been as tortured as some. It helps that there are only so many stars of his caliber (the alchemy that  leads to that brand of enduring charm enjoyed by the likes of George and Julia Roberts is yet to be divined) and he's a legitimately accomplished thespian and filmmaker, as well as an admirable human being, but he's also done a handy job of managing his image. For the past 25 years he's been open and relaxed enough to talk at length about subjects that interest him, but he keeps the private stuff private, key to maintaining both the air of being untouchable that's so rare these days and his sanity.
"Brad and I talk, and Matt and I talk, on a fairly regular basis—text each other, give each other s--t,," he shared with The New Yorker in 2008, "Brad" and "Matt" being Brad Pitt and Matt Damon. "But I have my friends, nine guys for 25 years; they're the guys I see every Sunday."
At the time he lived on the Studio City side of the Hollywood Hills, and still does, but he had also acquired his villa in Lake Como and was building a place in Cabo San Lucas, Mexico. Nowadays, he and Amal spend some time in L.A. but primarily live about an hour outside London in South Oxfordshire, where their neighbors include British Prime Minister Theresa May.
Back in 1994, asked how he was handling his newfound A-list status, he told E! News, "It's fun, are you kidding? You spend your whole life, your whole career, trying to get on a show like this, that people pay attention to and they put you on Newsweek and stuff. It's a dream come true, it's fun for us, you know. It's tiring just because of our hours on this show, you know, are so long—that we're a little beat and then they say 'OK, let's go do a photo shoot.' But it's be careful what you wish for you know? But we're having the time of our lives, it's fun."
His reply was sincerely gracious, but also tinged with caution—not only because he was already somewhat bemused by all the attention, but also probably because he knew that the fame could be fleeting. But instead of jinxing himself, Clooney took off and, by the end of his run on what in 1999 was still the most-watched scripted show on TV (and second only to the original incarnation of Who Wants to Be a Millionaire), he had been named Sexiest Man Alive, been nominated for two Emmys and made eight movies. Sure, one of them was Batman and Robin (universally panned, but still, he was picked to play Batman!) but there was some cinematic gold in there too, such as the caper thriller Out of Sight, in which he enjoyed a ride in the trunk of a car wedged in with Jennifer Lopez.
"[Arnold] Schwarzenegger [who played Mr. Freeze] was paid, I think, $25 million for that, which was like 20 times more than I was paid for it, and, you know, we never even worked together," Clooney reminisced recently about his unfortunate Batman experience to THR's Awards Chatter podcast host Scott Feinberg. "We worked together one day. But I took all the heat. Now, fair deal; I was playing Batman and I wasn't good in it, and it wasn't a good film, but what I learned from that failure was, I had to rethink how I was working. Because now I wasn't just an actor getting a role, I was being held responsible for the film itself."
Clooney's first movie to come out post-ER was the David O. Russell-directed war satire Three Kings ("a really bad experience," the actor called it), and then he did the Coen brothers' Depression-era comedy O Brother Where Art Thou (his first of four movies with the duo to date; he's also been directed by Steven Soderbergh six times) and spent six months shooting the big-budget disaster epic The Perfect Storm—his highest-grossing film to date, adjusted or inflation, or else it's second only to Gravity.
© Globe Photos/ZUMAPRESS.com
By the time he was promoting The Perfect Storm, it became clear that, at only 39, he was already on his way to being a reliable voice of reason. He was reportedly developing a reputation for being tough to work with, but people's perceptions didn't faze him. He was going to do what he was going to do.
"I'm an actor, but I'm also a businessman and a bit of a hothead," he told the New York Times in 2000. "This town is run by fear, but I've always had a line that I would not cross. It may have cost me some jobs, but at least I can look myself in the eye in the mirror every morning.''
Though he quit Roseanne after one season (and told E! News "it wasn't fun for the most part"), his way of doing business understandably earned Roseanne Barr's respect. "Everyone in Hollywood is scared and they'll totally compromise themselves to get ahead,'' she told the Times in 2000. "But George is his own man. He's not for sale."
And not surprisingly, he wanted to make his own movies.
Clooney made his feature directing debut in 2002 with Confessions of a Dangerous Mind, an inspired-by-a-true-story fantasia about The Gong Show host Chuck Barris, played by Sam Rockwell. It was a commercial nonstarter but very well-received, critically.   
The history buff's next directing effort, Good Night, and Good Luck, a passion project he had in mind for years about iconic CBS newsman Edward R. Murrow, was nominated for six Oscars in 2006, including Best Picture, Best Director and Best Original Screenplay, a nod Clooney shared with now longtime creative partner Grant Heslov. That film went home 0-6, but Clooney won Best Supporting Actor for Syriana—it was the first time a nominee for directing was also nominated in an acting category in the same year, so not a bad night overall.
He had gained 35 pounds to play a cynical CIA agent in the film and suffered a spinal injury while shooting a torture scene that caused him headaches for years.
"Wow!" Clooney began. "Wow. So I'm not winning director." He paused for the big laugh that got. "It's a funny thing about winning an Academy Award, this'll always be sort of synonymous with your name from here on in. It'll be 'Oscar winner George Clooney, Sexiest Man Alive 1997, Batman...died today in a freak accident of...'" The audience was in stitches.
"Listen, I don't quite know how you compare art," he continued. "You look at these performances this year, of these actors, and unless we all did the same role—everybody put on a bat suit, we'll all try that—they are stellar performances and wonderful work, and I'm truly honored to be up here.
Michael Caulfield Archive/WireImage
"And finally, I would say that we are a little bit out of touch in Hollywood, every once in awhile, I think. That's probably a good thing. We're the ones who talk about AIDS when it was just being whispered, and we talked about civil rights when it wasn't really popular, and we bring up subjects—we're the ones, this Academy, this group of people gave Hattie McDaniel an Oscar in 1939 [for Gone With the Wind] when blacks were still sitting in the backs of theaters. I'm proud to be a part of this Academy, proud to be part of this community, and proud to be out of touch--and I thank you so much for this."
No wonder he's been fielding questions about whether he'll ever run for office (the answer is no) for the past decade.
Also in 2006, he and Heslov formed their production company, Smokehouse Productions, and Clooney traveled with his father, Nick Clooney, to Chad and Darfur, Sudan, to see the effects of civil war in the strife-torn region first-hand, and addressed the UN Security Council about the plight of refugees that fall. He eventually became a United Nations Messenger of Peace and "activist" has never been far from "Oscar winner" since in describing Clooney.
He's since been nominated for three more acting Oscars, doubling up again in 2012 with one for The Descendants and a screenplay nod for The Ides of March, and then in 2013 he shared a Best Picture Oscar for Argo with Heslov and Ben Affleck.
Who, by the way, Clooney advised to not play Batman.
Alex J. Berliner/ABImages
In 2017, having just directed his pal Matt Damon in Suburbicon, Clooney told London's Sunday Times that his days in front of the camera could be numbered.
"Look, I acted for a long time and, you know, I'm 56. I'm not the guy that gets the girl any more," he said. Reminiscent of Julia Roberts recently saying that she should be playing the mother of someone in a love conundrum in a rom-com, he added, "I shouldn't be the guy that gets the girl."
Clooney continued, "Acting used to be how I paid the rent, but I sold a tequila company for a billion f--king dollars. I don't need the money." He was paid $50,000 to direct Suburbicon, he said. "But I have money, so I can fight to make movies I want to make. If you look at what I've been in over the past 15 years, for the most part they weren't going to get made if I didn't do them. Nobody was going to make Good Night, and Good Luck; Michael Clayton or Up in the Air, and I fought to get those out there."
But now, with the world at his feet, hundreds of millions in his bank account and the love of his wife and kids putting an extra spring in his step (it counters the exhaustion, at least), he's back on TV—or wherever your Hulu is streaming.
"I think all of us don't give a damn what the medium is that we work in; we just want to tell good stories," Clooney told emmy magazine about the decision to take on Catch-22, which was previously adapted for the big screen in 1970 and made into a TV movie in 1973.
"People call you up and say, 'Do you want to do Catch-22?' and your first answer is 'No' because it is beloved and you don't want to mess with it," Clooney said. He co-stars with, and at times directs, a cast that includes Christopher Abbott and Kyle Chandler.
"Other than the restraining order between Chris and Kyle and myself," he said, "we got along pretty well, for the most part."
"The great thing about George directing is that he knows what he wants and he makes it very clear," Abbott said, "but at the same time kind of gives you the room to do your thing. I mean, had to Google him before, you know, just to find out who he was."
Sounds as though George was among kindred spirits on this set.
"When I direct myself," Clooney added, "I'm very gentle, because I know that I'm doing a great job." Chandler started laughing. "And I know I'm getting exactly what the director is asking."
"Having seen the process, he's not kidding!" Chandler said.
Abbott added, "He kind of creates a world on set that, you know, everyone's equal and everyone's having fun. That's the most important thing." Chandler added, "I've always been of the opinion that, if you're not having fun, you're not doing the job."
"I think," Clooney concluded, "everybody got along because we came in with the exact same mindset: let's do good work and let's be kind and considerate to one another. And have a sense of humor." "You guys really set that up well," Chandler told Clooney, who replied, "Yeah, we are very good at that...I'll give you a back rub later."
Jawad Elatab / SplashNews.com
Shades of almost 25 years ago, when Clooney cracked E! News up as he described the dynamic among the stars of ER.
"We like everyone except for Sherry [Stringfield], we don't really care for her much," he mused, straight-faced but with a gleam in his eye. "She's mean, and she steals. We've caught her going through our trailers taking money from our wallets… Tony [Anthony Edwards] isn't very nice either. [Noah Wyle's] got a long way to go to being fun on a set, [Eriq La Salle] whines and cries a lot, Julianna [Margulies] is just downright mean.
"I guess, really, it's me, I'm the only one that's good on the show. I'm a good guy, they like me, they all kinda center around me."
Why change the part of his life that has always worked just fine?
Catch-22 premieres Friday, May 17, on Hulu.
(E! and NBC are both members of the NBCUniversal family.)