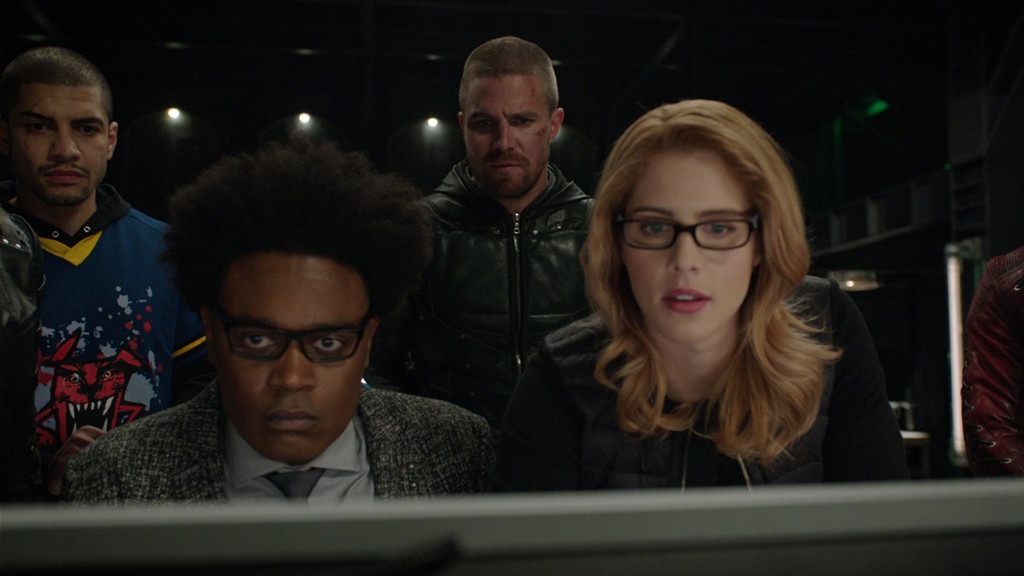 The CW
Felicity Smoak (Emily Bett Rickards) has said goodbye, and while she didn't die, we still sobbed. And we also gasped. 
In both timelines, Felicity essentially decided to go off-grid to protect her family from various but similar threats, as in the present, the Ninth Circle was still after them after killing Emiko, and in the future, vigilantes were fugitives. So in the future, Felicity, Dinah, and Roy went off-grid together to let the younger generation take over. 
In the present, she and Oliver left together (as we knew they would) in order to raise their baby girl in a peaceful safehouse. An impossibly sweet montage showed them living happily, playing with the baby in the backyard, cuddling with her on the couch, drinking wine together. They were even talking about bringing William back from his grandparents' house when the Monitor arrived to take Oliver up on the deal they had made back during the last crossover to save Barry and Kara. 
Apparently it's "time" for Oliver to complete the exchange, "whatever the multiverse requires" to survive the upcoming crisis. 
"I've seen your future, Oliver, inexorable and unavoidable. I have watched you die." 
"During this crisis?" Oliver asks. 
"I am truly sorry," the Monitor says. 
In the future, Felicity took Mia and William to a gravesite so they could all be together one last time before she went on her own journey, and of course it was the grave of Oliver Queen: 1985 to 2019, "beloved son, brother, husband, and father, hero of Star City, the Green Arrow." 
In one last flash to the present, Oliver said goodbye to Felicity and Mia, crying as he did so. 
And then in one last flash to the future, it turned out Felicity wasn't just going off the grid. She was actually going with the Monitor to wherever Oliver is, somewhere in the multiverse, leaving us with about a billion questions heading into season eight. A billion! 
Crisis on Infinite Earths cannot come soon enough (or maybe it can, if people are dying). 
Arrow will return to The CW in the fall.