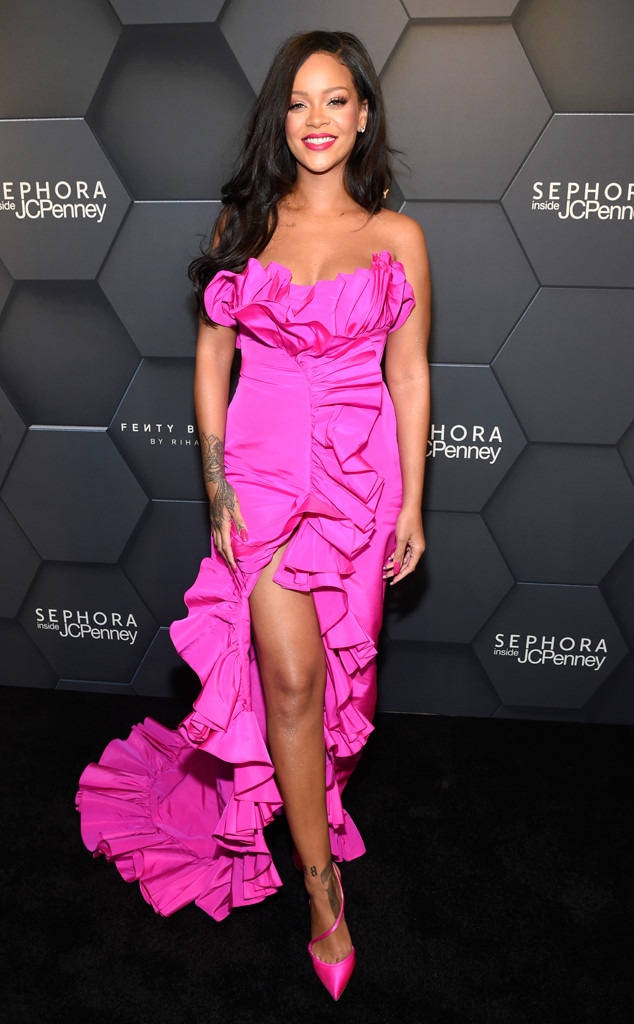 Kevin Mazur/Getty Images for Fenty Beauty
"big day for the culture," Rihanna wrote on social media last week, after announcing she partnered with LVMH to create a new luxury fashion line called Fenty.
It was a "big day for the culture" because the 31-year-old multi-hyphenate made history. According to The New York Times, she not only became the first woman to create an original brand under LVMH but she is the first woman of color at the head of an LVMH maison.
Since announcing her latest endeavor, bad gal RiRi has further cemented her place in the beauty and fashion space. And she's doing it all on her own terms.
But before she shook the beauty industry to its core (have you ever heard of the Fenty Effect?), the "Work" songstress took the world by storm with her music. With hit songs like "Diamonds," "Umbrella," and "Pon de Replay" (her first single!), the 31-year-old star has built her empire from the ground up.
According to Insider, Rihanna's net worth is an estimated $260 million.
It seems that music is still a large source of income for her, despite not releasing music since 2016. Although, fans are desperately yearning for her to release a new album soon, something she hasn't done since Anti.
Back in 2016, Billboard reported she earned $11.1 million that year. From streaming, sales and royalties, her music was her biggest source of income. And because she has a business mindset, RiRi is also a part owner of Tidal, a streaming service that was reportedly valued at $600 million in 2017. Newsweek also pointed out she had a $25 million brand deal with Samsung for her Anti World Tour.
Additionally, the 31-year-old star has also caught the acting bug. From Ocean's 8 to Guava Island, Rihanna has proven she's a leading lady. However, it's unknown how much she has earned from her roles in films. But it's likely contributing to her estimated $260 million net worth.
Along with music and movies, Rihanna has taken a bite out of the beauty industry.
Before Fenty Beauty hit the market, she released her very first perfume Reb'l Fleur in 2011, which made her over $80 million, according to Rolling Stone.
Moreover, she's collaborated with other top brands, including River Island, Armani and MAC. For MAC Cosmetics, she became the face of its Viva Glam campaign in 2014. According to her website, that same year, she partnered with Puma as its global ambassador for women's training. In the spring of 2015, the "Umbrella" songstress was the face of Dior and she starred in its secret gardens campaign.
Simone Comi/IPA/REX/Shutterstock
Fast forward to Sept. 8, 2017, and Fenty Beauty was born. Vogue reported her namesake brand made over $100 million in sales within 40 days of its launch date (!!!). 
The most groundbreaking thing about her release was the 40 foundation shades. Because of her, 40 shades have now become the industry standard, which is why it's called the Fenty Effect. If anything, W magazine reports that she will most likely beat Kylie Cosmetics to the $1 billion mark.
A year later, Rihanna launched her lingerie line, Savage x Fenty.
Again, the "Disturbia" songstress came out the gate with an inclusive line that featured an array of sizes, colors and shapes for all body types. Her launch was so successful that everything was completely sold out within a month.
With her latest venture, it seems there's no slowing down bad gal RiRi.
"Designing a line like this with LVMH is an incredibly special moment for us," she said in a statement last week, adding that she wouldn't have any "artistic limits."
Her statement continued, "I couldn't imagine a better partner both creatively and business-wise, and I'm ready for the world to see what we have built together."
It's safe to say the fashion mogul's fans can't wait to see either.