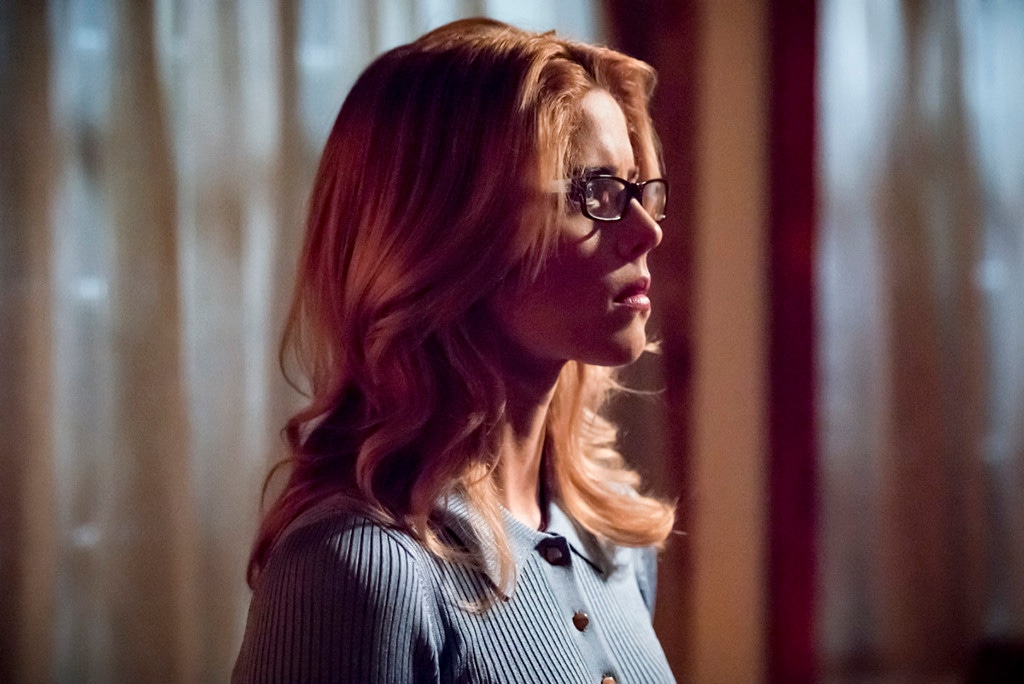 The CW
There's a lot riding on tonight's season seven finale of Arrow. 
Not only is everyone in both timelines currently in a great big conundrum, but there's a final season to set up and a main character to say goodbye to. For EP and showrunner Beth Schwartz, that was obviously no easy task. 
Emily Bett Rickards, who has been with the show since episode two and went from quirky tech expert to the wife of Oliver Queen (Stephen Amell) and the genius inventor of a program that might just save or destroy the city she and Team Arrow have worked so hard to save, announced her exit from the series in early April on Instagram. 
Tonight, we'll finally see how her actual exit plays out, not just in the present, but also 20 years in the future. Like we said, no easy task! 
"It was really...it's been really emotional both personally saying goodbye to Emily and then creatively saying goodbye to Felicity," Schwartz told E! News. "We just wanted to honor her character in both storylines, and all I can say is that every time I watch the end I cry, and I watched it a lot." 
While obviously Schwartz couldn't spoil Felicity's future fate, even as we joked about her coming back the same way Tommy Merlyn did last week as a figment of Oliver's imagination, she did say that the door is not closed to a final season return. 
"We would welcome her to come back whenever works for her," she said. "I'm not saying anything, but definitely it would be great to have her back at some point next season. 
So TBD on that, and literally anything else you might want to know about the final season save for the final moments of tonight's finale. 
"The end of this finale definitely sets up the beginning of season eight. That's all I can really say about season eight," Schwartz said, much to our general frustration, though she did confirm that the end of the series is fully planned out. 
Felicity and final season aside, there's a pretty big mess to clean up after last week's episode. In the present, Emiko got her hands back on a city-destroying weapon and now knows that Felicity's pregnant (which is why Felicity was considering going into hiding). Oliver may have just decided not to kill her, but now he might not have a choice. 
In the future, William and Mayor Rene were both found out as they tried to steal the code for the Archer program and Felicity and the whole rest of the team were arrested for vigilantism just ahead of Archer being used to turn Star City into a police state. 
So will all of this get solved in tonight's finale? 
"Yes, there will definitely be a lot that's solved, but then there will be other things that are not solved," Schwartz helpfully revealed, calling it "two finales in one." 
In the present, "Team Arrow will band together per usual and fight the good fight, and they'll have Laurel on their side and Roy still there, and Curtis...so we're going to have our elite Team Arrow going against Emiko and the Ninth Circle." 
Oliver in particular is still wrestling with what to do about his half-sister Emiko, and that will come to a head in this finale. 
"He's always had a blind spot for his family and after his episode last week and the form of Tommy reasoning with him, he comes to a place where he really feels that this is all a product of what his father did and the only way to stop their family cycle of violence is for the two of them to work together." 
Whether they can actually do that remains to be seen! 
Schwartz says that the present and future storylines will both get their own finales, but they won't stray too far apart. 
"Specifically towards the end, we will have more answers and the two stories will be more connected," she said.
Back in January, Schwartz told us that we'd have answers to all our future questions by the end of the season, which she says still holds true except for "a couple things." 
"It's possible" that we'll finally find out what's up with future Oliver, but "there are a couple things that we're waiting 'til next season, but most of the big questions will be answered," she says. 
One thing that should be significant to any fans of this show is the fact that the finale is called "You Have Saved This City." Schwartz says it "definitely" is significant, and it "honors Oliver's entire mission throughout the series." 
That whole mission has really been examined at length throughout this season, which started (so very long ago) with Oliver in prison, "at kind of the worst place and questioning himself as a hero, questioning vigilantes as heroes," Schwartz reminds us. 
Then, those questions turned even more personal as Oliver discovered he had a secret sister who was betrayed by his father, and now he's got a kid on the way, and he obviously doesn't want that kid to have to live either his life or Emiko's life. 
"He finds out that his father kind of led them down this cycle of violence that he's been trying to break all season, so we'll end that arc in the finale." 
What that means and how exactly that arc could end is what we're about to discover, and somehow we just don't think a happy ending is in the cards just yet. We shall have to see. 
Arrow's season seven finale airs tonight at 9 p.m. on The CW.