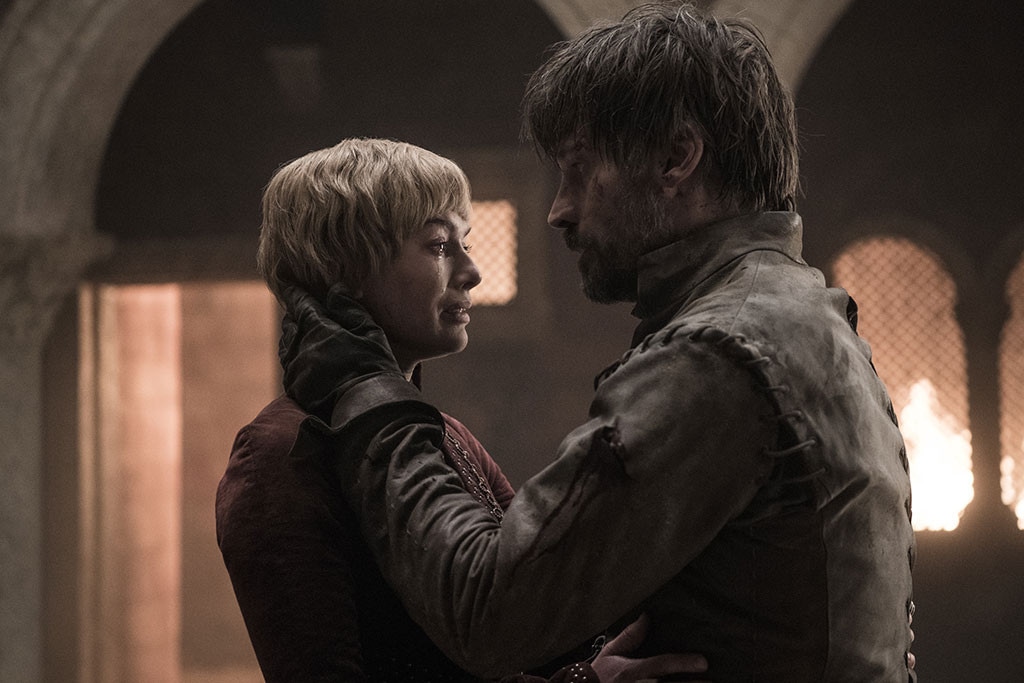 Helen Sloan/HBO
The Lannisters look out for their own (unless your name is Tyrion) and that's just what happened to Jaime (Nikolaj Coster-Waldau) and Cersei Lannister (Lena Headey). Warning, Game of Thrones spoilers follow!
After joining the combined forces of the North and Daenerys Targaryen (Emilia Clarke) and fighting the great war with the Night King and his army of the dead, Jaime got it on with Brienne of Tarth (Gwendoline Christie) and then decided to return to King's Landing and his true love, his sister Cersei. He attempted to lead her to safety, but their path was blocked and death was certain.
"You know, there's a scene, several years ago, where Jaime and Bronn are talking about how they wanna go and Jaime's talking about dying in the arms of the woman he loves. And this is it," co-creator David Benioff said. "Once he goes through the various exits, and they're all clogged up with rubble and there's no way out and he knows there's no way out, he's just trying to calm down the woman he loves because he knows this is it."
"I think he knows that they belong together, that they came into this world together, that they need to go out of this world together," co-creator D.B. Weiss said in the video below.
"I think Jaime, by the end of episode five, has come to terms with who really is. And he may not be happy with who he really is, but he knows he's not, he knows what matters to him, and Cersei's what matters to him," Weiss said.
In an interview with EW, Headey said her reaction to Cersei's final moments was "mixed" at first, noting, "I wanted her to have some big piece or fight with somebody."
However, after working through the scene with her TV brother, she said she came around. "The more we talked about it the more it seemed like the perfect end for her," Headey said. "They came into the world together and now they leave together."
Headey said it was important Jaime had his freedom from Cersei and returned to her on his own. "I think the biggest surprise is he came back for her. Cersei realizes just how she loves him and just how much he loves her. It's the most authentic connection she's ever had. Ultimately they belong together."
And she thought in that moment, with death nearing, "It's maybe the first time that Cersei has been at peace," she said.
The Game of Thrones series finale airs Sunday, May 19 at 9 p.m. on HBO.