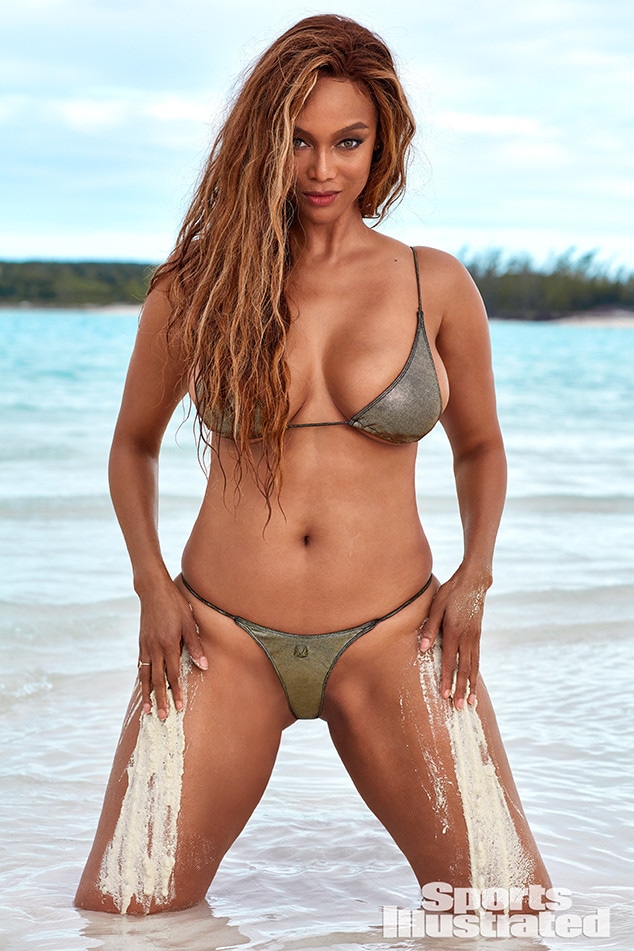 Laretta Houston / Sports Illustrated Swimsuit
This is something we can all smize about.
Tyra Banks got real about body image, ice cream and more while reflecting on her monumental Sports Illustrated Swimsuit edition cover. Banks emerged from modeling retirement for the magazine's signature issue. She first graced the cover 26 years ago in 1993 and the next year became the first black woman to have a solo cover.
On Sunday, the 45-year-old shared photos from this year's photo shoot in the same red and pink polka dot bikini that she wore on cover in 1997 (as seen below). In her post, the former America's Next Top Model host opened up about body image, loving herself and the fact that she initially thought she "needed to drop 30 pounds."
"I thought I had to look the same.  Then the ice cream called my name. Yep, all flavors," she began. "From Butter Pecan to Matcha to Coffee. I love me some ice cream and I just couldn't say no to it when I heard it calling. 'TyTy, Come eat me...' from my mom's freezer."
Banks continued, "So, this is me in @si_swimsuit today. Ice Screaming from mountain tops, 'Screw cookie cutter beauty!'"
We'll take cookie butter over cookie cutter any day.
Banks concluded her note with an important lesson for anyone who gives themselves guilt about treating themselves once in a while.
"Yes, we should exercise. Stay healthy. Take our vitamins. But sometimes we can give ourselves permission to work out with a scoop of frozen deliciousness in our hands," she declared.
That's something we can all get behind.
Russell James / Sports Illustrated Swimsuit
The Life Size star posted another picture in the same bathing suit and wrote another thoughtful piece about embracing one's body the way it is. She compared her photos from today and 1997 to the #10YearChallenge that Hollywood and Instagram at large both loved. Instead, she called this her Sports Illustrated swimsuit "22 year challenge."
Banks told her followers to click back and forth between the two images and then she described the differences.
"But to me, it's not just about what I'm looking like. It's about what I'm FEELING like," she gleaned.
Banks continued, "Back then, I knew I had a plan to do more than model. I knew I wanted to make a difference. I knew I had a calling to do more than for just myself. I just didn't know HOW I was gonna do it."
That was then, this is now and the multi-talented Banks has taken away some important lessons from it all.
She composed, "Today, 22 years later, I rise out of bed everyday to show that yes, a woman who was a model (and is now a model again!) can indeed be powerful beyond pictures. Can indeed be a strong leader in changing the world's perceptions of narrowly defined beauty. Can indeed be an example for others to follow so I can sit back one day when I'm old and gray to enjoy the things that YOU are doing to push my mission further than I ever dreamed possible. "
Banks finished, "Yeah, my 22 year challenge has a whole 'nother meaning beyond what you just SEE."