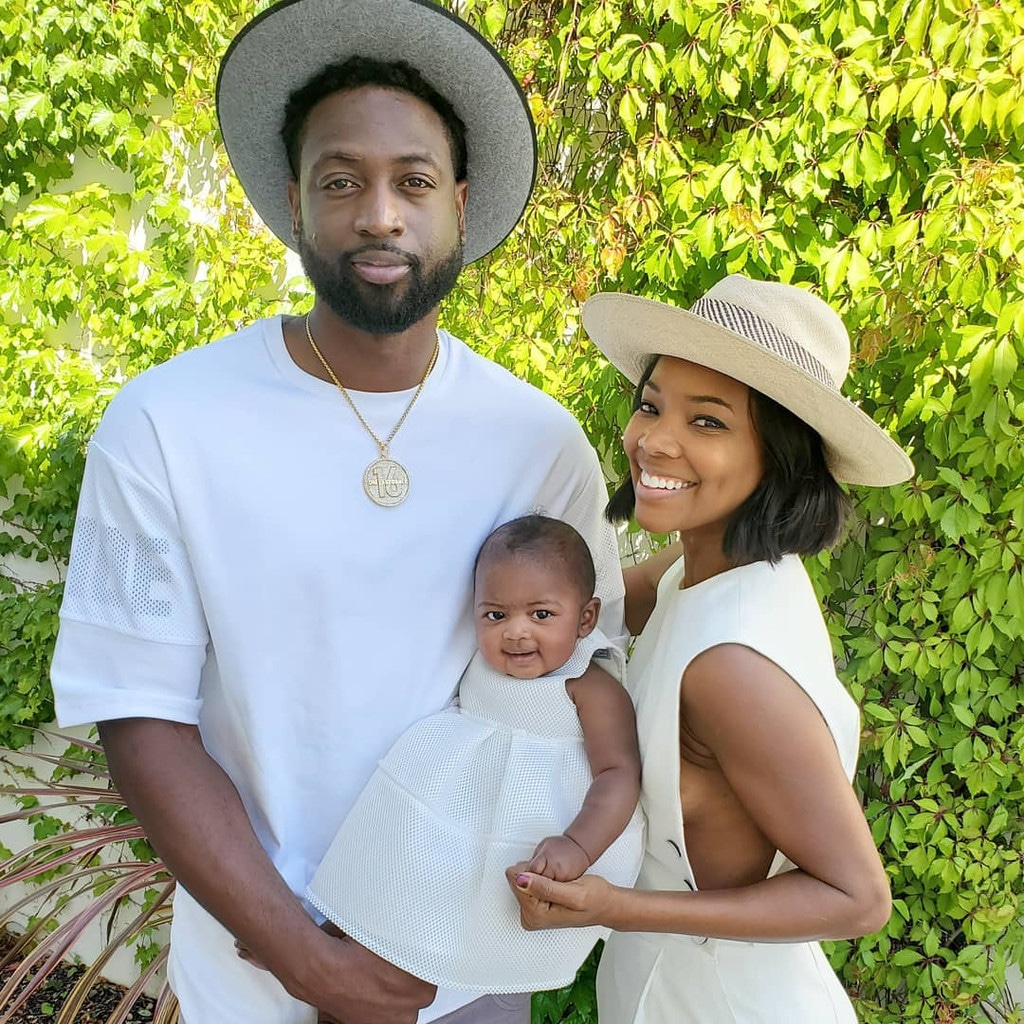 Instagram
Nothing lasts quite like a first impression, and this was one Gabrielle Union and Dwyane Wade are never going to forget.
Union and Wade welcomed their first child together, Kaavia James Union Wade, into their lives on Nov. 7 via surrogate. 
"We are sleepless and delirious but so excited to share that our miracle baby arrived last night via surrogate and 11/7 will forever be etched in our hearts as the most loveliest of all the lovely days. Welcome to the party sweet girl!" they shared on Nov. 8 on Instagram.
Now, as Union celebrates her first Mother's Day with a daughter of her own, she's providing another glimpse at the first moment she and the former Miami Heat player laid eyes on their baby girl in the delivery room.
The Being Mary Jane star posted a picture of herself and Wade sitting in the hospital room getting to see Kaavia as the doctor holds her up moments after the surrogate gave birth. In the picture, Wade snaps a photo on his phone and Union's hands are up at her mouth in gleeful disbelief.
She wrote about her motherhood journey and all the ups and downs in her caption.
Union began, "I've cried so many times today for so many reasons, mainly because I'd gotten accustomed to heartbreak and disappointment. I think alot of us live in that space. I set up shop there."
She continued, "This moment reminded me that miracles do happen. You cant age out of joy. You are worthy. You are worthy. You are worthy. Sending so much love today to all the mamas, stepmamas, grandmas, aunties real and play, daddies, friends and anyone who has taken the time to nurture another living soul.  I see you, I gotchu. And to those who have lost their mamas, grandmas, mother figures, sending extra love and light and hugs your way."
The Nebraska native uploaded another video of herself and Kaavia on Instagram and she talked about she's "still in shock" about having this baby in her life.
"I really cant believe @kaaviajames is actually here," she wrote. "I cant believe I haven't snuck off to cry super ugly fat tears today like I have in the past. I'm just grateful and happy. My sunshine."
Kaavia James is most definitely here and her fabulous Instagram pictures and profile as a whole are enough proof. She's also already graced her first magazine cover at just 6-months-old.
Union has been open about her past miscarriages and fertility struggles, and even said in a recent Women's Health cover story that she felt using a surrogate meant "surrendering to failure."
She told the magazine, "There's nothing more that I wanted than to cook my own baby."
Union and Wade have often dubbed Kaavia their "miracle baby" and are open about what it took to get to having her.
 "Every family is unique. How each family is created and comes together is special," she wrote on Instagram while describing her daughter's "birth journey."
"Kaavia James Union Wade's journey into our arms was long and at times brutal. There were heartbreaks that nearly broke us and streams of tears that turned into raging rivers."
Take a look at the gallery below to see how other first-time moms are celebrating the special holiday.
Kaavia may be Union and Wade's first child together, but she's also the step-mom of his three kids: Zion, Zaire and Xavier.
Congrats on this very special Mother's Day!