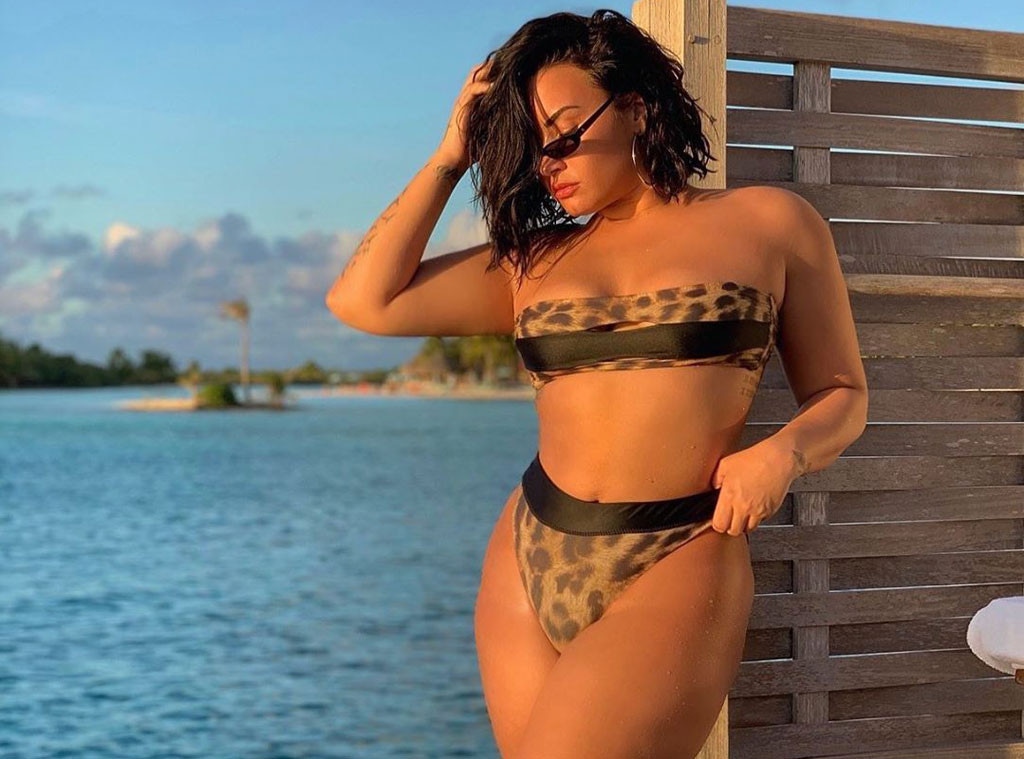 Instagram
Demi Lovato is getting sun-kissed.
The "Confident" singer soaked up the sun next to the clear blue waters of Bora Bora alongside some of her friends this weekend. Lovato posted some photos of her getaway on social media and flaunted her toned body. She wore a leopard print bikini that was comprised of a tube-top and high-waist bottoms.
"Just left what's possibly my favorite place on Earth with my best friends," she captioned it. "Bora Bora is literal heaven on Earth.. I may be posting a lot of pics in the next few days.. I'm sorry in advance."
No apology necessary, Demi!
Lovato's followers were absolutely loving the snapshot, which got over 2 million likes in a few hours. Hailey Bieber, Ashley Graham and Normani were among those who commented on the photo and left notes such as "Hey hottie!" and "yes Gawdd."
Other than posting some envy-inducing photos from her Bora Bora excursion, the singer shared major news about her career. She announced on Instagram that Scooter Braun will be her manager. She joins some pretty big names under his tutelage, including Ariana Grande, Justin Bieber, Kanye West, Karlie Kloss and Usher.
"GUYS!!!!!!! Dreams came true today for me. I officially have a NEW MANAGER!!!" she wrote on Instagram. 
She continued, "And not just any new manager but the one and only @scooterbraun!!!! Couldn't be happier, inspired and excited to begin this next chapter with you Scooter!!! Thank you for believing in me and for being apart of this new journey. Let's DO THIS!!!!!!"
Lovato wrote about her excitement even more in a note in her Instagram Story.
"I'm just so f--king grateful, excited and ready. Couldn't be happier," she typed. "God is good. Gonna take my time to release new music and then it's game on!!!"
The 26-year-old ventured to French Polynesia with two of her close friends, Matthew Scott Montgomery and Sirah (aka Sarah Mitchell).
Montgomery posted pictures of the three friends looking golden and well-tanned. "Three course meal," he captioned it.
Lovato's Bora Bora escape comes right on the heels of her big spring makeover. In April, the "Sorry Not Sorry" artist chopped off a few inches from her hair and is now rocking a dark brown lob.
Her stylist Amber Maynard Bolt said in a statement, "Demi has been feeling great and wanted something to represent that."
Lovato is embracing her change and loving how she looks and feels. In March, she clapped back at a headline that referred to her as having a "fuller figure," which she did not appreciate.
"I AM MORE THAN MY WEIGHT," she wrote on social media.
"Unlike the past, I'm not triggered, I'm not upset that someone wrote a headline about my 'fuller figure.' I'm angry that people think it's okay to write headlines about people's body shapes," she continued. "Especially a woman who has been so open about being in recovery from an eating disorder. Especially a woman who has been so open about being in recovery from an eating disorder."
Meanwhile, we'll be eagerly awaiting those new songs. Congrats on the big news, Demi!