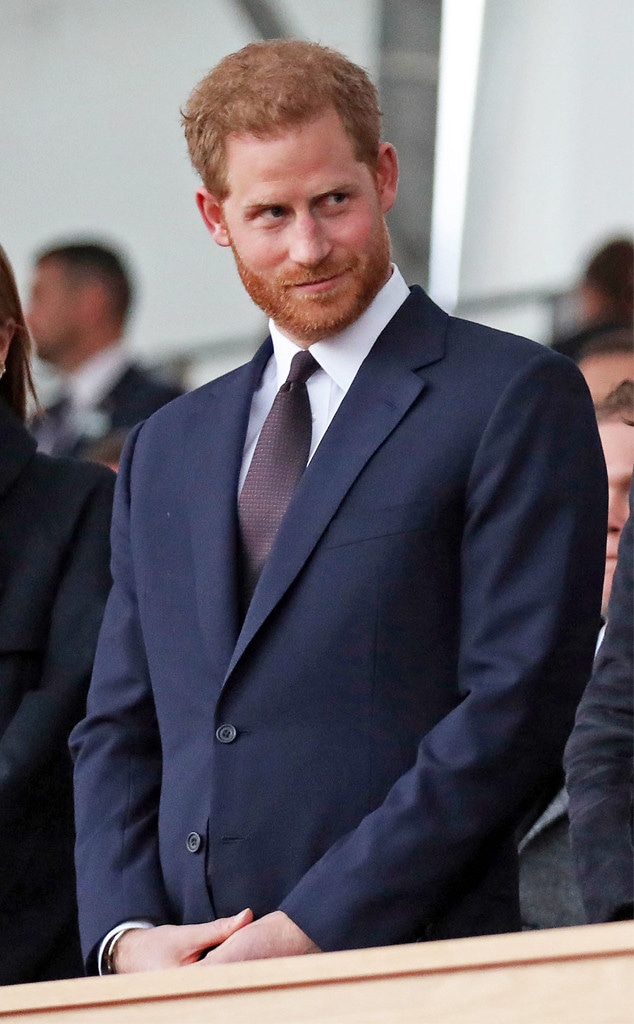 Steve Parsons/PA Wire
Prince Harry's official royal appearances are continuing just a hop, skip and a trot away from his home Frogmore Cottage.
The Duke of Sussex attended the Royal Windsor Horse Show alongside his grandmother Queen Elizabeth, grandfather Prince Philip and other family members on Saturday. This year's show bears extra significance because it marks the 200th anniversary of Queen Victoria's birth. The Royal Windsor Horse Show features jumping competitions, dressage and more.
The Queen fully embraced the spring season in her baby blue dress (a shout-out to baby Archie Harrison Mountbatten-Windsor perhaps?) and a grey coat with matching blue trim. Prince Harry also opted for a blue tone and went with a navy suit and maroon tie.
The 34-year-old's outing marks one of his few official appearances he's had since he and Meghan Markle welcomed their first child together on Monday, May 6. Prince Harry just returned from a quick trip to The Hague where he spoke about the 2020 Invictus Games, which will be held in Holland next year.
He said during his official remarks, "I'm absolutely thrilled that many more injured, wounded and sick servicemen and women will have the opportunity to continue the journey to their recovery."
Other than giving a moving speech about the games that he helped create, he even received a special gift from Princess Margriet of The Netherlands: an official Invictus Games onesie. 
Prince Harry even sported a new Invictus Games jacket, so the highlighted letters read "I AM DADDY."
Baby Archie's presence at the 2020 Invictus Games is still up in the air for now. When asked if he would make an appearance, Prince Harry replied, "I've no idea."
A soldier who is competing in the games, Dennis van der Stroon, told reporters that the Duke of Sussex spoke a bit about his late mother, Princess Diana. 
"He said missing a mother is like missing some kind of security, how you need that as a son and it falls away when you lose your mother," van der Stroon explained.
Both Meghan and Harry seem happy as can be in their first days as new parents. They introduced baby Archie to the world on May 8 during a photo-op in St. George's Hall at Windsor Castle. 
The Duchess of Sussex called parenthood "magic" and "pretty amazing."
She added, "I mean I have the two best guys in the world, so I'm really happy."
Prince Harry beamed, "We're just so thrilled to have our own little bundle of joy and be able to spend some precious times with him as he slowly, slowly starts to grow up."
Take a look at the photos below to see more pictures from Archie's official debut.
One can only assume Prince Harry galloped back home to Frogmore after the Royal Horse Show to be with his wife and their beautiful new son.