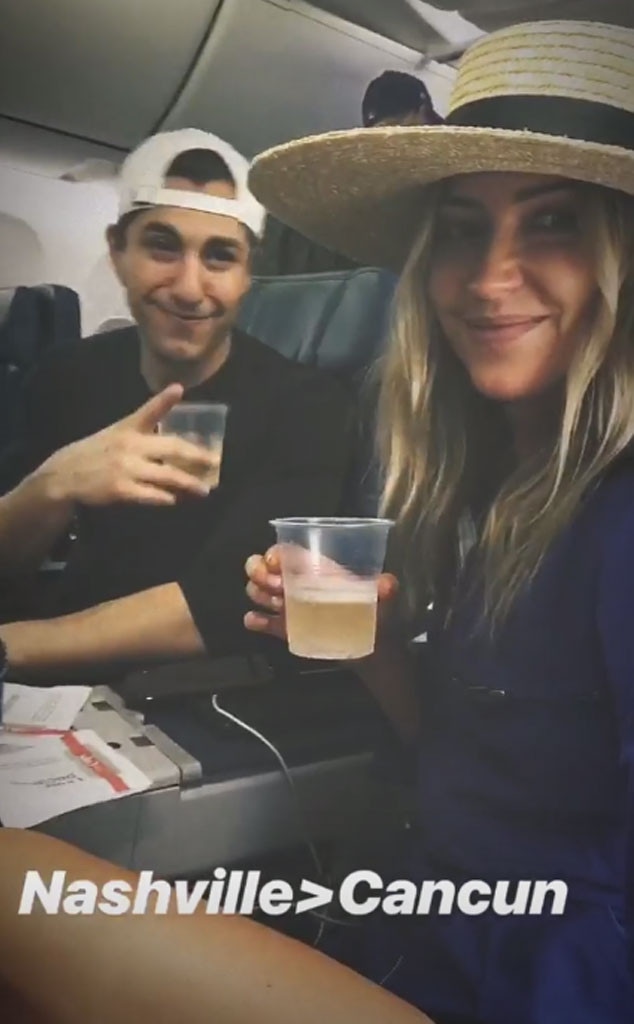 Instagram
Kaitlyn Bristowe and Jason Tartick's relationship is going international.
The fan-favorite Bachelor Nation couple took their long-distance relationship to the faraway land of Cancun, Mexico for a romantic weekend getaway. Both Jason and Kaitlyn documented their flight and arrival in Mexico on their respective Instagram Stories, which made that wanderlust bug hit twice as hard.
Jason flew to Nashville before the two of them jetted off to Mexico, and the New York native explained in his video, "What I've learned with Kaitlyn is when in doubt, always get flowers." So he went the extra chivalrous step and purchased her a little bouquet of "airport flowers," which were a few pink roses. 
He anticipated everyone's comments and asserted, "It's the thought that counts!"
It's the thought that counts.
Kaitlyn told Jason in another video about the flowers, "It's the thought that counts. I love them."
Jason then showed off the view of their hotel room, which overlooked the pool, swaying palm trees and, of course, the crystal clear blue water.
"Whole ocean in front of us and we're at the swim up bar," he captioned a photo of the two of them hanging out in the pool.
Kaitlyn, on the other hand, explained in her Instagram Story that Jason made fun of her large-brimmed sun hat that she even wore on the plane. We also learned that Jason, not Kaitlyn, is "the planner" in the relationship.
The Bachelor Nation couple has been going full-steam ahead ever since connecting on her Off the Vine podcast and becoming official just a few weeks later. They went on their first date in the beginning of January and Bachelor Nation has been rooting for them ever since.
The two of them have a tendency to gush about each other and share what makes the other so special to them. She recently talked to E! News after launching her new Dew scrunchies line and opened up about her favorite things about Jason.
"Jason is the most stable human being I've ever met in my life. He is an absolute rock for me," she said. "I've never met anyone like that. I don't even know how to put it into words of the kind of person he is. He's just the kind of person that your dad would hope you would marry."
This feels like a result of one of the best Bachelorette hometown dates possible!
Kaitlyn listed off a few characteristics about her beau that she finds especially charming. "He's everything. He's hilarious. He's so driven. He's smart. He's well-spoken. He loves his family. He's romantic. Like, he's everything," Kaitlyn explained.
She told E! News that despite being long distance, she still sees him "quite a bit," which she calls "lucky."
With Hannah Brown's season of The Bachelorette starting right around the corner (two days...but it's not like we're counting or anything), Jason and Kaitlyn's relationship is full proof that true love exists in the Bachelor world.
Take a look at the gallery below to see which of your favorite Bachelor Nation couples are still together.