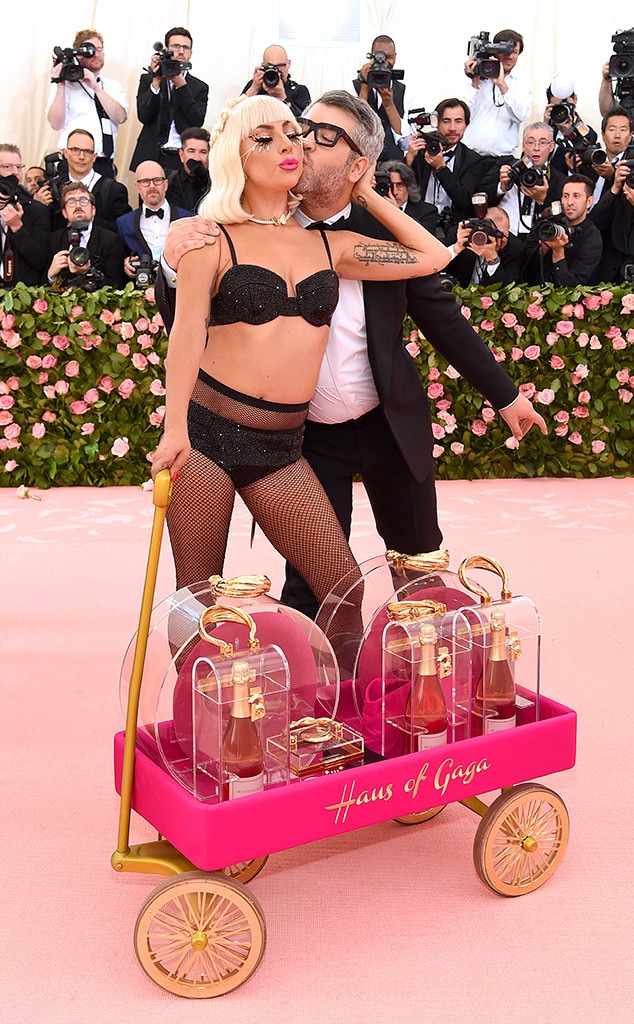 Jamie McCarthy/Getty Images
When Lady Gaga appeared at the 2019 Met Gala, she quickly turned it into the Met Gaga.
The 33-year-old star showed up and showed out to the larger-than-life event with her Brandon Maxwell designs—no, that's not a typo. Gaga attended the Met Ball with not one but four ensembles, each with its own personality and pop of pizzazz.
However, fans of the "Shallow" singer wouldn't have expected anything less, especially since she was co-chairing the fête with Harry Styles, Serena Williams, Gucci creative director Alessandro Michele and Vogue's editor-in-chief Anna Wintour.
The Mother Monster, as she's dubbed by her fans, paraded around the pink carpet in four unforgettable ensembles, and each one was on theme—which was "Camp: Notes of Fashion," based off of Susan Sontag's 1964 essay Notes on "Camp." From her kitschy props (she had a Haus of Gaga wagon) to her over-the-top gold lashes, she went above and beyond for the First Monday in May.
So how did she successfully pull it off? It took a lot of planning, working closely with designer Maxwell and naturally having a "camp soul."
"I know intrinsically that I have a camp soul," Gaga said in a behind-the-scenes video for Vogue. Later in the clip, she revealed how much she appreciated her designs.
"What I really love about what we're doing is that it reads like an essay or a poem, and it tells a story and it's so aligned with Susan Sontag's notes."
Dimitrios Kambouris/Getty Images for The Met Museum/Vogue
"As we tried things on and went through sketches, it just sort of came alive," the 34-year-old fashion designer revealed of the planning process in the same Vogue video. He explained that for Lady Gaga's four outfit changes, there was "no room for error."
"In this case, because everything came down to the fit, we had to measure exactly how the dress would fit over the previous dress and the inner workings of that dress had to reflect the dress underneath it."
Of course, nothing this epic happens overnight. In the video, Gaga is seen practicing her movements and the semi-performance she did as she stripped down to each outfit. Interestingly, the "Shallow" singer cleverly got ready at a nearby high school that's a few blocks from the Metropolitan Museum of Art. This made her grand entrance even more jaw-dropping because most paparazzi didn't catch her pre-carpet.
She later confessed that her final ensemble was a nod to her early career fashion.
"For my last reveal to be something that I did 10 years ago or even more, it's campy now," the 33-year-old star said. "We're gonna walk in like snobs, making it not snobby... and that is camp."
To see all of the outfits that made everyone gasp, keep scrolling through our gallery below.
It's safe to say these looks will go down in Met Gala history.