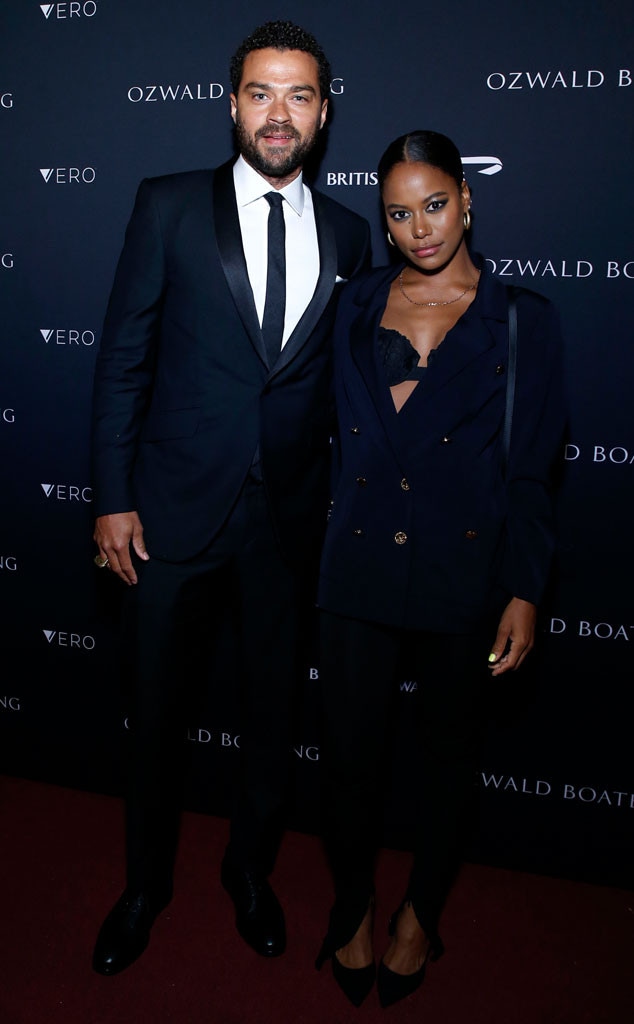 John Lamparski/Getty Images
Jesse Williams isn't single and ready to mingle anymore!
The Grey's Anatomy star recently made his relationship with actress Taylour Paige public. Last Sunday, the pair made their red carpet debut at the Ozwald Boateng Harlem Runway Show at the famous Apollo Theater. Of their public appearance, the couple shared several snaps of their fun-filled night, including sweet behind-the-scenes moments. As they posed for pictures, cameras caught them smiling, laughing and goofing around with each other.
"Hoodrats," the 28-year-old star captioned her Instagram post, alongside a few selfies of her and Jesse. In turn, the 37-year-old actor shared a post of his own with Paige, writing, "Chonkyfire."
The news of their relationship might not come as a surprise to some, considering the two sparked romance rumors in January when they were seen getting close at the Sundance Film Festival.
Interestingly enough, the 28-year-old actress shared an Instagram post that hints they were seeing each other as early as the fall of 2018.
"this was right after we saw 2 shooting stars," she began her caption, alongside a candid snap of her and Jesse. "A few days after my bday last year. I ain't never seen shooting stars in my entire big lil life. 2 with this one and 1 with @rileykeough in Tampa, FL when we were shooting ZOLAAAAAA."
No matter when they first started dating, one thing is clear: they both seem over-the-moon in love! What's more? We found some fun facts about the California beauty, and the place they (probably) met each other.
She's a Cali Girl:
The 28-year-old star is a certified California girl. She grew up in Inglewood, Calif. with her older brother, Travis Paige. In addition, she graduated from Loyola Marymount University and caught the dancing bug pretty early on. Which brings us to our next fun fact.
Dancing Is Her Passion:
Taylour started her dancing career at the age of two. She began training at an early age at the Westside Ballet Academy and spent two summers at the Kirov Academy of Ballet in Washington, DC. Paige went on to become a student of famed celebrity choreographer Debbie Allen in 2001. That same year, she was featured in Allen's Pearl and performed at every musical presented by the troupe from 2001-2009.
Before Hit the Floor, She Was a Real-Life Pro Basketball Dancer:
Paige, who is best known for her role as Ahsha Hayes in the VH1 TV series Hit the Floor, was a real-life cheerleader and dancer for a pro basketball team. She was a Los Angeles Lakers Girl for a short period of time. However, she only spent a few months with the team as she decided to finish college and pursue acting.
She's Worked With Jesse Williams on Grey's Anatomy:
Aside from her impressive list of acting credits, Paige presumably met her future boo while filming Grey's Anatomy in 2016. She was featured on the episode "Falling Slowly." Before starring on the hit ABC drama, she earned roles in High School Musical (her first credit), HBO's Ballers and Hit the Floor.
You'll See More of Her:
She's starring in more movies and TV shows in the upcoming year, so you'll be seeing a lot more of her. Her upcoming film, Zola also features Riley Keough, Nicholas Braun and Jason Mitchell. In addition, she's in The Baxters series.
And that's the tea on Miss Taylour! 
Previously, Williams dated SportsNet anchor Taylor Rooks and actress Minka Kelly. Moreover, it's been two years since he filed for divorce from Aryn Drake-Lee. The exes tied the knot in 2012, and share two kids, Maceo, 3, and Sadie, 5.
—Reporting by Amanda Williams