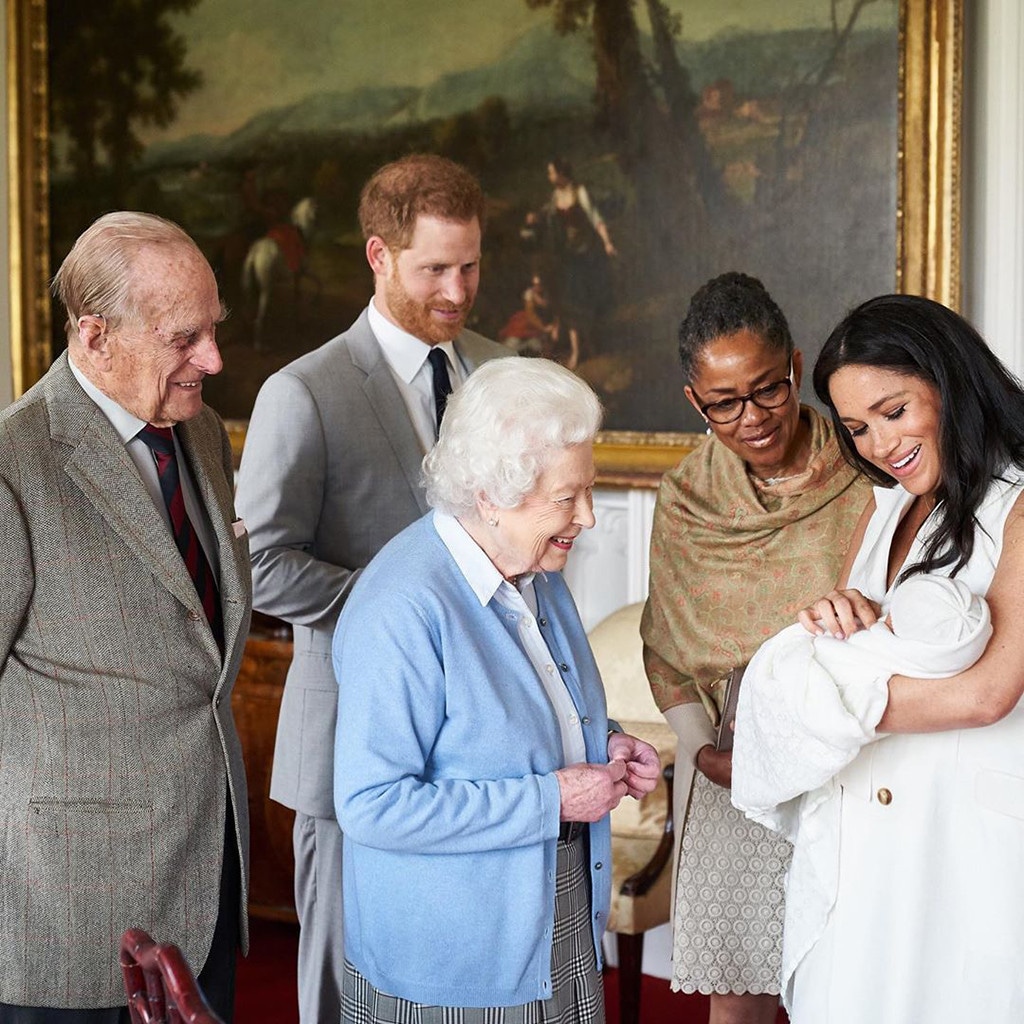 theroyalfamily via Instagram
To the untrained eye, it could have gone unnoticed. 
After all, as birth announcements go, it was fairly standard, proclaiming that Meghan Markle, The Duchess of Sussex, "was safely delivered of a son at 0526hrs this morning," and, as all expected, her husband, Prince Harry, The Duke of Sussex, was on hand for the big moment. 
Continued the release, shared on the royal family's official Instagram page, "The Queen, The Duke of Edinburgh, The Prince of Wales, The Duchess of Cornwall, The Duke and Duchess of Cambridge, Lady Jane Fellowes, Lady Sarah McCorquodale and Earl Spencer have been informed and are delighted with the news."
Which, when you break it down, all checks out, as Queen Elizabeth II and her husband Prince Philip are always at the top of the phone chain when it comes to royal baby arrivals and of course Harry and Meghan were quick to inform his dad, step-mom, brother and sister-in-law. The rest of the list, acknowledging Princess Diana's sisters and brother, were a new addition, having not been mentioned when Prince William and Kate Middleton welcomed their three heirs. (Nor did Kate's family get a shoutout, though Meghan and Harry saw to it that her mom, Doria Ragland, was included.) 
Harry wasn't about to mark such a momentous occasion without acknowledging all three of Archie Harrison Mountbatten-Windsor's grandmothers. 
Of course, he'd much rather his late mum could have been there, toasting the new arrival alongside the couple at their renovated Windsor Castle home, making plans to be the fun "nightmare grandmother" William once imagined would turn up at bath time, "cause an amazing amount of scene, bubbles everywhere, bathwater all over the place, and then leave."
That he would feel her loss her even more now as he started his own family was a given. And the 34-year-old confessed as much to veteran Dennis van der Stroon at the Thursday launch of the 2020 Invictus Games at The Hague. "He said missing a mother is like missing some kind of security," the future competitor told reporters, "how you need that as a son and it falls away when you lose your mother."
So short of having her on hand for babysitting duties or frantic, middle-of-the-night phone calls, he makes it a point to find little ways to at least keep her spirit alive, allow her influence to wash over him. 
Some have even speculated the name Archie was a nod to Diana's ancestor, Archibald Campbell, 9th Earl of Argyll, though it's also possible the couple are just fond of the moniker. (Closeted Riverdale fans, perhaps?)
Paying tribute to his late mother, killed in a 1997 car accident just weeks before his 13th birthday, is just what Harry does. At least, it's what he's done since getting the bulk of his grief out of his system, having spent those initial decades so scarred by the manner in which she died and the public way he was forced to cope, that he turned into a royal pain, the hapless bachelor who partied, drank and smoked in excess, not sure how else to dull his grief. 
"My way of dealing with it was sticking my head in the sand and refusing to ever think about my mom because why would that help. It's only going to make you sad. It's never going to bring her back," he shared in an April 2017 appearance on Bryony Gordon's Mad World podcast. It was only at William's urging, and realizing how close he was to, as he put it, "a completely breakdown" on numerous occasions that he realized he needed to change. 
"My mother died when I was very young. I didn't want to be in the position I was in, but I eventually pulled my head out of the sand, started listening to people and decided to use my role for good," he explained in an expansive Newsweek interview that July. "I am now fired up and energized and love charity stuff, meeting people and making them laugh. I sometimes still feel I am living in a goldfish bowl, but I now manage it better."
And having realized it was time to get to work on his legacy, who he'd be as a full-time royal, well it only made sense to follow the path that had been forged by a woman he dubbed his "ideal role model". Still so connected with her, "I intuitively know what my mother would like me to do," he shared, "and want to progress with work she couldn't complete."
That included the work she'd done to eradicate the world of landmines, Harry following her footsteps both literally—touring the minefields of Angola with Halo Trust in 2013—and figuratively, being named a patron of the anti-mines charity. 
The HALO Trust/Getty Images
And with Diana at the forefront of the fight to erase the stigma connected to HIV and AIDS—before she reached her ungloved hand out to a man stricken with the disease in the late 80s, such a move was virtually unheard of—he took up her mantle. On World AIDS Day in 2016, he joined Rihanna in getting tested for HIV in her native Barbados, the procedure streaming live on Facebook. 
"The whole process was actually really easy," he recalled in a 2018 PSA, urging people to learn their status in an effort to protect their own health and "bring an end" to the epidemic. "Taking an HIV test is something to be proud of—not something to be ashamed or embarrassed about." 
One of his pet causes, it was also the inspiration behind Sentebale, the charity he founded in 2006 with Lesotho's Prince Seeiso to help children in the African country affected by the disease and his decision to team with Diana pal Sir Elton John to form a coalition aimed at diagnosing and treating HIV-positive men. 
"I want to do something really constructive with my life," Harry explained of starting Sentebale (its name translating to "forget me not" in Sesotho). "I want to do something that makes my mother proud." 
Chris Jackson/Getty Images
He knew he'd done that in his personal life when he connected with Meghan, a woman whose philanthropic spirit naturally jibed with his own. Long before it was determined that do-gooding would be her primary career descriptor, the actress, 37, was involving herself in various causes such as World Vision Canada, an ambassadorship that saw her helping to build a well in Rwanda. 
Her own mother, she wrote on her now-shuttered lifestyle blog The Tig was the one to raise her "to be a global citizen, with eyes open to sometimes harsh realities. I must have been about ten years old when we visited the slums of Jamaica. I had never seen poverty at that level and it registered in my glazed brown eyes. 'Don't look scared, Flower,' she said. 'Be aware, but don't be afraid.'"
With that message, and countless others she gently received from Ragland over the years, her legacy was shaped: "I've never wanted to be a lady who lunches—I've always wanted to be a woman who works. And this type of work is what feeds my soul, and fuels my purpose."
That largesse is likely just one reason Harry predicted she and his mom would have been "thick as thieves", with Diana literally jumping up and down with excitement that her tender-hearted youngest had found his person. And though he lamented she'd never have the chance to meet his future bride, her presence was certainly felt on the November day they announced their betrothal—from the location selected for their photocall, the Sunken Garden being one of her favorite spots at Kensington, to the ring itself.
While the main diamond was sourced from Botswana, the site of the couple's secret first getaway back in 2016, the stones flanking it were hand-me-downs from Mom. "I think everything about Harry's thoughtfulness is—and the inclusion of that and obviously not being able to meet his mom it's so important to me—to know that she's a part of this with us," Meghan gushed of the custom piece, adding that in addition to getting acquainted with the blue blooded side of Harry's family, she had met with Diana's siblings and friends as well. 
Eddie Mulholland/Daily Telegraph/PA Wire
"I'm able to, in some way, know a part of her through them and of course through him," she shared. "And it's—it's incredibly special. And you know to be able to have this which sort of links where you come from and Botswana which is important to us and it's—it's perfect."
On days like this, Harry added, his mom's absence was most noticeable: "I really miss having her around and miss being able to share happy news," he admitted. "But you know with the ring and with everything else that's going on I'm sure she's..."
"...she's with us," his bride concluded. 
She was certainly felt in absentia six months later when the couple were officially pronounced husband and wife. 
Meghan made a point to include her favorite flower, forget-me-nots, sweetly hand-picked by her groom from their private garden, in her bridal posy and there was no question Diana's siblings would be included on the guest list, with Fellowes being asked to give a reading from the Song of Solomon. 
Noting how "keen" Harry was to involve that half of his tree in the festivities, his press secretary released a statement proclaiming, "Prince Harry and Ms. Markle both feel honoured that Lady Jane will be representing her family and helping to celebrate the memory of the late Princess on the wedding day."
Even after the ceremony was wrapped, the couple couldn't resist one last nod to Diana's fans. Though Meghan's Stella McCartney halter dress was certainly the star of her reception ensemble, there was no mistaking the gem on her right hand: an emerald cut aquamarine that once belonged to the mother-in-law she would never meet. 
Diana's jewels made another conspicuous appearance the day after she and Harry announced they were with child, Meghan turning up for the first day of their fall tour through Australia, Fiji, Tonga and New Zealand wearing her gold-and-diamond butterfly earrings and a coordinating bracelet. 
Because much like Harry, Meghan aims to embody Diana as she forges her place in The Firm. Like the People's Princess did decades earlier, she makes it a point to dole out hugs, particularly to her youngest fans, and often engages in secret acts of kindness. 
Meghan has already made under-the-radar charitable efforts, taking secret visits to comfort victims of the Grenfell Tower fire and quietly touring The North Essex Veterans Mental Health Network with Harry. And as Diana worked to erase the stigma surrounding AIDS, holding infected children in her arms without gloves or other medical coverings, Meghan, who wrote an op-ed in 2017 about the shame surrounding menstruation and the dearth of access to proper sanitation, is sure to take on less supported causes. 
"Diana blew out of the water all those prejudices with one small action," ABC News' royal contributor Victoria Murphy said, adding there's "no question" Meghan and Harry "will champion causes that may be controversial...in exactly the same way as Princess Diana did."
World Vision/Splash; Anwar Hussein/Getty Images
India Hicks, one of Diana's bridesmaids when she wed Charles, expects Meghan to make a similar impact. Noting the former actress has the same "brilliant" passion for humanitarian work, she told ABC News, "I think if she can go on and follow somewhat in Diana's steps of being able to get the world to watch her, to follow her and to learn from her, would be exceptional."
And there's little doubt both she and Harry will emulate the late princess in the way they raise their pint-sized heir. 
"Diana made sure William and Harry lived as much as a normal life as possible and as parents, William and Harry will always be influenced by their mother," royal biographer Duncan Larcombe predicted on the April ITV special Secrets of the Royal Babies: Meghan and Harry. "Her desire to give them a taste of normality runs through the veins of William and Harry."
And while it's certainly no stretch of the imagination to picture Harry, the man who proudly proclaimed of his wife post-labor, "How any woman does what they do is beyond comprehension," as a hands-on, diaper-changing dad, it's Diana's insistence on providing as many ordinary experiences as possible that he's most likely to mimic.
"She made the decision that no matter what, despite all the difficulties of growing up in that lime light and on that stage, she was going to ensure that both of us had as normal life as possible," he said in the 2017 documentary Diana, Our Mother: Her Life and Legacy, speaking on the good times he and William were afforded. "And if that means taking us for a burger every now and then or sneaking us into the cinema, or driving through the country lanes with the roof down in her old school BMW to listen to Enya."
And should it require occasionally blasting the Celtic pop star's greatest hits for him to feel his mother's approval, well, he's here for it. "All I want to do is make my mother incredibly proud. That's all I've ever wanted to do," he told People in 2016. "When she died, there was a gaping hole, not just for us but also for a huge amount of people across the world. If I can try and fill a very small part of that, then job done. I will have to, in a good way, spend the rest of my life trying to fill that void as much as possible."