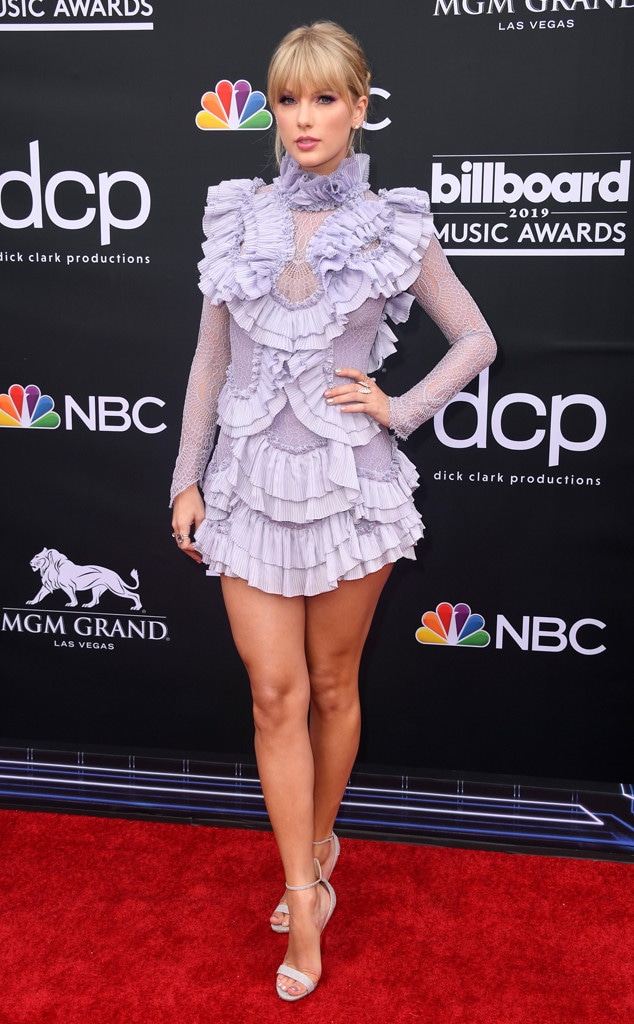 Frazer Harrison/Getty Images
Stars, they're just like us. And when it comes to celebrities and shows, even they have their favorites.
Take Taylor Swift, for instance. The 29-year-old singer shared a few of her latest obsessions during a new interview with Entertainment Weekly. 
When it comes to her fellow artists, Swift is a big fan of Drake's "one-liners" and Ciara's "Thinkin Bout You," which she says is "amazing." 
"I listen to it every day when I wake up. She's so nice, too," she says. "She's been working hard and challenging herself and making cool stuff."
She also has love for King Princess, Tayla Parx and Lana Del Rey. 
"Anything that she puts out I'm going to not only listen to but do a full read-through of the lyrics," Swift says about the "Video Games" star.
Another singer she loves? Britney Spears. The 10-time Grammy winner says she can't get enough of her laugh.
"It's Heaven," she says. "It's like a summer's day. And it makes you so happy. You wish you were there laughing with her and having a party."
As for the shows Swift is watching, the "Delicate" star enjoys BBC America's Killing Eve and Amazon's Fleabag. 
"I don't think we've seen such a lovable psychopath," she says about the Sandra Oh show. "Oh God, it's so intoxicating. We've only ever seen that kind of endearing badness in men—until recently when we started to see female characters that are able to break through the constant likability challenge we find ourselves in."
She's also a fan of Game of Thrones. In fact, the show has inspired some of the music on her reputation album. For instance, she says "Look What You Made Me Do" is  "literally Arya Stark's kill list" and give Cersei and Daenerys "vibes." Similarly, she tells EW "King of My Heart" was inspired by Khal Drogo and Daenerys' relationship and "I Did Something Bad" hints at the Stark sisters' conspiring to kill Littlefinger. Of course, Swift also drew inspiration from her own life.
Swift also dishes on the books she loves in the issue and praises Sally Rooney's Conversations With Friends. 
"I like the tone she takes when she's writing," Swift says. "I think it's like being inside somebody's mind."
Peggy Sirota for <i>Entertainment Weekly</i>
However, we're not sure how much free time Swift has, especially considering she just released her new single "ME!" and has been teasing a new album. 
"There's a lot of a lot on this album," she tells EW. "I'm trying to convey an emotional spectrum. I definitely don't wanna have too much of one thing….You get some joyful songs and you get the bops, as they say."
Still, she says there's some "really, really, really, really sad songs" on there, too—but "not enough to where you need to worry about me."
While Swift has yet to confirm the name of the new album, she has been leaving a trail of Easter eggs for her fans to follow, including this palm tree photo that cryptically signaled new music was on the way.
"I posted that the day that I finished the seventh album," she recalls. "I couldn't expect [my fans] to know that. I figured they'd figure it out later, but a lot of their theories were actually correct. Those Easter eggs were just trying to establish that tone, which I foreshadowed ages ago in a Spotify vertical video for 'Delicate' by painting my nails those [pastel] colors."
One thing is for sure: This new album will mark a new era for Swift—one in which she's able to home in on what's truly important in her life.
"Our priorities can get messed up existing in a society that puts a currency on curating the way people see your life," she tells the magazine. "Social media has given people a way to express their art. I use it to connect with fans. But on the downside you feel like there are three trillion new invisible hoops that you have to jump through, and you feel like you'll never be able to jump through them all correctly. I—along with a lot of my friends and fans—am trying to figure out how to navigate living my life and not just curating what I want people to think living my life is. I'm not always able to maintain a balance, and I think that's important for everyone to know about. We're always learning, and that's something that I also had to learn—that I've got to be brave enough to learn. Learning in public is so humiliating sometimes….Do I feel more balanced in my life than I ever have before? Um, probably yeah. But is that permanent? No. And I think being okay with that has put me in a bit of a better position."