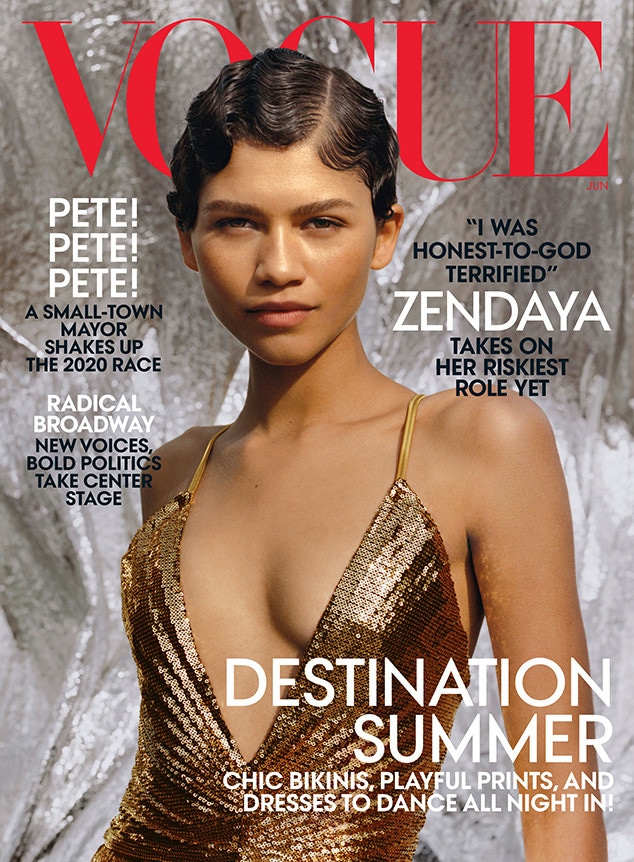 Tyler Mitchell/Vogue
Zendaya is spreading her wings in new directions.  
Approaching nearly a decade in the industry, the 22-year-old actress and influential fashion maven is no stranger to the big or small screens. After roles in The Greatest Showman, Spider-Man: Homecoming and its upcoming sequel, the star is preparing to debut her latest work as the lead of HBO's upcoming teen drama series, Euphoria, due out in June. For the intense project, co-starring fellow actresses Storm Reid and Maude Apatow among others, Zendaya portrays a recovering drug addict, vastly different from Rocky Blue, the aspiring backup dancer she portrayed for three seasons of Disney's Shake It Up, her breakout role. 
Last year, she wrapped her most recent Disney project as K.C. Cooper on K.C. Undercover and is now about to unveil her latest challenge, one very much outside of the Disney sphere. "Obviously, there's not much in my own experience of being a teen that I could draw on, especially when it comes to struggling with addiction," she told Vogue as the June issue's cover star. 
"It's a totally different thing than being the star of K.C. Undercover," she told Vogue. "That first day on set, I was honest-to-God terrified."
However, her differing Disney background seemed to have no bearing on executive producer and writer Sam Levinson. In fact, according to the magazine, her photo was on his mood board for the show. 
"There's a way Z can vacillate between seeming extremely tough and extremely vulnerable, and it's all in her face," he explained to Vogue. "She can flip on a dime. I felt like, That's the person who can channel this character, and her mix of madness and sweetness. It was an instinct."
While fans wait for Zendaya's newest performance to unfold on the small screen, the star is also interested in tackling maddening issues in real life, including gentrification. 
"I keep thinking, Is there a way I can help with this, through art?" she told Vogue. "I mean, obviously, I've got a platform...but I also know, don't just post whatever. You've got to listen to people. Talking is important. But walking the talk is important, too."
As for being called an activist, "It's nice," she told Vogue, "but I'm not. What I'd really like is to reach out to my peers in the Bay Area. Like, there are kids I was in elementary school with, who are out there doing the work. Organizing. Maybe they can help me figure out what to do."
Vogue's June 2019 issue is available on newsstands nationwide May 21.