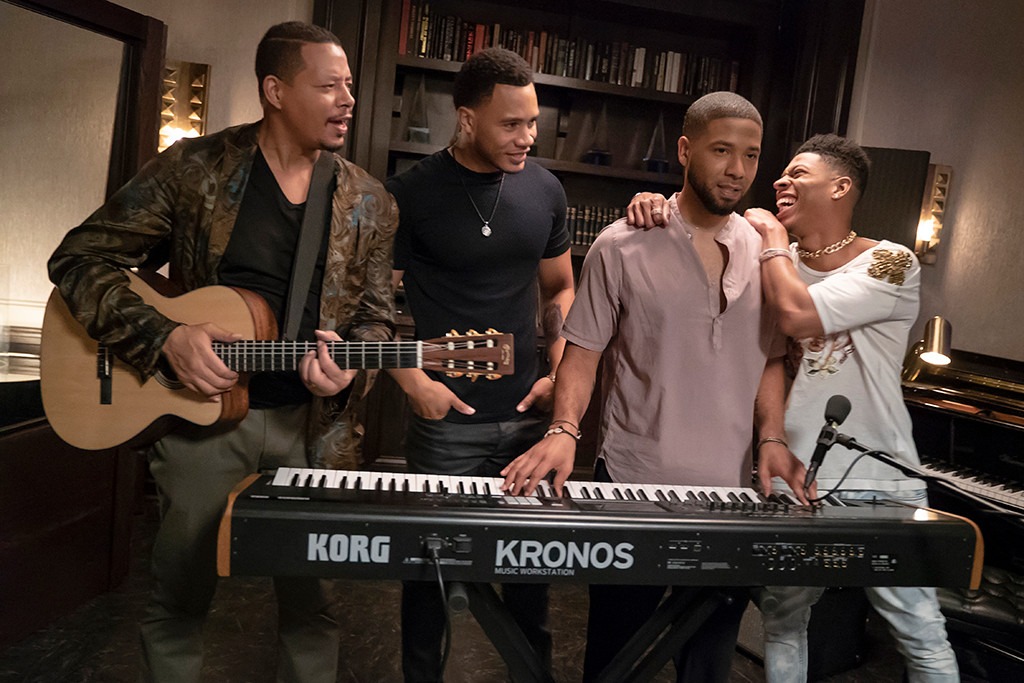 Fox
When Fox renewed Empire for a sixth season, the network and production company behind the show quickly made it clear embattled star Jussie Smollett would not return...for now.
"By mutual agreement, the studio has negotiated an extension to Jussie Smollett's option for season six, but at this time there are no plans for the character of Jamal to return to Empire," the network said in a statement.
Note the key phrase of "at this time."
The season five featured the casket mystery revealed—it was Kingsley (A.Z. Kelsey) not Smollett's character Jamal—leading many to question how the show will write out the character. Smollett was removed from the last two episodes of the season following his character's wedding. It was easily explained away as a honeymoon trip.
"We have such a terrific ensemble that when first you're told you have to take one chess piece out, it's 'What the hell am I going to do?' But then it opens up space and room to tell the other important stories that you want to tell. So there are pluses and minuses," showrunner Brett Mahoney told Variety. "There was definitely stuff I wanted to do with Jamal in [episodes] 17 and 18 that I just had to express a different way, but it did open up the focus a little bit more on the Andre storyline."
Season six was just announced and Mahoney said they have not begun to break story, with or without Smollett.
"I think we are still in the same place where we don't have plans specifically at this moment. I mean, I haven't gotten all of the writers together, so we don't really have our plans for next season," he told EW.
When asked if viewers have seen the last of Smollett's character, Mahoney told TV Guide, "I don't think any decision like that has been made as of yet." And whether or not he could return this year, he said, "Yeah, we don't have specific plans right now, but we haven't broken the story for that season yet."
Smollett was hospitalized following an alleged hate crime in January. An investigation followed, with Smollett eventually facing criminal charges for his alleged involvement in the whole thing. The charges were dropped in March.
"Today, all criminal charges against Jussie Smollett were dropped and his record has been wiped clean of the filing of this tragic complaint against him," Smollett's attorneys, Tina Glandian and Patricia Brown Holmes said in a statement. "Jussie was attacked by two people he was unable to identify on January 29th. He was a victim who was vilified and made to appear as a perpetrator as a result of false and inappropriate remarks made to the public causing an inappropriate rush to judgement."  
"Jussie and many others were hurt by these unfair and unwarranted actions," the statement continued. "This entire situation is a reminder that there should never be an attempt to prove a case in the court of public opinion. That is wrong. It is a reminder that a victim, in this case Jussie, deserves dignity and respect. Dismissal of charges against the victim in this case was the only just result. Jussie is relieved to have this situation behind him and is very much looking forward to getting back to focusing on his family, friends and career."