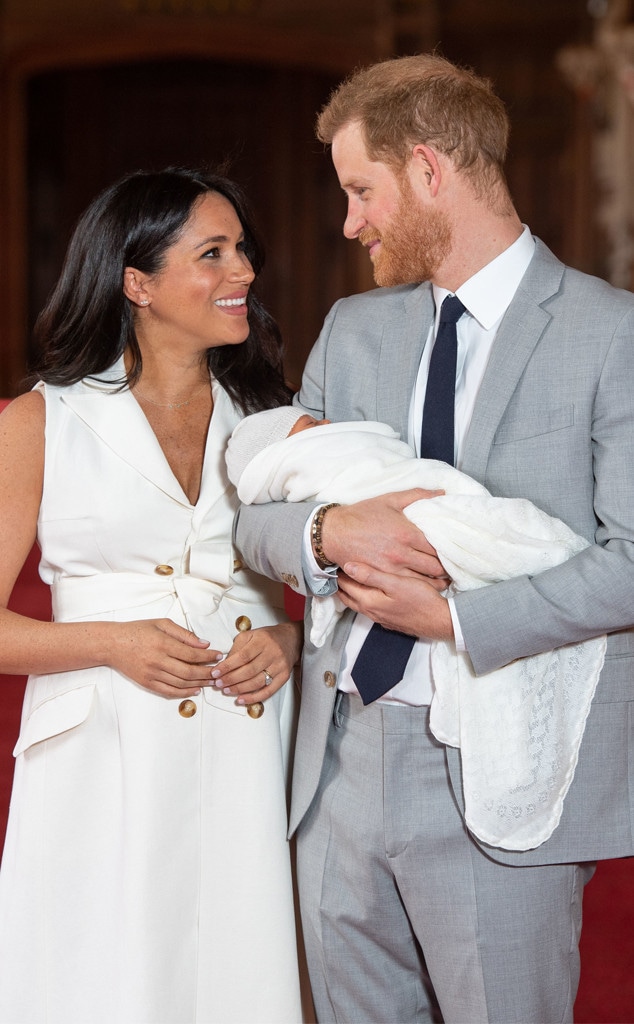 Dominic Lipinski - WPA Pool/Getty Images
Kids say the darndest things!
All eyes were on Meghan Markle and Prince Harry when they introduced their son to the world on Wednesday morning. The first-time parents smiled from ear-to-ear as they held their baby boy and revealed his name, Archie Harrison Mountbatten-Windsor.
While the royal baby's name came as a surprise to almost everyone, it looks like Prince George was right on the money this whole time.
Back in January, Prince William and Kate Middleton's eldest son apparently took a liking to the name Archie, and told a woman on the street that it was his moniker. The Sun, who first reported on the cute moment, shared that the 5-year-old royal and his sister Princess Charlotte were visiting their grandmother Carole Middleton when a woman walking a dog came across them. The two royals were playing when Prince George started petting her dog and spilled the beans about his "name."
She told the publication, "I was asked by a police minder not to take a photo of the children, which I didn't, but George started stroking my dog. Just to be friendly I engaged in a bit of small talk and I asked George what his name was, even though obviously I knew it."
The woman continued, "To my astonishment he said 'I'm called Archie' with a big smile on his face. I don't know why he calls himself Archie but kids often play with their names and I think it's lovely."
While it's very likely Prince George's nickname is Archie, royal watchers seem to think he was on to something more. Many are thinking he overheard his uncle and aunt play around with the idea for their baby. Regardless, it looks like the royals will have two Archie's in the family.
Of the new addition to the famous family, the first-time parents were over-the-moon in love with their little nugget.
"It's magic. It's pretty amazing," Markle told the press during her son's debut. "I mean I have the two best guys in the world, so I'm really happy."
Prince Harry added, "We're just so thrilled to have our own little bundle of joy and be able to spend some precious times with him as he slowly, slowly starts to grow up."