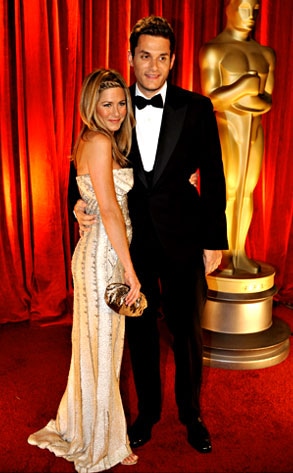 AP Photo/Chris Carlson
Jennifer Aniston and John Mayer may have called it quits.
That's the rumor I'm hearing. A source says the pair's on-again, off-again relationship may have ended sometime within the last week, when Aniston returned from her overseas Marley & Me junket.
"He broke up with her when she got back from her European tour," the source said.
Aniston's rep did not immediately comment. Mayer's rep declined to comment on the singer's personal life.
But what are their friends saying?
One pal warns that we shouldn't be quick to assume the two are through for good. As we know, this wouldn't be the first time they've gone their separate ways.
Aniston recently opened up about love and romance to the U.K. magazine You. "Who ever said that every relationship has to last forever? That's hoping too much," said Aniston, who turned 40 exactly a month ago. "I think every relationship is a world unto itself."
As for finding the perfect partner, she said, "I don't have one and I don't think it exists."
Aniston and Mayer went public for the first time at the Oscars at the end of last month. Backstage at the Kodak Theatre, Aniston told Gayle King, who was interviewing them for her pal Oprah's show, that she was "very happy." Later in the night, they strolled arm in arm into the Vanity Fair postshow party at the Sunset Tower Hotel.
Most recently, Aniston was spotted on Monday at the same hotel grabbing a bite to eat at the Terrace restaurant. She'll be jetting to New York City in the spring to shoot The Baster, in which she stars opposite Jason Bateman as an unmarried 40-year-old who decides to have a baby with her best friend.
Mayer, meanwhile, has been in the studio working on a new album.
(Originally published March 11, 2009, at 8:15 p.m. PT)