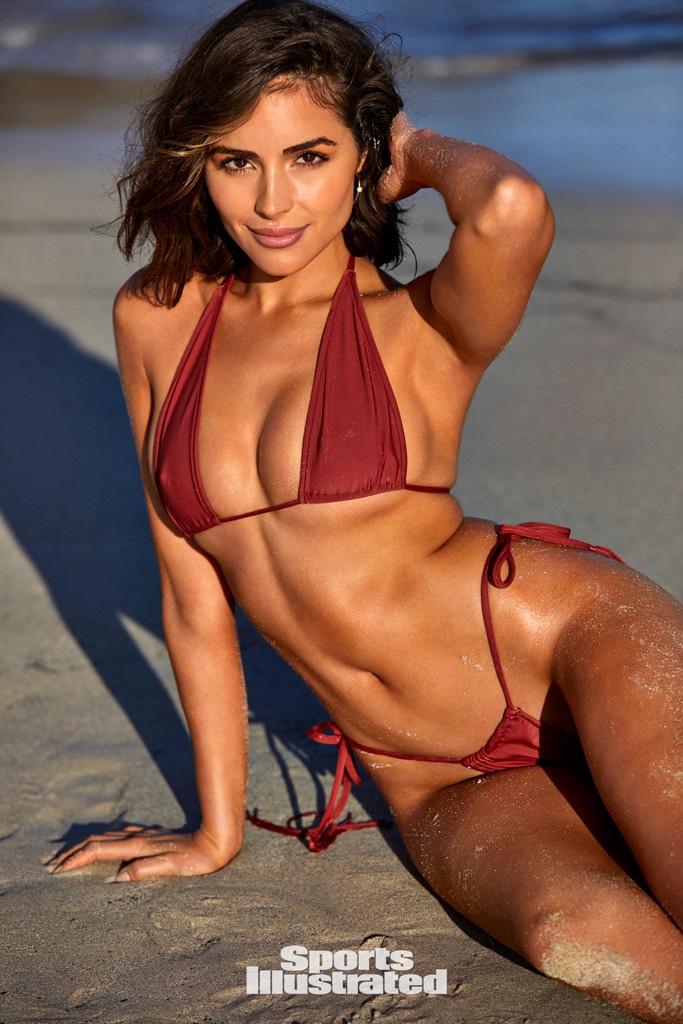 Josie Clough/Sports Illustrated
Olivia Culpo is ringing in her 27th birthday by getting reflective about her Sports Illustrated Swimsuit Issue.
The model shared some photos on Instagram from her SI Swim photo shoot—one of which involved her standing topless with a snake wrapped around her bottom half—and she provided her followers with an in-depth look at her mental state that day. 
Culpo's lengthy caption is a blatant dig at her ex-boyfriend Danny Amendola, though she never mentions him by name. The former Miss Universe alluded to their October breakup at the top of her caption, which occurred right after the NFL player was seen getting cozy with Bianca Peters on the beach in Miami.
Like a phoenix rising from the ashes, she provided details about how she coped with one of her "hardest days" and the lessons she took away from it all. 
"This was one of my hardest days for personal reasons (as some of you may remember). I landed in Australia to shoot these photos with some info that rocked my world," she began. "Looking back at this first picture, I know exactly what was going through my mind at the time."
Culpo continued to talk about how being in the SI Swim issue is a goal she always had in mind.
She wrote, "I was so incredibly thankful for the opportunity to be doing something I had dreamed of, and wished and hoped for since I was a little girl. And I sit here today feeling SO grateful."
Josie Clough/Sports Illustrated
The birthday girl shared three takeaways in the hopes that it will help other people going through similar situations.
"I feel like I worked really hard, and hope I can use my experience to inspire people to 1. Always follow your dreams 2. Know the power of the law of attraction and manifesting what you want in life," she added. "3. Try your hardest to always give thanks, even when it is difficult and you may not understand why certain things happen when they do."
Culpo admitted she was "struggling" internally while taking the photos, but she also "was thanking God for the opportunities life has given me and for making every day a blessing."
Amendola and Culpo's relationship has been rocky and on-and-off at best since their October split. They were seen together on New Years' Eve, which caused some reconciliation rumors. A source told E! News in January that she and Amendola had "reconnected" and were "working on their relationship." However, Culpo still questioned the wide receiver's loyalty and didn't "fully trust Danny anymore."
The two of them had broken up and gotten back together a number of times but their relationship seemingly ended for good around March. In April, Amendola took their breakup one step further and went on a very, very NSFW rant on Instagram about the model and their relationship. The 33-year-old deleted the post later, but his words were not forgotten.
Amendola said Culpo's only motivations were to "be noticed on the internet and in Hollywood to make money."
He went on, "I believe there should be a boundary btw private life and social media. Olivia believes in fishbowl lifestyle. This fundamental difference was huge in our relationship. If you're my real friend you know I'm private."
Amendola criticized Culpo for her social media postings and his lack thereof. 
"She gets so mad at me for not posting her on social media, but I think this s--t is sometimes fake, sometimes toxic, but sometimes beautiful. And I felt like she had enough pictures online anyway," he wrote.
He called himself "an idiot" at one point but then said, "She's f--ked up too."
However, he made sure to add in the personal detail "The sex was f--king crazy too."
Amendola went one step further to call out Zedd after Culpo and the DJ sparked romance rumors at Coachella and dubbed him a "scrony little f--k."
In yet another now-deleted Instagram post, the NFL wide receiver criticized the media and said people and the public have "no idea what goes on behind closed doors."
"I'm a private, single guy and if everyone's happy - I'm happy. It's not fun seeing your name attached to a click-bait headline story that is completely fabricated bulls--t..so when I saw this love triangle gossip I tried to clear the air," he penned. "I take blame for the miscommunication! Good vibes only from me! ALL LOVE."
The model also revealed in an interview on The Jenny McCarthy show that after she and Amendola split, a number of married men slid into her DMs.
"I really want to screen cap all of them, and just be like, 'Hey all of you guys, tell your wives that they need to leave,'" she said on the SiriusXM show. 
Culpo said she was "offended" that these taken men thought she would fall for it. If she could tell these men anything, it's "I am going to put you on blast."
No word yet on if Amendola will make any other comments about Culpo's most recent achievement.
Happy birthday, Olivia, and congrats on the SI Swim issue!