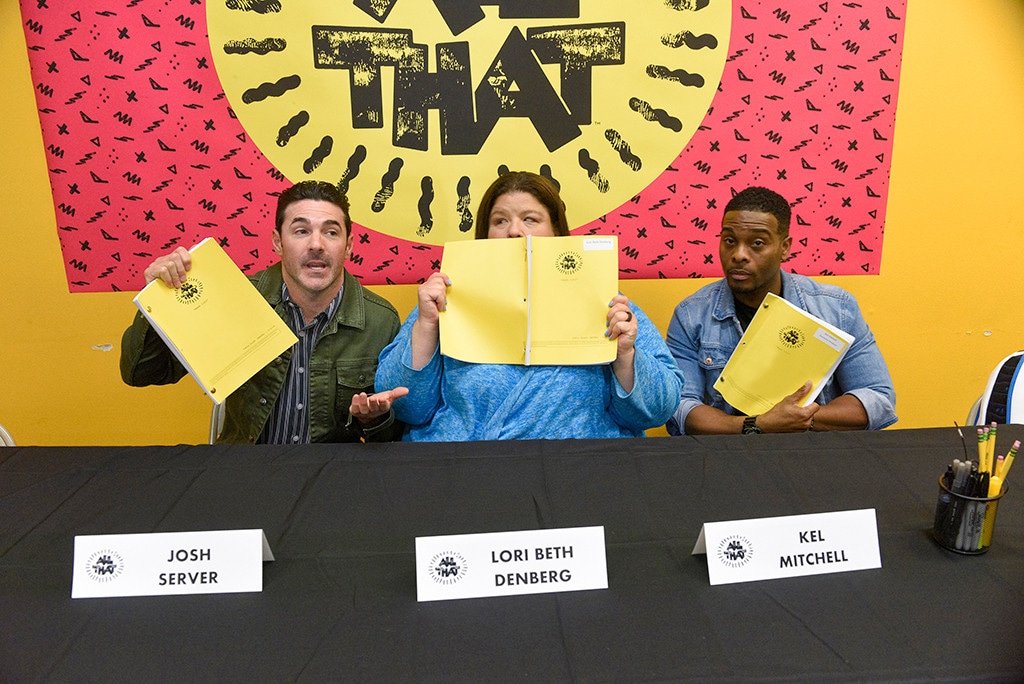 Nickelodeon
When All That returns to Nickelodeon there will be some very familiar faces helping usher in the new cast. E! News has learned Kel Mitchell, Josh Server and Lori Beth Denberg will appear in the premiere in summer 2019 on Nickelodeon. See an exclusive photo of the original All That cast members reunited at the show's first table read.
In addition to the guest stars, the new series will bring back fan-favorite sketches Good Burger, Vital Information and Loud Librarian. The new cast of seven kids will be revealed at a later date.
Mitchell is executive producing the new series alongside Kenan Thompson and Kevin Kay. Jermaine Fowler is serving as consulting producer.
The original All That ran from 1994-2000 on Nickelodeon. It was revived in 2002 and ran until 2005. The sketched comedy series helped launch the careers of Thompson, Mitchell, Denberg, Server, Amanda Bynes, Nick Cannon, Gabriel Iglesias and Jamie Lynn Spears, among others.
The return of All That was announced in February 2019 and it's just one of the many revivals in the works at the kid-focused network. A new Rugrats series is in production, as is a new Are You Afraid of the Dark? miniseries.
"We have a laser focus on who kids are today, and what they want, so we are making a wider variety of shows and series for them, and we're working with brand-new kinds of talent and producers," Nickelodeon's president Brian Robbins said in a statement when the reboots were announced. "We have a new creative team in place and a renewed energy that we're harnessing to bring the buzz back to Nick."
All That premieres in summer 2019 on Nickelodeon.