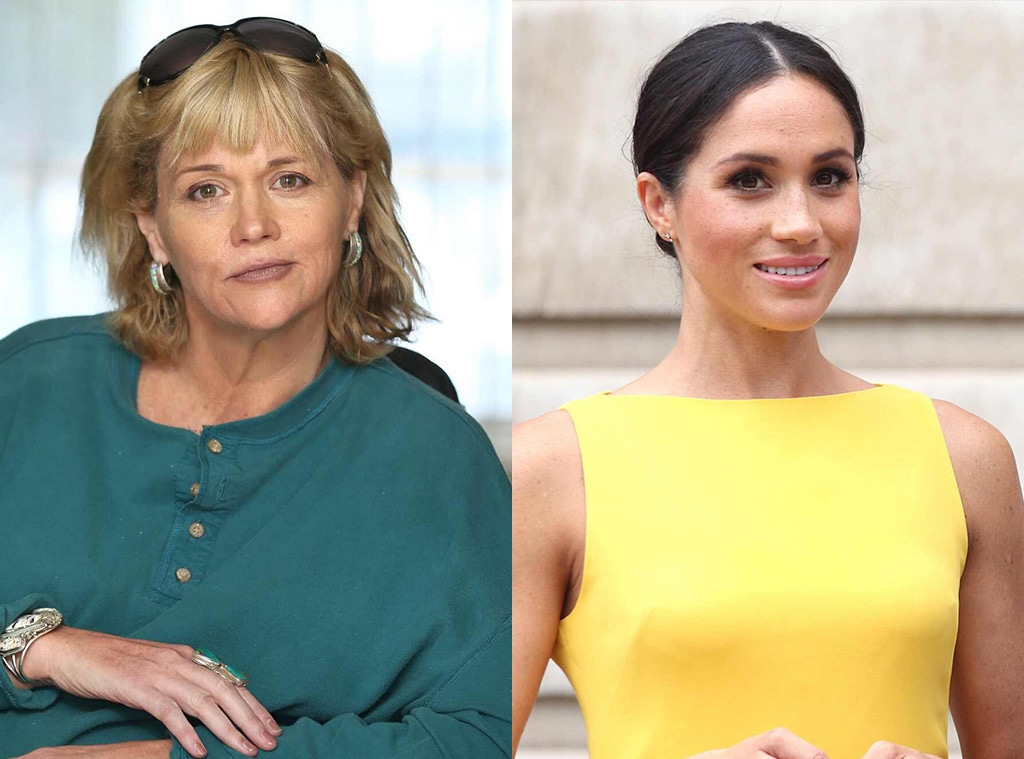 Splash News; Yui Mok/PA Wire
Well, this was royally unexpected.
Meghan Markle's estranged half-sister Samantha Markle has slammed the Duchess for being insincere, proclaimed she is "incredibly rude," and even compared her to Cruella de Vil. But now, following the birth of Meghan's son with Prince Harry, Archie Harrison Mountbatten-Windsor, Samantha is, well, uh, offering her well wishes. (We're caught off guard, too.)
"Well, I love it," the 54-year-old told DailyMailTV. "Family is family. What I think is incredible is that it's a great moment historically and although the adults have a lot of water under the bridge, I would really like to see everyone reach out. We've extended the olive branch and now it is Meghan's turn."
"We're all welcoming the baby—Markles, Raglands, Sussexes, Windsors," continued Samantha. "In terms of the gene pool, we've all made a contribution to this wonderful little boy who will probably grow up to be an exceptional man and we'd like to treat this as if we're all a big family. It would be nice not to react to what we've heard in the news but to personally meet him and let him judge us for himself."
Often one to shade her sister, Samantha added a jarringly sweet touch to her message.
"I want him to know he's got a big family and he's part of an amazing historical time and we're excited for him," she said. "We're excited for Meg and Harry—I am really excited for her. I love her, she's my baby sister and it doesn't matter what we've all said back and forth but she's got to do the right thing. I just want to say Meg, you've got a world here and family here [in the U.S.] that's excited for you."
Watch:
Meghan Markle & Prince Harry Reveal Baby Boy's Name
Alas, she did end on seemingly passive note, bringing up Meghan's estrangement from their dad, Thomas Markle. (Before her May 2018 wedding, he staged paparazzi photos and then skipped her vows.)
"I want Meg to be part of his life, I want Meg to be able to share this beautiful time with him in whatever way she can," she said. "I think it's important for her too. I hope something sticks with her—that she decided to do the right thing for my dad. Life is short and we're family. I hope she decides to do the right thing this time."
Strangely enough, just two months ago, Samantha took aim at her half-sister while defending their dad. "She doesn't have a heart, or she would have been doing everything she could to make him comfortable and reciprocate and be loving and gracious and make sure he's comfortable in his old age," she said in an interview for the U.K.'s Channel 5 Meghan and the Markles: A Family at War. "So, broken heart? No, his heart's broken. She can't turn herself into the victim here."
The following month, in the TLC special Meghan & Harry: A Royal Baby Story, she continued her tirade: "You can't hurt people like this and then turn around and flip the script and play victim."
Perhaps now the hatchet has been buried?