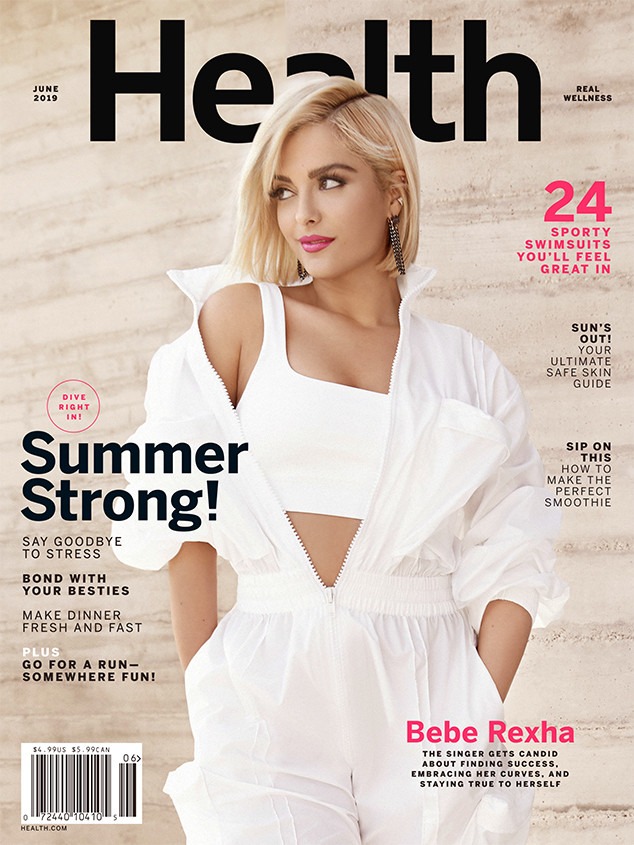 Coliena Rentmeester / Health
Bebe Rexha is laughing off rumors about getting plastic surgery.
The 29-year-old singer was asked about reports she allegedly got a nose job or butt implants in a cover interview with Health magazine, published online on Wednesday and in the outlet's June 2019 issue.
"I think it's funny," she said in response to the rumors. "My friend's a stylist, and he works with other people in the industry, and they've talked about my butt, not knowing he's my best friend. They're like, "It's so fake.' And he's like, 'I've known this girl forever; that ass is not fake.' I've never had my butt done. I've never had my nose done."
"Actually, I have a deviated septum, and I keep getting sinus infections, and I'm scared to get that [fixed]," she continued. "I'm scared to go under the knife—I don't want it to mess up my nose! If I got work done, I would definitely say it. I definitely want to get my boobs lifted one day. If it makes me feel better and sexy? I'm like, do whatever you want."
The singer had also said on the Kyle and Jackie O Show in 2018, "Everyone thinks I've got my nose done, but fortunately I did not."
Daniel Boczarski/WireImage, Rick Diamond/Getty Images for Music Business Association
The singer also talked about her longtime struggle with body image. She said that she has been "thicker" from a young age and that after she began her music career, her managers wanted her to lose 20 pounds.
"I went through a point of really not liking myself, and I still have my moments—but I just started trying to be nice to myself and doing things every day," she said. "I walk around the house in just underwear and a bra. My therapist told me, 'You should walk around naked; it helps.' I'm like, 'I can't do that yet!'"
"I see pop stars who are super thin," she said. "I could definitely get there. I've done it before, where I was 120-something pounds—and I was just miserable. I was always cold, never eating; I had no ass. Now I look at those pictures like, 'Oh my God, I was so skinny.' But I wouldn't go back there."