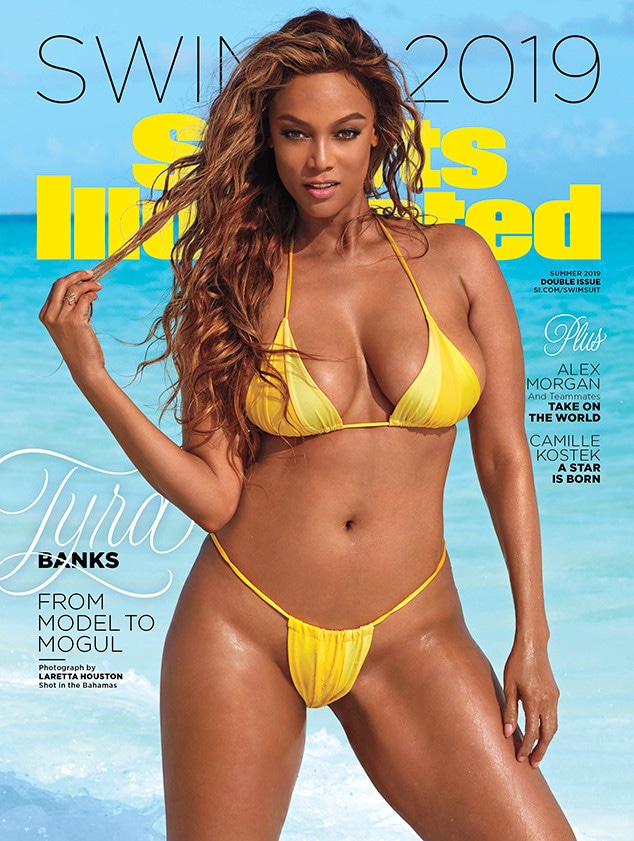 Laretta Houston / Sports Illustrated Swimsuit
Tyra Banks is back, baby!
The 45-year-old supermodel-turned-TV personality, known in recent years for her work on America's Next Top Model and America's Got Talent, has returned to modeling for a very special comeback; she once again graces the cover of the Sports Illustrated Swimsuit Issue, more than two decades after she did so for the first time.
The cover of the outlet's 2019 edition shows Banks smizing in a skimpy yellow string bikini.
"This is for everybody that has been told that they are not good enough because of their body, their age, their everything," Banks tweeted. "#BanX is here to tell you that you ARE friggin' fierce no matter what anybody says! Drop mic now! @SI_Swimsuit 2019"
"#NewProfilePic," she added.
She also wrote on Instagram, "#Thankful for your fierce love and support all these years. #BanX"
In another photos featured in the issue, Banks wears a skimpy one-piece black and silver studded swimsuit while sitting back on wet sand by an ocean, and also stands and smizes while kneeling in the water in a metallic string bikini.
Laretta Houston / Sports Illustrated Swimsuit
Banks made her Sports Illustrated Swimsuit debut in 1993 with a bikini photo shoot. In 1996, she appeared on the cover for the first time, sharing it with fellow model Valeria Mazza, with both wearing corresponding leopard-print bikinis. In 1997, Banks landed her first Sports Illustrated Swimsuit solo cover, appearing in a burgundy and magenta polka dot bikini.
Laretta Houston / Sports Illustrated Swimsuit
She also appeared in a bikini photo shoot for the magazine's 1998 issue. Also, Banks and Kate Upton wore sexy black dresses in a photo spread featured in Sports Illustrated Swimsuit's 2014 issue.
Russell James / Sports Illustrated Swimsuit
Banks had largely retired from modeling in 2005, the year she walked her last Victoria's Secret Fashion Show runway, a month before she turned 32 and two months after her daytime talk series The Tyra Banks Show debuted. The program ran for five seasons.
Walter Iooss / Sports Illustrated Swimsuit
"Tyra Banks is the epitome of what we hope for all the women who are a part of Sports Illustrated Swimsuit," Sports Illustrated Swimsuit's editor MJ Day said in a statement posted by the magazine. "What she has achieved so far in her career is extraordinary. She has parlayed a modeling career into phenomenal success that spans multiple industries and resonates with people on a global scale. She has refused to be singularly defined and is constantly working to inspire everyone within her reach.
FIFA Women's World Cup champion Alex Morgan and model Camille Kostek appear on two additional covers for the Sports Illustrated Swimsuit 2019 issue.