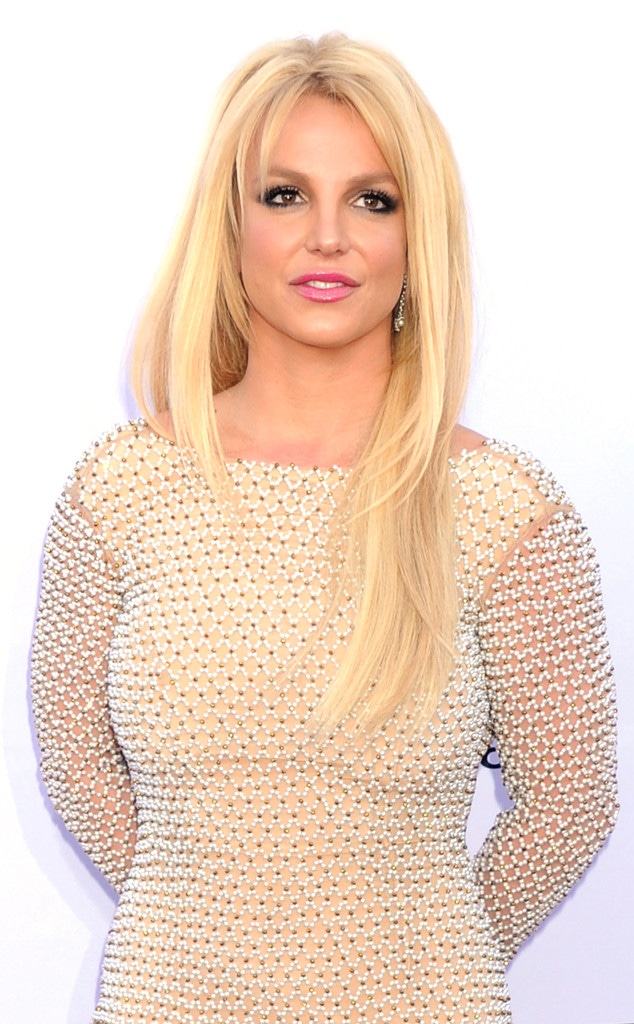 Broadimage/REX/Shutterstock
UPDATE: Britney Spears was granted a permanent restraining order against Sam Lutfi, a spokesperson for the LA County Superior Courts tells E! News. 
A judge has ordered the controversial manager to stay at least 200 yards from the pop star at all times for the next five years. Lutfi's attorney Marc Gans told E! News in a statement, "We think the restrictions on speech are unconstitutional and are considering appealing."
Spears was originally granted a temporary restraining order in early May. 
_____
UPDATE: Britney Spears was granted a restraining order against Sam Lutfi, according to court documents obtained by E! News.  
Marc S. Gans, Lutfi's attorney, issued a statement to E! News. "We are disappointed in the results. We feel this is overly broad and violates Mr. Lutfi's constitutional rights," he stated.
"This is only temporary and we look forward to arguing the matter more fully at the hearing for a more permanent restraining order on May 28th."
_____
Britney Spears has filed for a restraining order against her controversial ex-manager Sam Lutfi.
In documents obtained by E! News, the singer and her family are requesting a civil harassment restraining order against the 44-year-old, who is described as a "parasite" in the 81 page filing. According to the documents, Lutfi allegedly pretended to "have a professional relationship with Ms. Spears, even falsely claiming to have been her manager." However, the Spears family was able to remove Sam from Britney's life in 2009, when the singer got a three-year restraining order against him and was subsequently placed under conservatorship. 
Now, Spears' mother is alleging Lutfi is once again causing a disruption in the artist and her family's life. "Shortly after Ms. Spears checked herself into a mental health facility, Lutfi began a new campaign of harassment against Ms. Spears and her family," the filing claims. "In the last week alone, Mr. Lutfi has made dozens of disparaging and threatening comments on social media and in interviews."
Moreover, the documents claim that Sam has sent "threatening texts to Ms. Spears' family, he has leaked confidential information and is considering releasing more of Ms. Spears (actual and fabricated) private information." The request for a restraining order cites one instance when Lutfi allegedly sent "Ms. Spears' mother, Lynne Spears, a long and unhinged text message that includes harmful, disparaging and ominous remarks in an effort to disrupt the conservatorship." 
It is unclear if the aforementioned example is the cause of Lynne Spears latest court filing requesting information regarding Britney's conservatorship.
In addition to allegedly sending threatening texts, Sam has allegedly caused the harassment of the Spears family by urging his over 41,000 Twitter followers to "raise hell." The court filing alleges that he is attempting to persuade his followers into carrying out the "harassment indirectly on his behalf," in order to "free" Britney from the conservatorship. 
"Ms. Spears is in a court-ordered conservatorship to protect her," the court documents allege. "By directly aiming to disrupt Ms. Spears' conservatorship through calls for vigilante action, bribes and release of private information, Mr. Lutfi's actions threaten Ms. Spears' safety and well-being."
If the temporary restraining order is granted, Lutfi will be legally ordered to discontinue his "disparaging public statements regarding Ms. Spears, her conservator, or her family or her manager." He would also be forbidden from coming within 200 yards of Britney, her sons, Jaden and Sean, her father, Jamie Spears, her sister Jamie-Lynne or her mother. 
E! News has reached out to Spears' attorney for comment. 
(This story was originally published Wednesday, May 8, 2019 at 6:17 a.m. PST)
—Additional reporting by Alli Rosenbloom