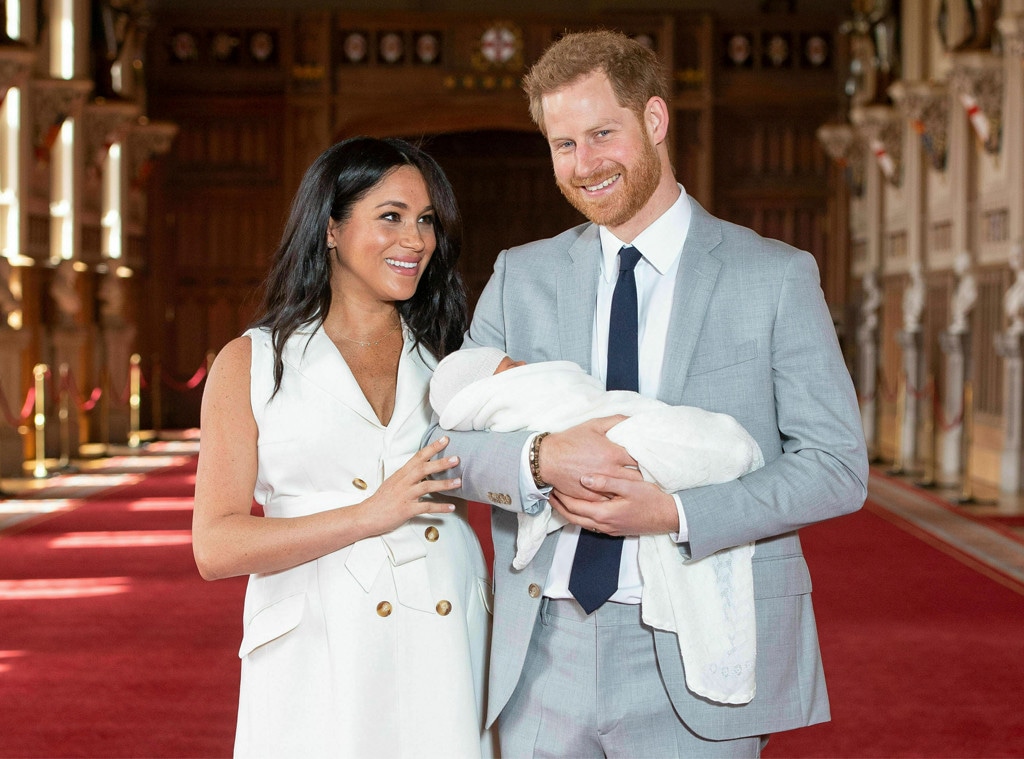 Dominic Lipinski/PA Wire
Heir's the scoop: Meghan Markle and Prince Harry became Mum and Dad this week. But does their newborn son have a new title as well? 
During a photo call this morning, the Duke and Duchess of Sussex introduced their newborn son to the world. And soon after the special moment, the new parents revealed his name: Archie Harrison Mountbatten-Windsor
"He has the sweetest temperament. He's really calm," Meghan shared with well wishers. "And he's just been a dream, so it's been a special couple days."
By deciding to call their son Archie Harrison Mountbatten-Windsor, Prince Harry and Meghan have chosen not to use a title for their first born.
"He will not be styled as Earl of Dumbarton but Master Archie M-W," royal historian Marlene Koenig shared with E! News. "But I am not surprised as Harry and Meghan want a 'normal' life for their kids." 
Before we get ahead of ourselves, let's set one thing straight: Their royal baby is not officially a prince. That is, not yet. (History lesson: According to a 1917 decree, only Prince William's oldest son, a.k.a. Prince George, is entitled to the honor of His Royal Highness and Prince.) But as Queen Elizabeth II did with Prince William and Kate Middleton's children, she can issue an order to give the baby—and his future siblings—the title of prince or princess. However, under George V's rules, Harry and Meghan's child could become a prince once Charles becomes king. This is because Archie would then be the child of a sovereign's son.
After weeks of speculation, Meghan and Harry welcomed their first child, who is seventh in line to the throne, on Monday. 
"We are pleased to announce that Their Royal Highnesses The Duke and Duchess of Sussex welcomed their firstborn child in the early morning on May 6th, 2019. Their Royal Highnesses' son weighs 7lbs. 3oz," read a post from the duo's official Instagram account. "The Duchess and baby are both healthy and well, and the couple thank members of the public for their shared excitement and support during this very special time in their lives."
Later that day, Prince Harry gushed about his first moments of parenthood during a press conference outside of Windsor Castle. 
"It's been the most amazing experience I can ever possibly imagine," the 34-year-old raved. "How any woman does what they do is beyond comprehension but we're both absolutely thrilled and so grateful for all the love and support from everybody out there. It's been amazing so we just wanted to share this with everybody."
Watch:
Meghan Markle & Prince Harry Share First Pic of Royal Baby
His family is equally overjoyed about the news. While at the launch of the King's Cup Regatta in London on Tuesday, Prince William and Kate Middleton said they were "absolutely thrilled" about the newest royal addition.
"I'm very pleased and glad to welcome my own brother into the sleep deprivation that is parenting," quipped the Duke of Cambridge, adding, "I wish him all the best and I hope the next few days they can settle down and enjoy having a newborn in their family and the joys that come with that."
Congratulations to the new family of three!