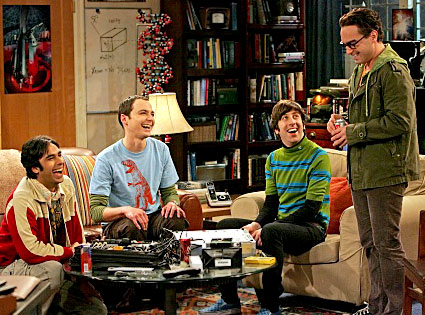 Sonja Flemming/CBS
Inside sources close to the show tell us exclusively that Sheldon and the rest of the Big Bang gang are confirmed to come back!
Earlier this morning CBS and Warner Bros. TV sealed the deal that renews CBS's hit comedy The Big Bang Theory for two more seasons of what is likely (but not officially) 22 eps each. News of CBS' intentions to renew BBT leaked earlier this month but the I's and T's had remained undotted and uncrossed until today.
Ratings and critical acclaim (fact: BBT is dead funny) for Bang have been through the roof this season, not to mention that it fits brilliantly into the Eye network's lineup of male-oriented, multicamera comedies. A renewal was considered likely, but the double pickup deal means that CBS is very happy with the series.
Are you guys as stoked for the pickup as we are? And have you seen the fan-made hand-drawn BBT credits sequence below? If you haven't, you must watch, because it's like the Big Bang itself and will blow your mind!