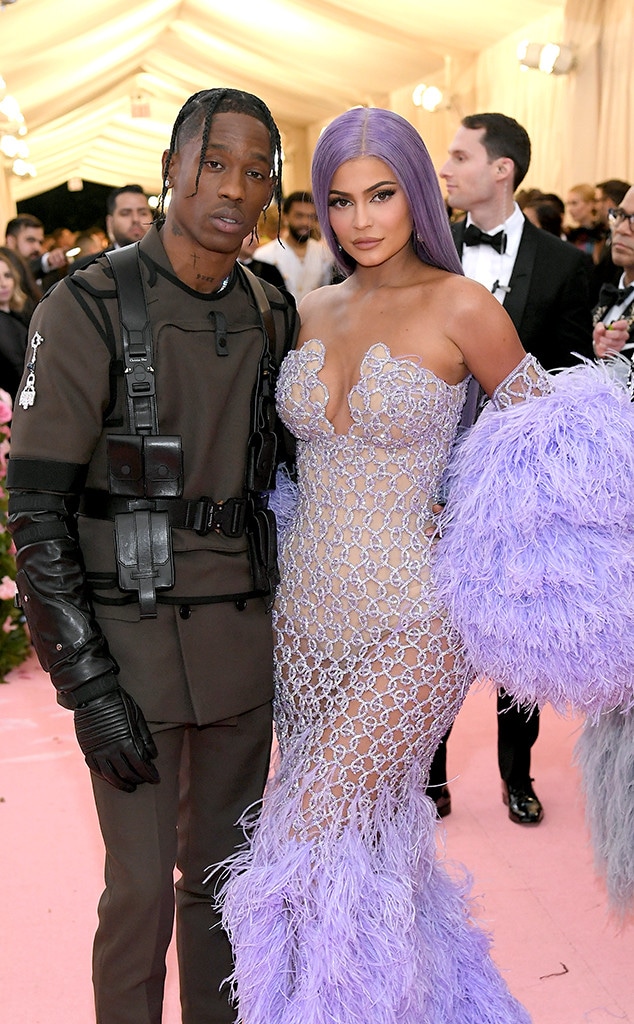 Neilson Barnard/Getty Images
Kylie Jenner and Travis Scott have done it again.
The parents of 15-month-old Stormi Webster arrived at the 2019 Met Gala looking as powerful as ever. Kylie wore a sheer lavender dress with matching feather sleeves on the carpet and matched her sister Kylie Jenner, who went with a similar look but in orange. Kylie even dyed her hair purple for the event in order to perfectly match her dress. The Astroworld rapper wore a brown suit with black trim and leather gloves. The suit also had a leather harness on it.
Kylie and Kendall briefly chatted with E! News on the carpet before heading inside and couldn't contain their excitement about what the evening has in store. Kendall explained that she and her sister came up with their look "together."
She told us, "We decided together on it and came up with a fun vibe with Donatella [Versace]. We're happy with it and we went for it."
Kylie and Travis invaded Kendall's interview with E! News and they loved every second.
Kylie told us she "couldn't breathe a little bit" in her dress. "But I feel good," she added.
Beauty is pain, right?
Momager Kris Jenner rocked a block bob (just like Kylie in 2016!) and Kylie gushed, "I  convinced her to do something different. She looks so good and young."
This is the second Met Gala for Travis and Kylie. The lovebirds made their red carpet debut at the 2018 gala, just months after she gave birth to Stormi. Last year she wore a form-fitting black Alexander Wang mermaid gown with black sunglasses. 
The couple told Vogue on the red carpet last year that they were having a "parents night out" and that it was their "first real party" since welcoming Stormi.
"We wanted to go with something more simple, edgy, young, so that's exactly what we did," Kylie said about her mermaid-inspired dress.
In 2017, Kylie broke a big Met Gala rule when she took a selfie in the bathroom with some other famous faces including Lily Aldridge, Frank Ocean, Brie Larson, Kim Kardashian, A$AP Rocky, Sean "Diddy" Combs and more. She held up the camera as the stars posed behind her and her blond bob.
Kylie and Travis' Met Gala couple moment is just the latest in a series of sweet moments the parents have shared together. The "Sicko Mode" artist turned 28 on April 30 and she went all out when it came to showering him with birthday surprises. The two of them even got tattoos together and a new video surfaced that showed the 21-year-old inking him with a tattoo pen. Now that's what we call love and trust!
Check out the photos above to see the best looks from tonight's Met Gala.