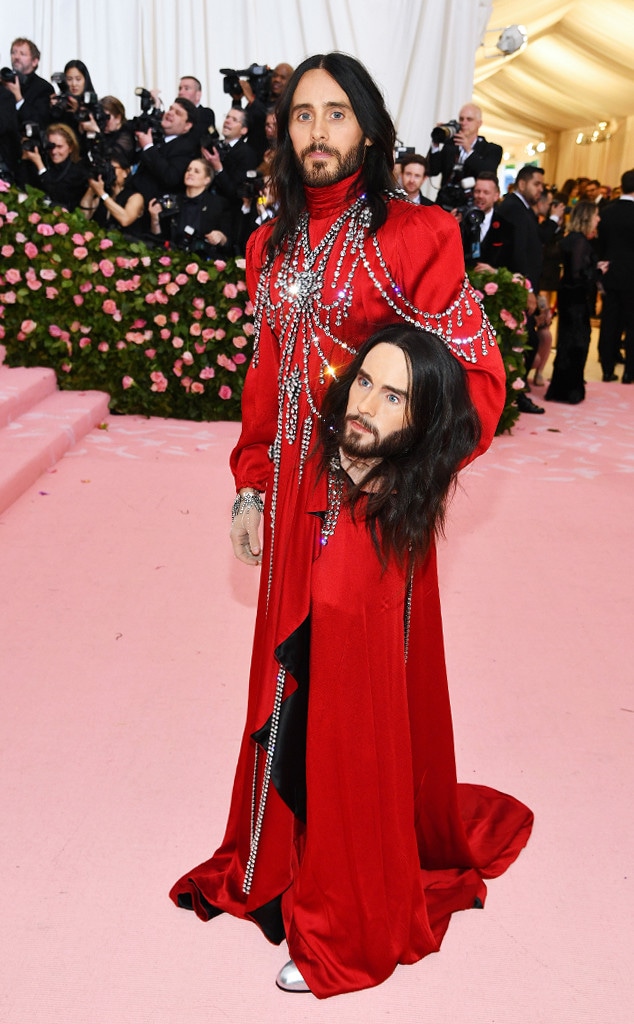 Dimitrios Kambouris/Getty Images for The Met Museum/Vogue
Jared Leto is never one to disappoint, especially when it comes to the Met Gala.
The 2019 Met Gala is turning out be one of the most over-the-top events of all time. Lady Gaga got the party started with her shocking costume changes and Jared is keeping the party going with his jaw-dropping accessories. It's safe to say that heads were turned and decapitated because of the artist's pink carpet ensemble. No really, Jared literally held a copy of his head in his hands as he arrived at the steps of the Met.
Leto, who is known to go all-out for the annual event, sported a red Gucci ensemble with jewel detailing. According to Vogue, the head likely took just about six months to prepare since the life-like dummy had to be specially made. After all, there is only one Jared Leto!
While the look was very serious for the occasion, Jared had some fun with it by playing a game of ball. At one point the singer punted the head, which Shawn Mendes was more than happy to catch. 
Last year, the singer walked in an equally breathtaking look designed by the Italian label, but he was joined by singer Lana Del Rey and Gucci designer Alessandro Michele. This time around, Michele walked the carpet with Met committee co-chair Harry Styles who were both dressed in a dazzling looks designed by Gucci. 
To see more of the stunning Met Gala pink carpet looks, check out the gallery above!