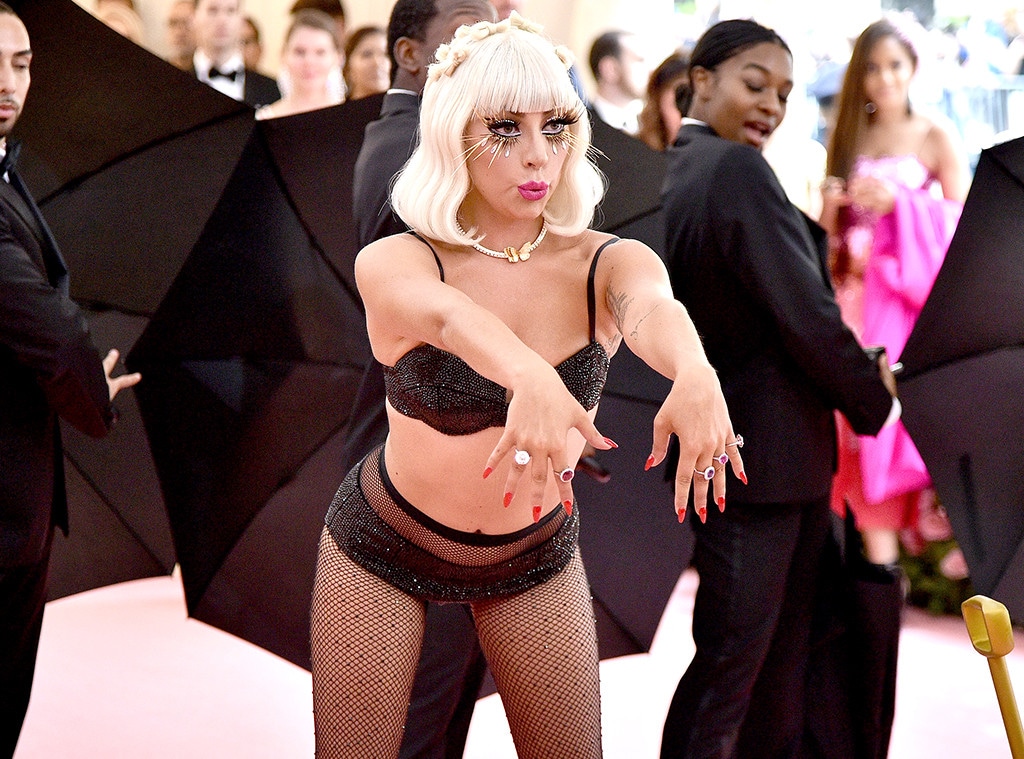 Theo Wargo/WireImage
Everyone else can go home now because Lady Gaga just shut. things. down. at the 2019 Met Gala.
The Oscar winner had not one, not two, not three, but four costume changes on the red carpet alone. Gaga first arrived in a hot pink parachute dress designed by Brandon Maxwell that had to be carried by five different people. The handlers also carried umbrellas and danced around her as she posed and had the time of her life in front of the Metropolitan Museum of Art.
Gaga's outfits slowly got shorter and tighter as the moments went on and she ultimately ended up in a black glittery bra and underwear combo with fishnets and those same black combat boots she wore to the pre-Met Gala dinner and back in 2016. Sure, the 33-year-old stopped the show in her outfit change-ups, but she also had on some noteworthy accessories.
Before she and Maxwell ventured into the Met, Gaga removed some jewels from a black box and put them on. Two of them look strikingly familiar because they resemble her engagement rings given to her by Christian Carino and Taylor Kinney.
However, it turns out that Gaga was not in fact wearing her old jewels, but rather a number of Tiffany & Co. diamonds.
She wore an 18 carat yellow gold butterfly necklace with diamonds from the jeweler's Tiffany Blue Book Collection. She paired that with diamond earrings (price at $349,000) and some staggeringly gorgeous rings.
One of these was a 15 carat Tiffany True Ring in platinum with a diamond and that's worth $1,165,000. She also wore a 6 carat pink sapphire and diamond ring (priced at $100,000), a 5 carat purple sapphire ring (priced at $70,000), a 5 carat pink spinel ring (priced at $29,000) and a 13  carat ring in platinum with rubellite and diamonds (priced at $38,000). 
All in all, her accessories add up to just about $1,750,000. That price does not include her yellow gold butterfly necklace.
On one hand, the "Shallow" singer wore what looked like her stunning $400,000 engagement ring given to her by Carino. Andrew Brown, President of WP Diamonds, estimated in October that the ring "appears to be a 6-7 carat pink sapphire with a diamond halo totaling 3-4 carats. This is likely a high quality, no heat (treatment), pink sapphire."
Brown added, "It looks like it may be a Padparadscha sapphire, in which case this ring would easily retail between $300,000 and $400,000."
The Padparadscha sapphire is apparently one of the rarest stones in the world, hence the hefty price tag.
Gaga confirmed her engagement to Carino in October at Elle's 25th Annual Women in Hollywood Celebration on Oct. 15. She had been wearing the ring around for some time, but officially referred to Carino as her fiancé during her speech at the event.
E! News confirmed that Gaga and Carino ended their engagement in February, just days before the 2019 Oscars.
A source told E! News at the time that the couple's relationship "just didn't work out. Relationships sometimes end."
Gaga was also engaged to the actor Taylor Kinney about two years before Carino. They got engaged on Valentine's Day 2015 and he appropriately popped the question with a heart-shaped diamond ring. The duo broke up in July 2016 after about five years together.
Although Gaga didn't actually wear her old engagement rings on the carpet at the Met Gala, take a look at the photos below to see her many looks of the evening.
Now this deserves an applause.