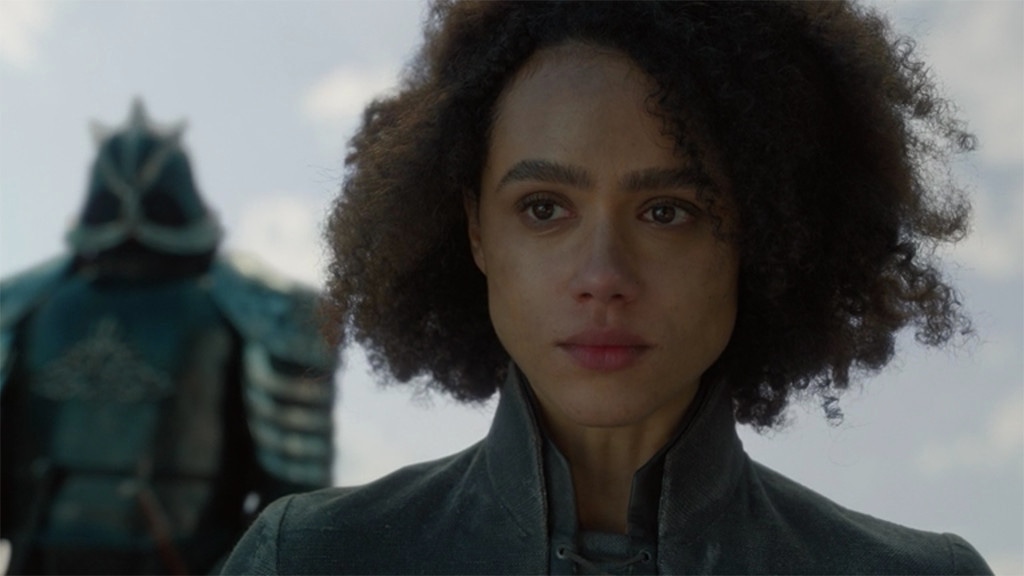 HBO
RIP Missandei of Naath (Nathalie Emmanuel). 
Daenerys' right hand lady lost her life at the end of the latest episode of Game of Thrones, and while on one hand, we'd like to congratulate this relatively minor character for making it all the way to the third to last episode ever, we're also over here scratching our heads with the rest of the internet. 
Here's how it went down, from what we saw. 
Dany and her fleet were on their way to King's Landing to finally deal with Cersei, but were ambushed on the way by Euron Greyjoy and the Golden Company. He used his gigantic spear machine to take down Rhaegal the dragon, and instead of using her other dragon to light them all on fire when she had a prime opportunity, Dany just kind of dodged the arrows as her ships got attacked as well. Most everyone washed up on a beach, but Missandei was nowhere to be found. 
We then found out that she had been captured by Cersei's fleet, and she was used as leverage. Dany had to surrender, or Missandei would die. Dany did not surrender, and Missandei had her head chopped off by the Mountain after one last word: "Dracarys." 
We have a lot of questions about this. 
First of all, was capturing Missandei always the specific plan? Or did they just happen to capture Missandei and realize how convenient that was? Who among Cersei's people knew how significant Missandei was? 
If it was the plan they sailed out there with, it was a dumb one. If they knew enough about Daenerys to know that Missandei was significant to her, then they would know that there's not a soul on earth who Daenerys would surrender herself and the crown for, and all this does is give her an excuse to hit back as hard as Missandei's "Dracarys" seemed to be encouraging her to hit, while giving Grey Worm yet another reason to want to murder Cersei. 
If Missandei just happened to get captured, then the death just feels especially rude because of how unnecessary it was. We all know, again, Dany was never ever going to surrender to Cersei. Never in a million years, no matter who was up there about to get beheaded. She wouldn't even give it up to Jon, and we all know Jon would be just fine (and very boring) as King, as opposed to Actual Nightmare Cersei Lannister. 
The thing is, this war was always going to start, whether Missandei got beheaded or not. Everybody's lost enough and everybody's got a reason for this fight, especially Daenerys Targaryen, and everybody already knows what Cersei's capable of. Tyrion's appeals to her "humanity" were sorta laughable, and the whole thing felt like everyone was stalling before the final battle with one more unnecessary sacrifice. 
Not only have people been criticizing the show for killing a black woman to motivate a white woman, but when paired with Brienne crying over Jaime and Sansa crediting her rapist and abusers with making her strong, it just made the episode feel particularly icky, which multiple outlets have pointed out. 
For her part, Nathalie Emmanuel loved Missandei's final scene. 
"I thought it was a fantastic scene," she told EW. "I've said in so many interviews that I don't mind if I die I'm just happy to be here and be a part of the show. ...It's going to be really emotional and she's so brave in it and shows her strength and fearlessness even though she doesn't wield a sword. She believes in her queen and believes in her cause. I'm so happy that she has that kind of exit. It's emotional. She said she was willing to lay down her life but we hoped she wouldn't have to. You can watch the end of a show and think the character is living on to do whatever. But there's a real sadness to the fact that the character won't. It seems likely to push Daenerys to a scary level." 
Hopefully, Missandei's death will go on to mean something incredible to whatever happens next in this game of thrones and doesn't go to waste, but by the look on Grey Worm's face as he watched her die, we doubt he'd let that happen. 
We can't know exactly what effect Missandei's death will have, but here's hoping it's massive. 
For where she ranks (currently) among the show's most important deaths, see below! 
Game of Thrones airs Sundays at 9 p.m. on HBO.