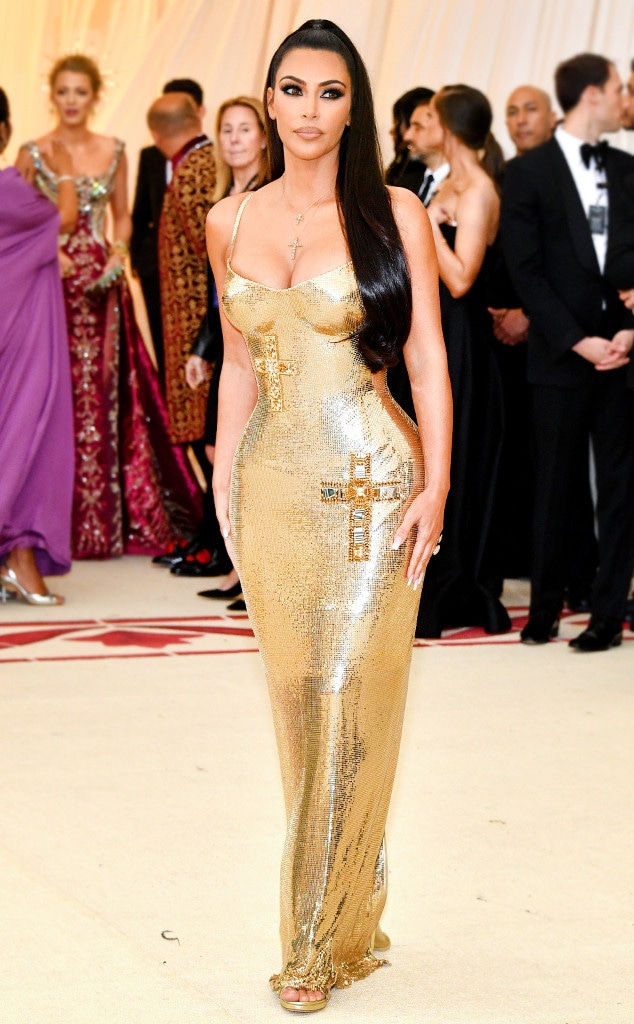 Dia Dipasupil/WireImage
As Kim Kardashian gets ready for the 2019 Met Gala, she's taking a walk down memory lane!
On the First Monday in May, the Keeping Up With the Kardashians star took to Twitter to share her experiences of the larger-than-life event.
And while many would assume she would feel nothing but confidence (this is Kim K we're talking about, after all!), she revealed that hasn't always been the case. Especially the first year she went, which she attended with husband, Kanye West.
"Year 1- 2013 Riccardo Tisci for Givenchy. I was Kanye's plus one & so nervous," she confessed, alongside a photo of her wearing that infamous rose-printed dress while she was pregnant with North West. "I didn't know anyone & I'm sure no one wanted me there lol. I did my own lipstick & the color is so off. I went home & cried after of insecurity but this is one of my fave looks now."
However, for her, everything changed in 2014.
"Year 2- 2014 Alber Elbaz for Lanvin. I was invited on my own this year," the reality TV personality wrote of the star-studded ceremony. "We just had our Vogue cover & Alber gave me the dress I wore on the cover so Anna suggested I wear Lanvin. Not sure why we picked blue lol. Following our cover, this is a dream."
The following year, Kim was totally in her element. Despite trying to hide her pregnancy with her second child, Saint West, she explained 2015 was the year she "felt so confident."
"Year 3-2015 Peter Dundas for Roberto Cavalli. This is his first dress designing for Cavalli. I was 2 months Pregnant with Saint & desperately trying to hide it. I felt so confident this year! I had more of an opinion and collaborated so well. I really felt so good this night."
Although, the KKW Beauty founder admitted she didn't have that same energy in 2016. 
She shared she was "back to [being] insecure... because I hadn't lost all of my baby weight," she said. She continued, "Big mistake to bleach the brows but Kanye looked so good this year with those blue eyes! It was super controversial that he wore denim."
The 38-year-old star opened up even more, and revealed she almost "threw up" on her way to the 2017 Met Gala.
"Year 5-2017 Vivienne Westwood. This was my first year going solo. I was so nervous to go by myself I almost threw up on the way & I had to pee every second..," she wrote. "I was FaceTiming my sisters to meet up at the top of the stairs. Vivienne made me this beautiful dress from her archive."
Last year, however, Kim really bounced back. She explained, "I knew exactly what I wanted and was my most confident this year! 90's, chainmail, simple and sexy."
Here's to hoping the 2019 Met Gala brings Kim the same energy as last year. Considering this year's theme is "Camp: Notes on Fashion," it will be fun to see how far the reality TV star pushes the boundaries.