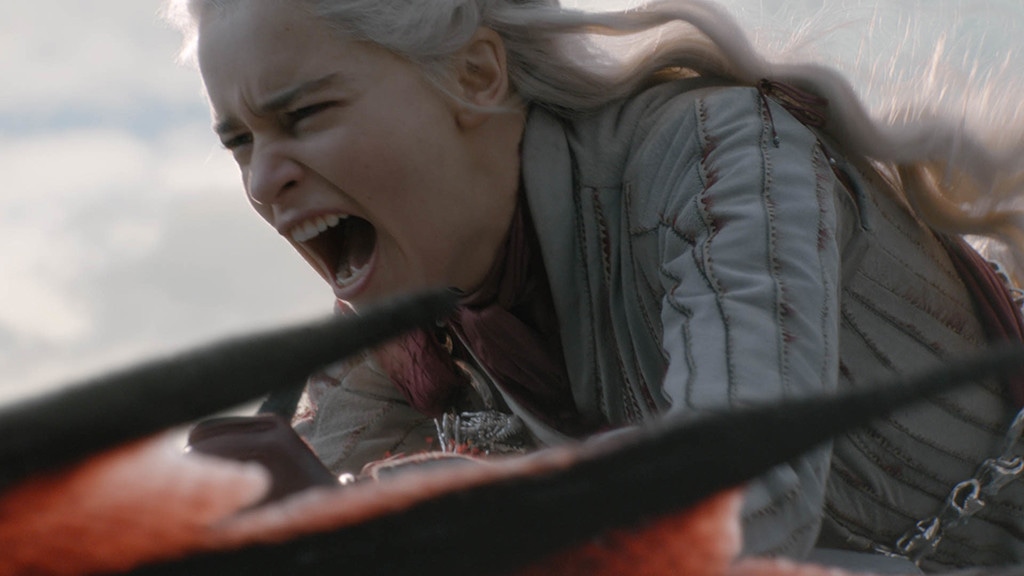 HBO
It's all come down to this: Cersei Lannister vs. Daenerys Targaryen.
In the trailer for the penultimate episode of Game of Thrones, not a word is uttered. There's just Cersei Lannister (Lena Headey), scheming, Tyrion Lannister (Peter Dinklage) looking very concerned, Jon Snow (Kit Harington) and Euron Greyjoy (Pilou Asbæk) alternating between appearing very ready and very nervous. Talk about a tense 30 seconds.
And this is the episode that Emilia Clarke warned viewers about during an appearance on Jimmy Kimmel Live.
"Episode five is bigger," Clarke said about what's to come. "Episode five is [exhales]—I mean, four and five and six, they're all insane, but like…Find the biggest TV you can."
A battle of two fierce queens is coming.
Game of Thrones has a tendency to stage huge moments in the second to last episode of the season, and this is the second to last episode of the series, so…yeah. It's going to be crazy. Both episode five and episode six—the series finale—will clock in at an hour and 20 minutes long.  
And when it's all over, HBO has another treat for you: a two-hour documentary about the making of the final season. Game of Thrones: The Last Watch, from filmmaker Jeanie Finlay, will air on Sunday, May 26 at 9 p.m. on HBO. Described as "much more than a 'making of' documentary, this is a funny, heartbreaking story, told with wit and intimacy, about the bittersweet pleasures of what it means to create a world—and then have to say goodbye to it," HBO said in a press release.
Game of Thrones airs Sundays, 9 p.m. on HBO.