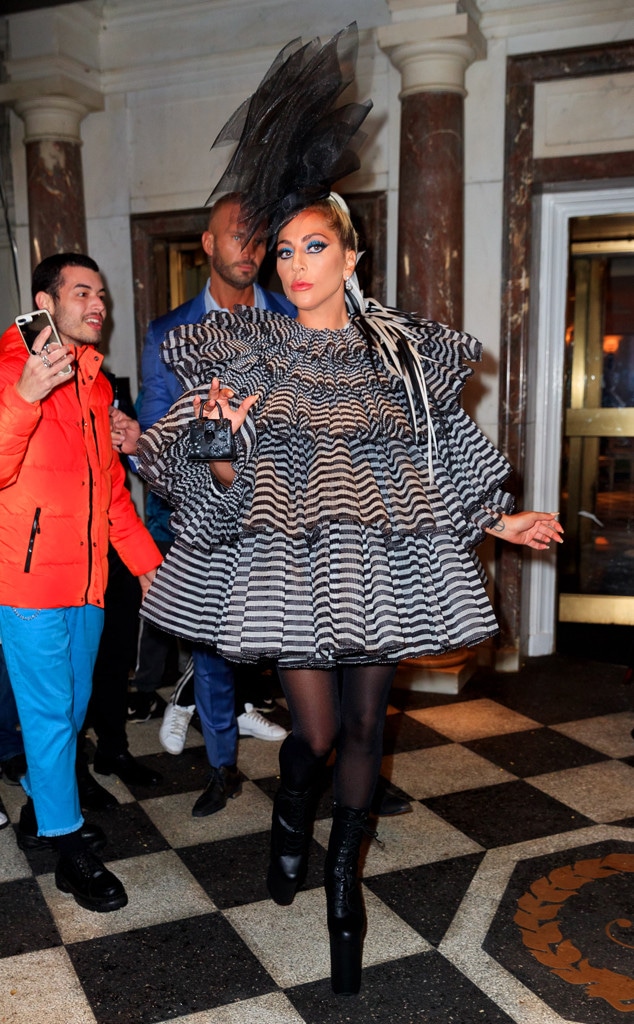 Jackson Lee / SplashNews.com
Little monsters are you ready for this?
Lady Gaga made a big statement when she left for a pre-Met Gala dinner on Sunday night in New York City. The Oscar winner wore a short Marc Jacobs 2019 Fall runway black and white striped dress with layered ruffles. She paired the look with a black vertical fascinator that gives royal wedding attendees a run for their money. Gaga stuck to her classic Tiffany & Co. jewels when it came to accessories. She donned a stunning pair of diamond earrings in platinum worth upwards of $3 million.
Gaga offset her large show-stopping dress with the all-time perfect accessory: a teeny tiny black purse. Can it hold a lipstick or cellphone? Likely not, but let Gaga be Gaga.
"Met gala countdown #fashion #metgala #camp #ladygaga," she captioned the picture of herself in the dress on Instagram. 
The Joanne artist wore black tights and what looks like the same platform combat boots she showed off on the red carpet at the 2016 Met Gala.
She's been making everyone on social media extremely eager to see her Met Gala look, and she prefaced her arrival at the Super Bowl of Fashion with some posts about her return to the Big Apple.
On Friday, Gaga posted a picture of herself inside a private plane wearing a dress with lemons on it and black Dr. Martens combat boots.
"Met Gala here we come. Destination 'Camp,' so excited to co-chair Anna's event," she captioned it. 
Gaga even went the extra mile to get in the spirit of the theme. She added in parentheses, "and I didn't shave my legs for 4 days which really completes the look ."
She traded in the sunny California look for more a classic New York get-up upon her arrival. On Saturday, she shared a picture of herself standing in a courtyard wearing a black leather jacket, black ripped jeans, a yellow shirt and black Celine boots.
"Back in the New York Groove," she wrote.
The 33-year-old is one of the co-hosts of the 2019 Met Gala alongside Anna Wintour, Gucci's Creative Director Alessandro Michele, Harry Styles and Serena Williams.
The Met Gala has been home to many over-the-top outfits over the years, and Gaga certainly won't disappoint tomorrow night if her look tonight is any indication for what's to come.
Gaga was just one of the many stars to gather for the pre-Gala dinner. Gwyneth Paltrow, Elle Fanning, Rita Ora and James Corden were just a few of the big names to attend the soiree. 
Take a look at the photos below to see the stars' Sunday best before the highly anticipated Met Gala.