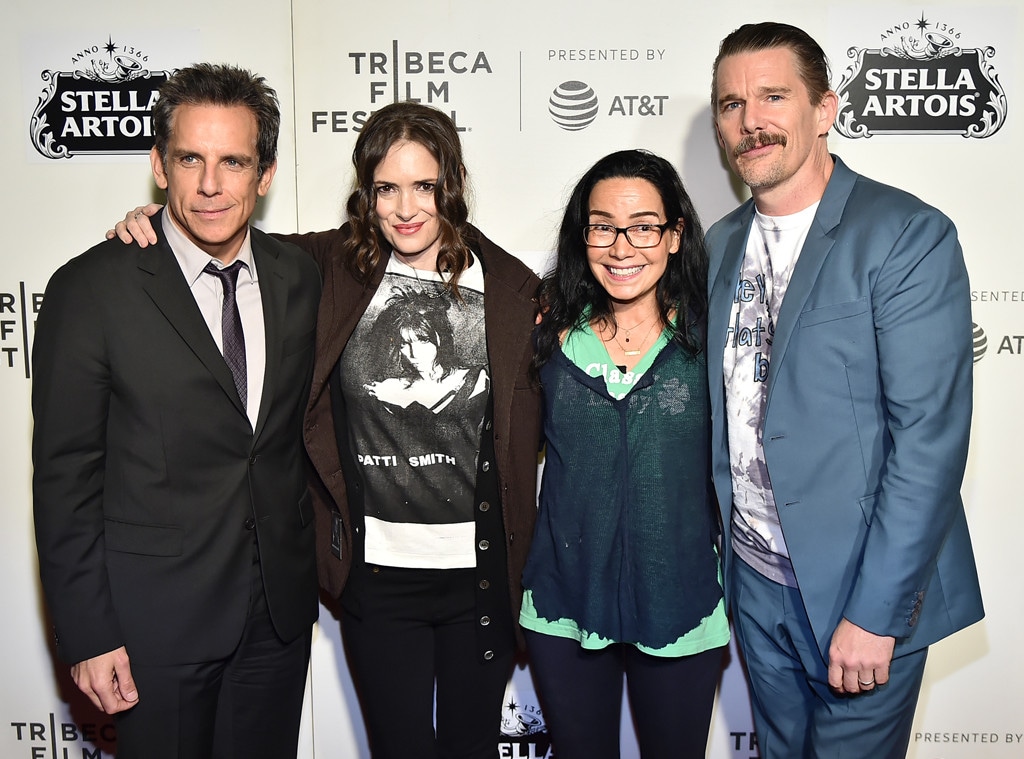 Theo Wargo/Getty Images for Tribeca Film Festival
Cue The Knack's "My Sharona!" Are we excited about this Reality Bites reunion? Hey, we are bursting with fruit flavor.
Winona Ryder, Ethan Hawke, Janeane Garofalo and Ben Stiller, also the film's director, reunited at a 25th anniversary screening of the cult 1994 film at the 2019 Tribeca Film Festival on Saturday. The event featured a surprise appearance by Lisa Loeb, who performed her hit ballad "Stay (I Missed You)" off the movie's soundtrack (Hawke also directed her music video).
The film depicted a group of Generation X-ers navigating the harsh reality of a post-college world and an unrelenting job market in the '90s. It featured a love triangle between Winona's main character, Lelaina, her longtime friend, master slacker and cynic Troy (Hawke) and new "yuppie cheeseball" TV channel exec beau Michael (Stiller), who she hopes can kickstart her career in filmmaking. 
The movie helped make Hawke and Stiller famous, while Ryder was known for past roles in Beetlejuice and Mermaids.
"I'm indebted. Winona believed in me. Winona got me this job," Hawke, 48, said at the screening, according to Page Six. "This job changed the trajectory of my career entirely...I'm just so grateful to you Winona."
Stiller, 53, also thanked the 47-year-old actress, saying Reality Bites also "changed the trajectory of my career. None of it would have happened if Winona wouldn't have said, 'I want to do this movie.' It just wouldn't have happened."
Instagram / Corey Feldman
Also on Saturday, there was another epic reunion on another side of the country; Kiefer Sutherland, Corey Feldman and Jason Patric, who starred together in the 1987 cult hit vampire film Lost Boys, hung out at the Fan Expo Dallas 2019 event. Patric, 52, played teen Michael in the movie, while Sutherland, 52, played vampire David and Feldman, 47, portrayed vampire hunter Edgar Frog.
Feldman posted a photo of the three on his Instagram page and also paid tribute to late co-star and friend Corey Haim.
"FOUND BOYS: ALTHOUGH WE DIDNT GET A CHANCE 2 DO A PUBLIC PHOTO OP DUE 2 IM GUESSING THE FACT THAT I WAS ADDED @ THE LAST MIN, WE STILL HAD A CHANCE 2 HAV A QUICK HELLO, & POSE 4 1 PIC OF THE 3 OF US ALL 2GETHER! JUST LIKE OLD TIMES!" Feldman wrote. "PICTURED HERE #KEIFERSUTHERLAND #JASONPATRICK #NEVERGROWOLD #NEVERSAYDIE #LOSTBOYSREUNION #RIPCHAIM."
And while Loeb crashed the Reality Bites reunion, oiled up, shirtless sax player and singer Tim Cappello sat this one out.