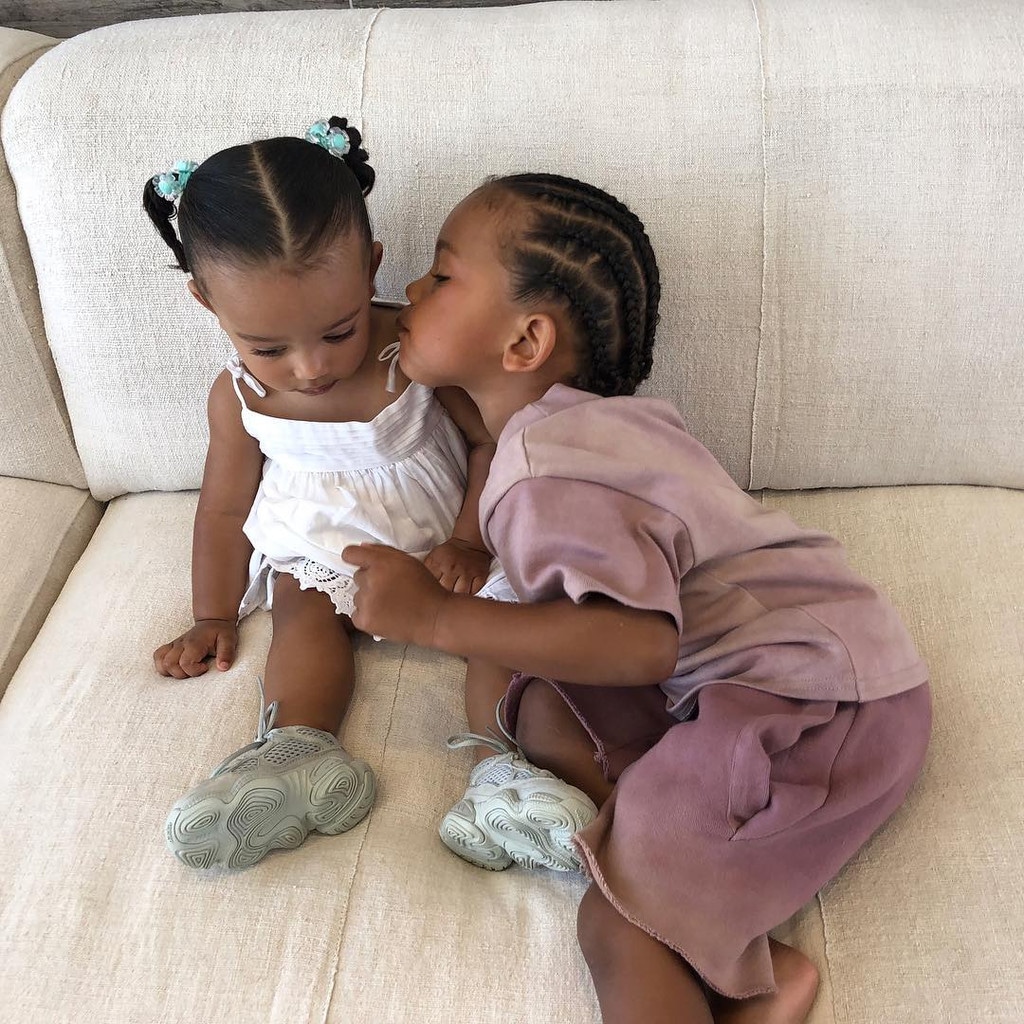 Instagram
There's no shortage of sibling love in the Kardashian-West household.
Kim Kardashian shared an absolutely adorable snapshot of two of the three kids she has with husband Kanye West. In the picture, Saint West sits next to his little sister Chicago West on the couch and looks like he's just about ready to plant a big kiss on his sister's cheek.
Saint looks comfortable as ever in a matching rose-colored shorts and shirt duo while Chi keeps it sweet in a white dress, baby Yeezys and her hair in pigtails.
"My babies are my life!!!!" the KKW Beauty owner captioned the picture.
Their big sister North West wasn't in the photo, but she, too, gets her fair share of Instagram shout-outs by her famous mom. Perhaps she was off invading Kim's closet? It definitely wouldn't be the first time.
The Keeping Up with the Kardashians star's latest upload feels especially timely given that their family is about to welcome another baby.
Kim confirmed on Jan. 14 that she and Kanye are expecting baby no. 4, who will be born via surrogate.
A source told E! News in January that the surrogate was "well into the pregnancy" and that "she is due in May."
"Kim and Kanye have known for a while and are very excited. They had one male embryo left and are thrilled it has worked out," the insider said at the time. "Kim always wanted four kids and having two boys and two girls feels perfect. They were very happy with the entire experience the first time and are so grateful to have one more baby."
Kim herself hasn't shared too many details about the pregnancy or baby.
She told Andy Cohen on Watch What Happens Live that she accidentally spilled the beans about the pregnancy at her Christmas Eve party. "I got drunk at our Christmas Eve party and I told some people. I can't remember who I told because I never get drunk," she told the talk show host.
On April 1, Kim and her sisters Kourtney Kardashian and Khloe Kardashian appeared on Jimmy Kimmel Live! and dished on how they come up with names for their kids.
Kim said the entire family "weighs in" on the name, but she doesn't name the baby immediately.
"I definitely take a family survey. But it's usually after the baby's born or we're trying to figure out what the baby looks like," she told Jimmy Kimmel. "I usually go about three or four days nameless until I feel that it really connects."
It turns out Kourtney did the same exact thing.
The 38-year-old admitted she had one name in particular that she was especially fond of: Rob.
"I was truthfully thinking about just naming him Rob. My brother," Kim explained. "But then it's kind of like North, Saint, Chicago, Rob. But I really was feeling that."
Kim recently had a star-studded baby shower at her home that included the likes of Chrissy Teigen, Paris Hilton, Larsa Pippen and more. It was even CBD-themed and she wanted to make it an event where they could all "zen out."
We can't wait to meet the baby!