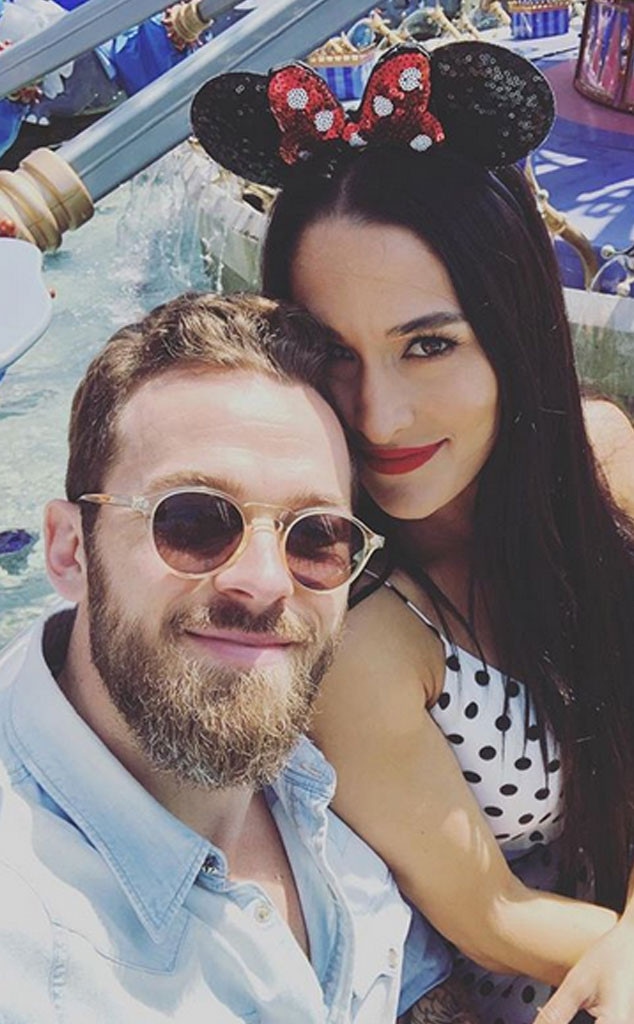 Instagram
Disney delights!
Nikki Bella and her beau Artem Chigvintsev started their weekend festivities early, as they spent their Friday at Disneyland in Anaheim, Calif. The pair enjoyed the theme park with Brie Bella, her husband Daniel Bryan and their daughter, Birdie Joe. In fact, the Disney trip was all for the soon-to-be 2-year-old.
"Celebrating Birdie's Birthday early at Disneyland," Brie captioned her Instagram post, alongside a photo of the group posing in front of the floral Mickey entrance. A Disney Classic!
Even though it was a family trip, the Total Divas star and her 36-year-old boo shared a sweet moment on the Dumbo ride together, another theme park staple.
"Baby mine, don't you cry. Baby mine, dry your eyes. Rest your head close to my heart. Never to part. Baby of mine." Dumbo," the 35-year-old reality TV personality wrote on Instagram, as she and Artem snapped a selfie on the kids' ride.
The Total Divas sisters showed their love for the famous mouse with their subtle Disneybounding outfits. The twins opted for black and white polka dot get-ups—Brie went for a flowy blouse while Nikki wore a slip dress. However, in true Disney fashion, the siblings rocked matching red lips for the fun occasion.
From the group's social media posts, they spent most of their time in the Fantasyland section of the park. In addition to the Dumbo ride, they rode the famous tea cups, posed for pics with Minnie Mouse and more.
While Nikki is currently shying away from using the term "boyfriend" to define her relationship, the two have been seeing each other since early January, E! News confirmed.
Artem was the 35-year-old reality TV star's dancing partner during season 25 of Dancing With the Stars. She has since confirmed they are romantically involved, and has shared several snaps of him on her social media accounts.
Nikkie previously told her sister that they were "dating," but she didn't want to put labels on their romance.
"Artem and I are dating. We are not engaged, we are not married, we're not boyfriend and girlfriend, we don't say 'I love you,'" she shared with Brie in March. However, she confessed they kiss a lot. "Yeah, we make out. What else? He's a great kisser."
From their Disney trip, it seems the two had a lot of fun together. They don't call it the "Happiest place on Earth" for nothin'.