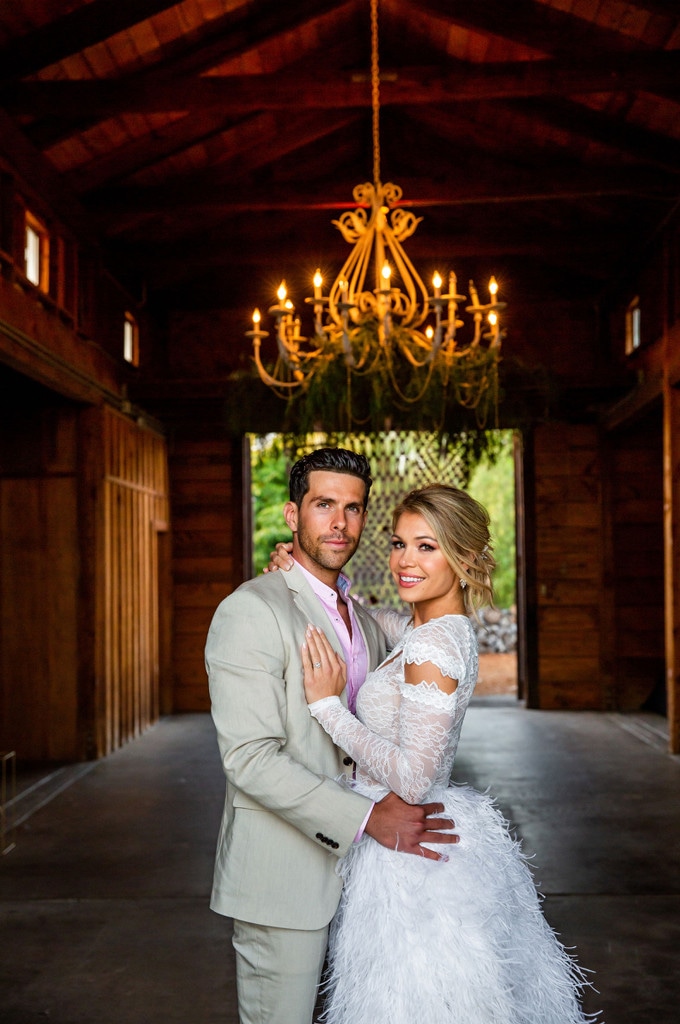 BE Studios
Before this Bachelor in Paradise couple says "I do," they're celebrating with a bang!
On Thursday night, Chris Randone and Krystal Nielson threw an "enchanting" engagement party, and most of their guests believed they secretly tied the knot.
"Everyone thought it was a surprise wedding," Randone exclusively told E! News about their big celebration. "That's what everyone couldn't stop talking about because it felt like a wedding."
It's easy to see why, considering Krystal wore a stunning white outfit (her skirt is from Hayley Paige) while Chris donned a dapper suit.
Of the couple's special event, Nielson added that "the night really came out beautifully."
"The venue really blew our minds away with how they put it together," she said. "It was very enchanting. Being there [and] having our loved ones travel so far to celebrate our engagement really meant the world to us."
For the 31-year-old reality TV star, he said they both "really wanted to give everyone a beautiful night to enjoy our engagement, because we really haven't been able to do that yet."
From the pictures, which they've shared exclusively with us, it's safe to say mission accomplished!
Some familiar faces also showed up to the fun event.
"We had quite a few Bachelor Nation members attend," Nielson said. "Jade and Tanner, Ashley and Jared, Angela, Chelsea and Annaliese, Josh Murray, Heather and Katie from Colton's season. Everyone was having a great time together."
Of the engagement party, Randone said the theme was "rustic with a touch modern." And no detail was left out of the planning, as the pair offered "healthy" food options and they had plenty of games for guests to enjoy throughout the night.
"Vegan, gluten free options were really important," the Bachelor in Paradise star explained. "We wanted people to not feel guilty while indulging."
He continued, "We had corn hole, human-size Jenga, games are everything."
Nielson chimed in, "To give you more of the experience, we had a huge party bus take us and a group of our friends up to these beautiful bath houses that we got ready in." She added, "We had a champagne hour while we welcomed everyone and then escorted everyone into the marquee where the DJ was and food."
However, the 31-year-old fitness coached admitted planning an event of this size, made them put the "first test on compromise."
"Even doing the guest list was challenging for us... to sit down and be so limited," she told us. "Ultimately, we just wanted to create a beautiful experience. We wanted to give an enchanting night to all of our loved ones and have a good night."
Last summer, the reality TV personalities ended their Bachelor in Paradise season engaged and now, the famous couple is getting ready to say "I do."