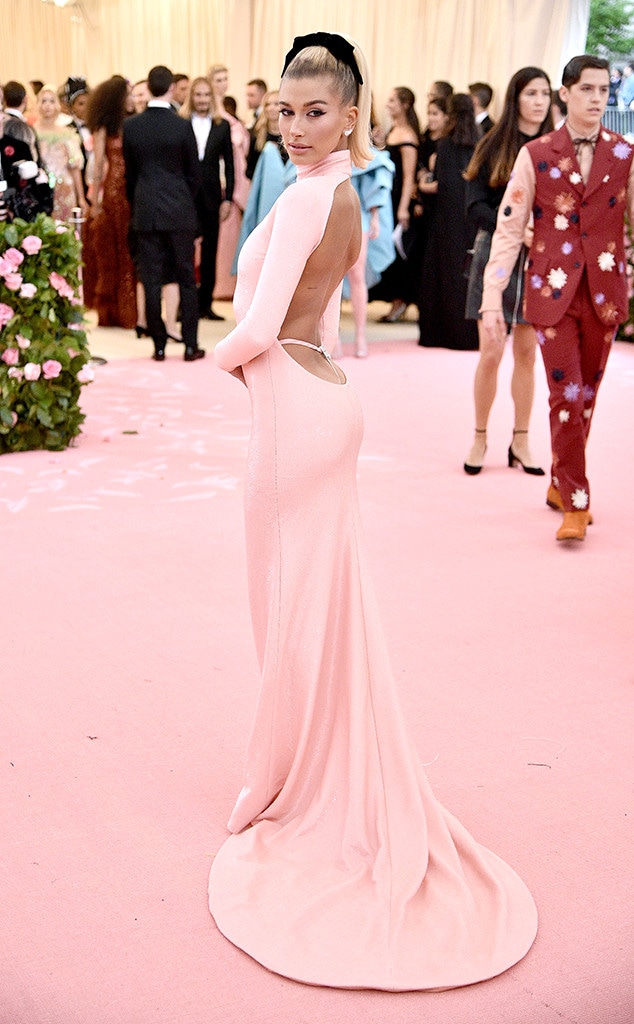 Theo Wargo/WireImage
Hailey Bieber has arrived at the 2019 Met Gala, and so has her underwear.
It simply wouldn't be the annual affair without an appearance from Hailey Bieber (née Baldwin) and she certainly did not disappoint. However, her husband Justin Bieber was noticeably absent from the evening and did not accompany her to the star-studded gala.
The 22-year-old model departed from The Surrey hotel in New York and was escorted by the designer Alexander Wang as she wore one of his designs.
She looked gorgeous in a pink, floor-length gown. The look was ultra "business in the front, party in the back," as it featured a nearly entirely open back and train. Hailey wore her hair up in a high ponytail, which celeb hairstylist Jen Atkin accessorized with a black bow. The 22-year-old completed the sophisticated look with Bvlgari diamond earrings and large diamond engagement ring.
There was one other aspect of Hailey's dress that caught a bit more attention: her matching pink thong that went up to her lower back. It, too, was made by the famous designer and read "WANG" in silver letters.
Had Justin attended, it would have marked their first Met Gala as a couple and also their first official appearance since tying the knot more than six months ago. 
Though Bieber, 25, attended his inaugural Met Gala in 2015, he has been critical about the star-studded event in the past. The "Sorry" singer opted for a different route this year. He apparently spent the evening eating some burgers, French fries and chocolate cake, as evidenced on his Instagram Story.
On the heels of last year's gathering, the pop star reminded his millions of Instagram followers that looks can often be deceiving when it comes to the lifestyles of the rich and famous. 
"Hey world, that glamorous lifestyle portrayed by famous people on Instagram," Justin wrote at the time, "don't be fooled thinking their life is better than yours. I can you promise you it's not!"
As for Hailey, counting tonight she's officially attended five consecutive Met Galas, her first being in 2015. Though the supermodel's signature style has certainly evolved over the years, fashion's biggest designers (Topshop, Carolina Herrera and Tommy Hilfiger to name a few) consistently rely on the 22-year-old to bring their Met Gala visions to life. 
It looks like this year is no different!