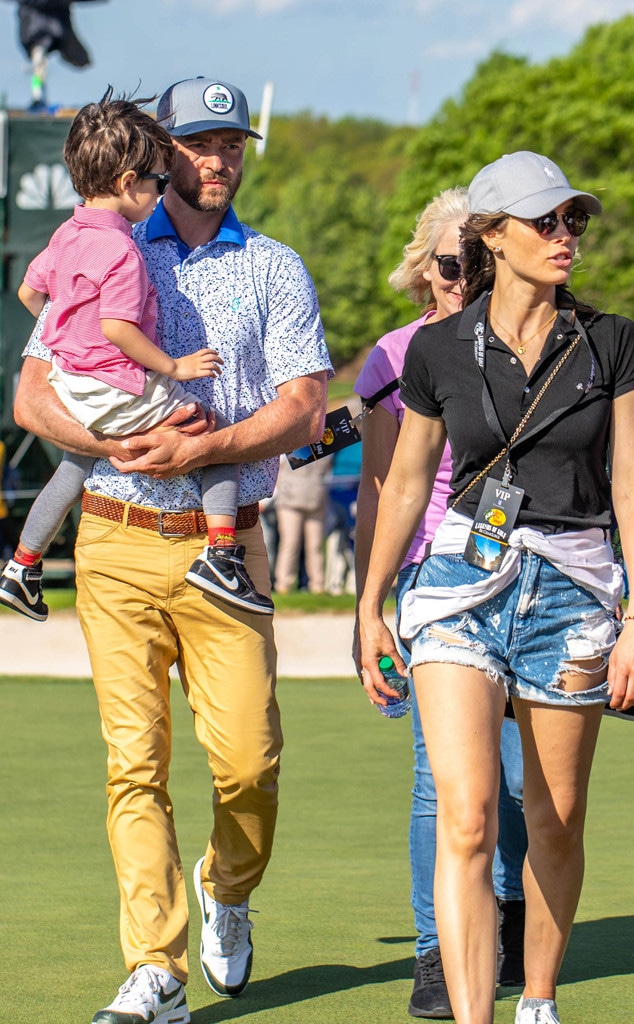 Michael Simon/startraksphoto.com
Forget about golfing! We have to focus on these family photos.
Earlier this week, Justin Timberlake and Jessica Biel headed to the Bass Pro Shops Legends of Golf tournament near Big Cedar Lodge in Missouri.
And guess what pop culture fans? They brought their son Silas along for a family getaway.
In pictures obtained by E! News, Justin looked like one happy dad as he held onto his son and walked around the golf course.
Silas looked like one cool dude in his Babiators sunglasses, pink polo and Nike shoes. As for J.T., he nailed the golf look with Nike shoes, a button-down and baseball cap.
Not to be outdone, Jessica looked sporty in her ripped denim shorts and a black top as she held Silas when Justin took a few swings on the course. And yes, they totally cheered on the "Suit & Tie" singer when he participated in the match.
Mark Wahlberg and Kid Rock also enjoyed the sunny sports day as they paired with a PGA tour legend. Justin played alongside Gary Player.
It's a rare public day out for the family who try to keep their personal life private. But after Justin finished up his Man of the Woods tour, perhaps the schedule has cleared up just in time for summer vacations and spring breaks.
Ultimately, this isn't the first must-see family moment with Justin and Jessica. Take a look at some of the cute memories in our gallery below.
Now if only we knew if Silas is more into music or golf. We'll just have to wait and see!