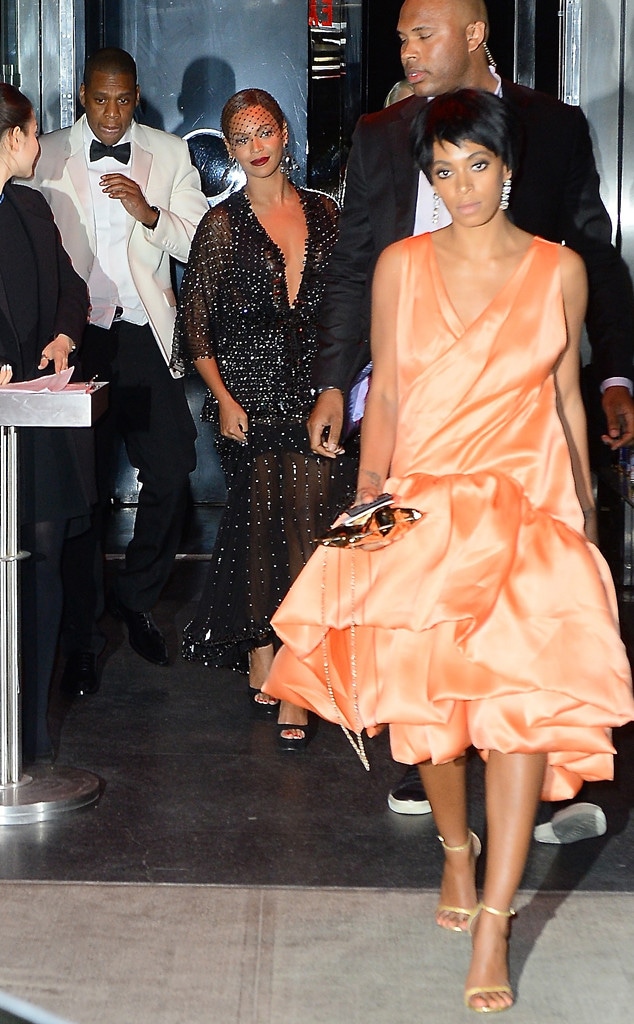 Splash News
"Of course sometimes s--t go down when it's a billion dollars on an elevator."
It sounded like the set-up to a punchline: The world's biggest pop star, her sister, and her husband walk into an elevator... It was brief ride, taking Beyoncé, Solange and Jay-Z out of a Met Gala after party at the Standard Hotel in New York City five years ago, but when footage of the quick lift made its way online, we learned that something truly wild went on behind those closed doors. And suddenly what could've been a joke turned into one of the biggest mysteries in Met Gala history.
What on earth possessed Solange to, for lack of a better word, lose her s--t on her brother-in-law, screaming, clawing and kicking at the rapper with a level of vitriol so palpable in the leaked surveillance footage that you can almost hear her despite the video having no sound? And why did Bey, for the most part, just stand there motionless as the chaos erupted all around her?
For a while, it seemed as though answers to this mystery would remain out of reach. Immediately after the fight, the trio depart the hotel with little indication that anything remotely out of the ordinary had just gone down, save for the slightly perturbed look on Solange's face and the eyebrow-raising fact that, as TMZ reported with the break of the leaked footage, the Knowles sisters took one car while Jay hopped into another.
In the immediate aftermath, Bey and her sis took a quick trip to Costa Rica for Kelly Rowland's secret wedding, before returning to NYC to take in a Nets Game at Brooklyn's Barclays Center with her husband on Saturday night, five days after the fight, and enjoy Mother's Day with their daughter Blue Ivy the following morning.
The video leaked the next day. 
The Standard issued a statement regarding the breach in security, and E! News confirmed that they identified the guard responsible for the leak (sold, per the New York Post, for as much as $250,000) and summarily fired the individual. A few days later, the trio would break their silence.
In a joint statement released on May 15, 2014, Bey, Jay and Solange acknowledged the "great deal of speculation about what triggered the unfortunate incident," but ultimately sidestepped giving any real explanation. "The most important thing is that our family has worked through it," the statement read. "Jay and Solange each assume their share of responsibility for what has occurred. They both acknowledge their role in this private matter that has played out in the public. They both have apologized to each other and we have moved forward as a united family."
"The reports of Solange being intoxicated or displaying erratic behavior throughout that evening are simply false," the statement continued. "At the end of the day families have problems and we're no different. We love each other and above all we are family. We've put this behind us and hope everyone else will do the same."
Meanwhile, the rumor mill ran wild. The idea that Jay had perhaps been unfaithful to Queen Bey had been something whispered about dating all the way back to the couple's early days, but now the whispers had gotten louder. As a source told E! News, Solange's wrath was set ablaze after Jay got a little too close with fashion designer Rachel Roy, the ex-wife of his former business partner Damon Dash.
"At the gala, Rachel was being flirtatious with Jay," the insider told us at the time. "Once everyone was at the Boom Boom Room for the after-party, her flirtations were elevated."
"Beyoncé approached Rachel to let her know the behavior was disrespectful and she wanted her out of their lives for good," the source continued. "Solange came over to have her sister's back, and things got heated with her and Rachel. Jay said some disrespectful things to Beyoncé and Solange as the confrontation was going down. That's why all hell broke loose in the elevator and why Beyoncé just stood back and let Solange hit Jay."
Meanwhile, Bey and Jay still had a tour to promote. Two days after releasing their statement, they dropped their faux movie trailer for their On the Run tour, which had been announced days before the Met Gala and was set to kick-off on June 25. And to some, the timing was more than coincidental.
Speaking on Houston's Roula & Ryan Show on 104.1 KRBE in late August, Bey's father Mathew Knowles—with whom she'd severed all professional ties three years earlier while trying to maintain a rocky personal relationship following infidelities of his own—implied that the entire incident was staged. "I know, because we've done this. From experience, there's a tour going on," he said. "So you sometimes have to ignite that tour. It's called a Jedi mind trick. The Jedi mind trick fools you a lot."
When asked if he thought the couple leaked the footage themselves—despite the fact that the Standard had already fired the supposed perpetrator—he said,  "All I know is the Jedi mind trick. Everyone's talking about it. Ticket sales went up. Solange's album sales went up 200 percent!"
Celebrity publicist Jonathan Hay, who openly takes credit for planting false Jay-Z/Rihanna romance rumors back in 2005 to promote her debut single "Pon de Replay," similarly insinuated that it was all done to promote the tour in an interview with Billboard that same month.
"Always consider the timing in these situations," Hay said. "That staged elevator fight hit the news immediately before the release of their On The Run tour trailer video. The fight gives regular news stations—beyond just entertainment news—a headline, which broadens their audience. They're also going to bring up the On The Run tour and ask questions like, 'Will their be drama on the road?' and, 'Is this going to be the final performances of Jay-Z and Beyoncé?' They created a compelling spectacle, which ultimately creates a demand."
Whatever the case may be, Bey was ready to address wink at the drama with the remix of her hit track "Flawless," featuring Nicki Minaj. Released on August 12, 2014, Bey closed out her new verse with the lyrics, "But no, we escalating, up in this b---h, like elevators / Of course sometimes s--t go down / When it's a billion dollars on an elevator / Of course sometimes s--t down down / When it's a billion dollars on an elevator / Ha-ha! God damn, God damn, God damn!!!"
Dimitrios Kambouris/Getty Images
Solange, meanwhile, broke her own silence in the August issue of Lucky, and though she didn't offer an elaboration on the why of it all, she did hammer home the idea that everyone had moved on. "What's important is that my family and I are all good," she told the magazine. "What we had to say collectively was in the statement that we put out, and we all feel at peace with that."
And, for a while, it seemed like that would be that. Until Lemonade, that is.
On April 23, 2016, Beyoncé released her second "visual album" via an hour-long film that aired on HBO. And throughout, she sings about a moment in her marriage that nearly broke it and her. "Looking at my watch, he shoulda been home/Today I regret the night I put that ring on." As everyone began to wonder who this "Becky with the good hair" could be—and nearly every female celeb who'd ever interacted with Jay made sure to publicly declare it was not them, lest they incur the wrath of the ever-vengeful Beyhive—Solange returned to the Met Gala in a lemon-yellow dress that said, "I told you so."
A year later, it was Jay's turn to reference the famous footage in the track "Kill Jay Z" off his album 4:44, itself seen as a response to Bey's Lemonade. (Incidentally, 444 is street number of The Standard. Coincidence? You tell us.) "You egged Solange on / Knowin' all along /All you had to say you was wrong / You almost went Eric Benét / Let the baddest girl in the world get away / I don't even know what else to say / N---a, never go Eric Benét!," he rapped, referencing Halle Berry's ex-husband who famously cheated on her, ending their marriage. 
Nearly two months after the album dropped, Jay opened up about the infamous incident in a podcast interview with Rap Radar hosts Elliott Wilson and Brian "B.Dot" Miller. "We had one disagreement ever. Before and after, we've been cool," he said of his relationship with Solange. "She's like my sister. I will protect her. That's my sister, not my sister-in-law. My sister. Period."
"We've always had a great relationship. I fought my brothers and argued with my brothers my whole life. It just so happens, who we are, these things go into a different space," he continued. "But it ain't nothing."
For a moment that "ain't nothing," it sure was something.