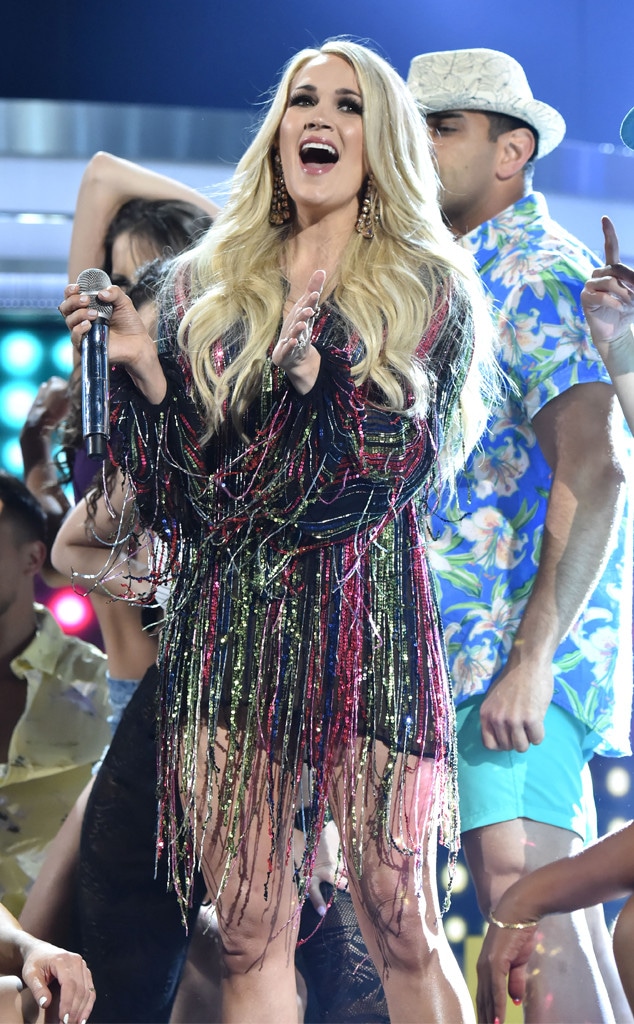 Jeff Kravitz/ACMA2019/FilmMagic for ACM
It's a full house on tour for Carrie Underwood. 
In the midst of her national Cry Pretty Tour 360 that just kicked off, the award-winning star and mom of two understandably has her hands full, especially since she has both of her sons, Isaiah, 4, and Jacob, 3 months, along for the ride. 
However, as the songstress explained, the tours often serve as a backdrop to standout memories. 
"When I went out our first day of the Storyteller tour, the day of our first show, my son Isaiah walked for the first time, like took real steps so that's always such a memorable milestone," she recalled.
"Now he's 4 and we're on the Cry Pretty tour and I just know we're going to have so many more milestones with him and with Jacob, who is 3 months old.  It just makes my heart happy that I have the kind of job where I can bring my children with me and they can be a part of it."
As she put it, "My work and my life kind of collide all together and it just makes for a big wonderful mess."
The timing is even more special considering Underwood's firstborn is starting to understand what's going on. 
"I think right now though it's kind of a fun time because Isaiah's starting to realize what I do and realize that that's not normal," she noted. "He'll hear my songs on the radio or a kid at school says, 'I saw your mom on TV!' He's kind of realizing what I do, which is pretty cool."
Fortunately for the youngster, "he might actually get to catch part of the show this time around," the famous mama added. "He was in bed by the time the last one started so maybe he'll get to see a couple songs before bedtime."
Fortunately, life on the road doesn't make everything more of a challenge. "I get super excited when we go on tour because I feel like that's my most consistent workouts.  My life is so crazy, but when I'm at home, it's crazy with groceries and cleaning the house and I have to take this dog to the vet and go pick up my kid from here and do this," she explained.
"The road is kind of different in that I don't have a house to clean, I don't have as much laundry to do. It's just a little easier in some parts of my life."
The Grammy winner continued, "I get to work out more consistently when I'm on the road, so I'm just so excited to be able to have that. It's an important part of my job. I can't get up there and do what I do how I would like to do it if I'm out of shape."
Not to mention doing all that juggling! 
To hear more about the shows and what Underwood thinks about her famous tourmates, check out the video above!