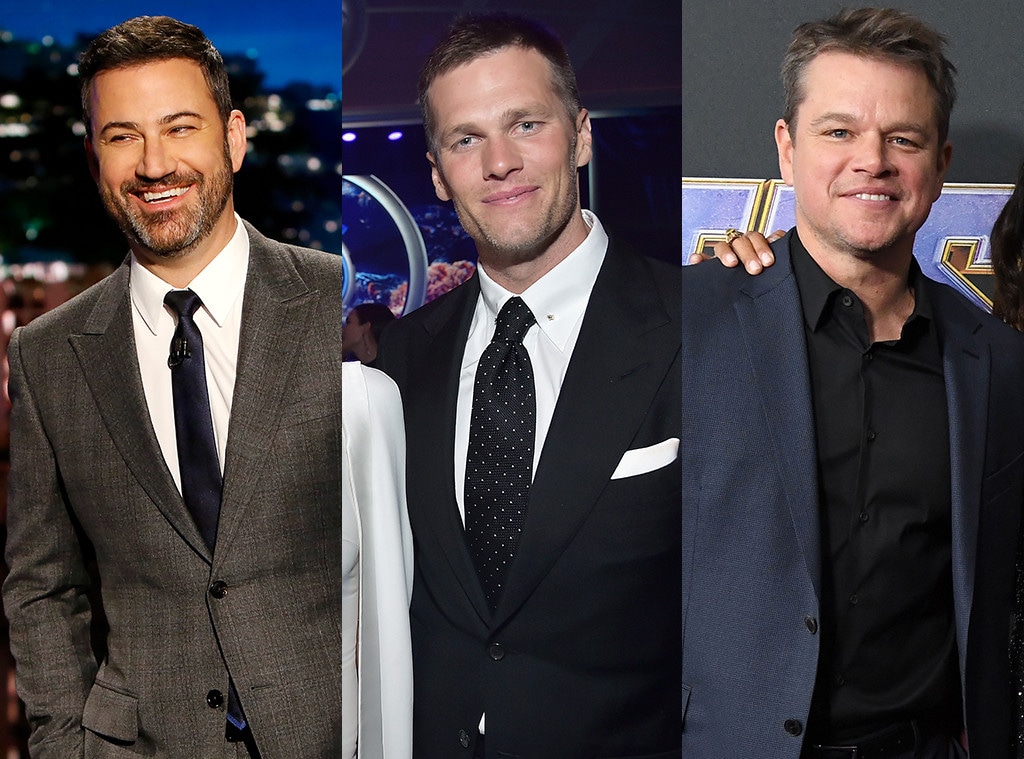 Getty Images, WireImage
In Jimmy Kimmel's eyes, Tom Brady is the perfect pawn in his 13-year feud with Matt Damon. 
In the middle of taping Jimmy Kimmel Live yesterday, the New England Patriots quarterback, host and his trusted sidekick Guillermo Rodriguez abruptly left the studio (and audience!) and got into a cab headed to 223 Liberace Lane, the home of Damon himself. 
"See the window?" Kimmel said, pointing Brady toward the house's second floor. "You think you can throw the football through that window?" C'mon now. With ease and grace, the six-time Super Bowl champ absolutely smashed the glass without breaking a sweat.
Almost immediately out runs a furious Damon, clad in a We Bought A Zoo t-shirt, a nod toward his 2011 film. (While hosting the Academy Awards in 2017, Kimmel consistently poked fun at the comedic flop.)
"Whoa, what the hell is this?" the Oscar winner asked. "Jimmy, did you do that?"
Naturally, Kimmel played dumb, claiming he didn't even know Damon lived in this particular LA home. Rather than take the blame, he pointed to Brady. "My friend Tom threw it and it turns out he's real strong, went right through the window of your house," quipped the host. "That's how strong his arm is. I'm sure you've got a Dustbuster or something like that. Alright, good to see you man. We gotta get back to the show."
But Damon, a Boston native, won't let them go so quickly. After all, Brady is his idol. "It's great to meet you man," he gushed. "I'm your No. 1 fan. I'm Matt, Matt Damon!" He asked for a picture and handed his iPhone over to Kimmel, who, in turn, chucked it through another window. 
"It just, like, slipped out of my hand," he said. "It was an accident."
As the trio began to head out, Damon ran back inside to grab, uh, his Brady body pillows. "It's good for you back!" he shouted before their cab ran over his mailbox. Yikes.
Watch the hilarious full video above!