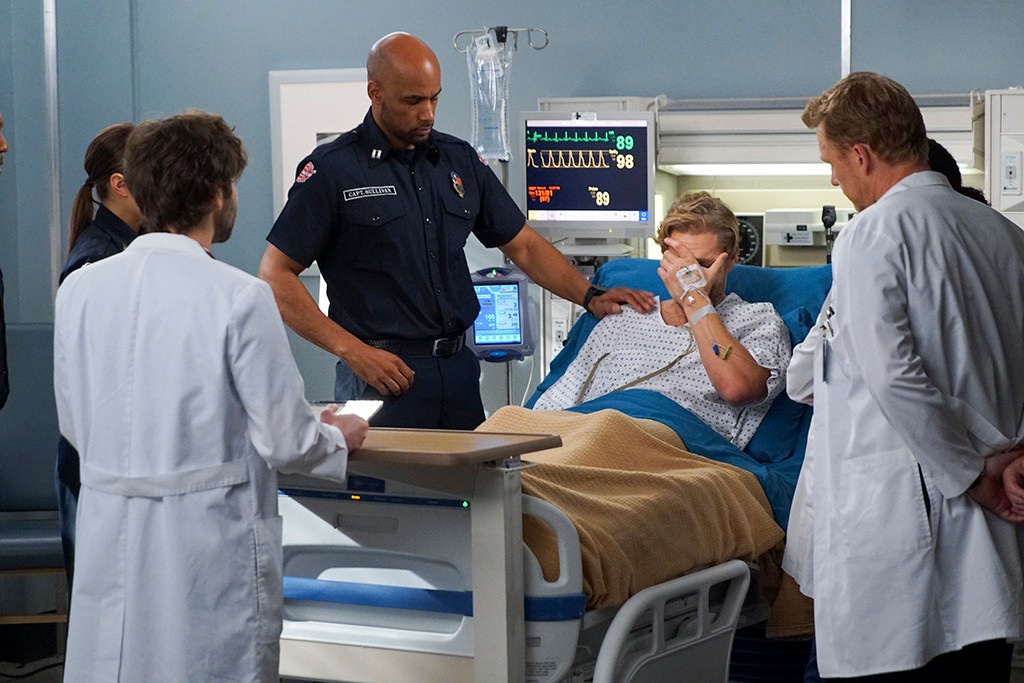 ABC
Um, listen. We know how the Grey's Anatomy universe works. We've been here a while. 
So when its sister show, Station 19, started its crossover with Grey's by having its chief pass out, right after his secret coworker girlfriend had just proposed to him, we should have known what was coming. But somehow we didn't, and we assumed he'd be fine. 
Boy how wrong we were. 
Chief Ripley (Brett Tucker) passed out at a flower shop after bailing on saying yes to Vic (Barrett Doss) when she proposed, and he ended up at Grey Sloan Memorial. Maggie (Kelly McCreary) diagnosed him with not only an underlying heart condition, but also with exposure to a chemical. 
Everyone tried desperately to get a hold of Vic, but nobody could, so Ripley checked himself out of the hospital to go find her. That was a huge mistake, and he ended up having to go to Seattle Pres, where Maggie met him. 
They eventually got Vic to his bedside, only for Maggie to inform everyone that none of the treatments were working, and he was going to die. And then he died! He said yes to Vic's proposal and said he was happy to spend the rest of his life with her, and then he died! 
It's been a while since Grey's has done this to us, especially with a couple in the prime of their coupledom, so we had almost forgotten how rude it is. 
Turns out it's extremely rude and now we're very sad. Thanks so much. Way to ruin our night, Shondaland crossover! 
Station 19 airs Thursdays at 9 p.m. on ABC.