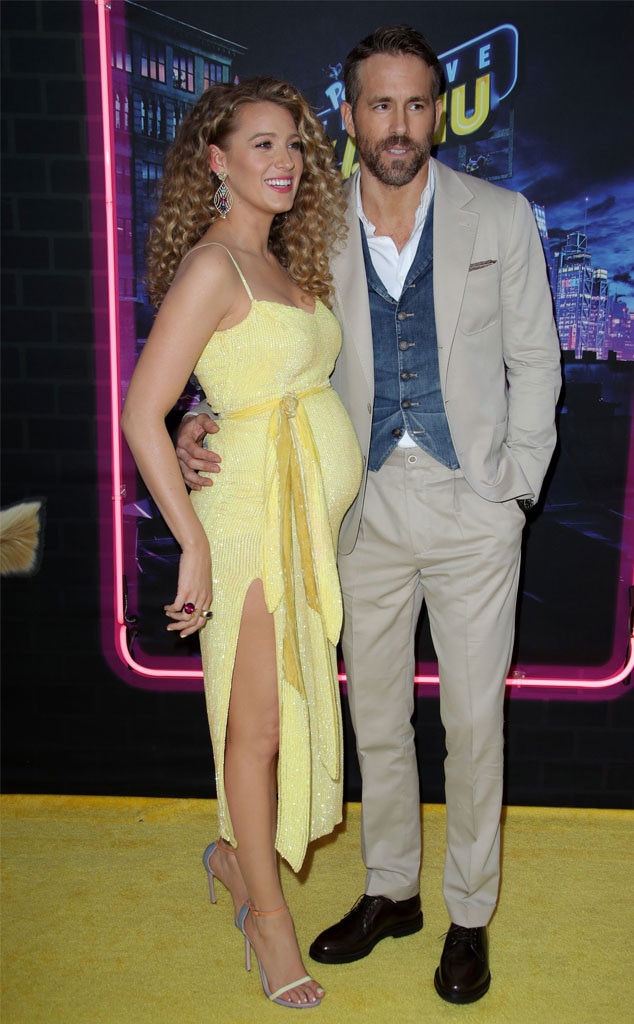 Matt Baron/Shutterstock
Now this is how you walk a red carpet! 
On Thursday night, Blake Lively turned heads for all the right reasons at the New York City premiere of Pokémon Detective Pikachu. As it turns out, the Hollywood actress debuted her baby bump!
In other words, the former Gossip Girl star and Ryan Reynolds are expecting their third child together.
Blake was all smiles when she revealed her bump in Retrofête's Rebecca Dress in metallic yellow. She completed her look with a Sally Hansen manicure from Elle and makeup perfected by Kristofer Buckle. As for Ryan, he also looked more than excited and handsome as he posed for photos with his leading lady.
The notoriously private couple are already proud parents to two kids. And while they try their best to give their children a private life, both parents have been able to gush about parenthood in rare interviews. 
"My husband and I chose a profession and a side effect of that is your personal life is public," Blake previously told Marie Claire UK. "Our child hasn't had the opportunity to choose whether or not she wants her personal life to be public or not. So in order to give her as much normality as possible, we want her to have a childhood like we had."
And as so many moms and dads know, those first few months of parenthood can be filled with learning curves. Ultimately, both stars embraced every twist and turn with love, humor and patience.
"There have been times where I woke up, literally had no idea I had been walking for five minutes," Ryan previously shared with E! News. "But you love it. You wake up in the middle of the night, you got a big stupid smile on your face. I was telling someone else that. Anything else that woke you up every 45 minutes, you'd kill it. But when it's a baby, it's the best thing that ever happened to you."
Perhaps the moment pop culture fans won't soon forget is when Blake and Ryan's children made their public debut at a special Hollywood Walk of Fame ceremony.
When accepting his star, Ryan couldn't help but thank the family members who changed his life for the better.
"I want to thank my wife, Blake, who is sitting right there who is everything to me. You are the best thing that has ever happened to me," he shared with the crowd. "You make everything better—absolutely everything in my life better. You've given us two of the most incredible children that I could ever hope to have. You've made me the father of my dreams when I thought I only had fun uncle potential."
Congratulations you two!
And yes, you can celebrate the happy news by seeing Pokémon Detective Pikachu in theatres May 10.